How You Manage Money Greatly Affects Your Future
Regions Bank hosts a hands-on financial education tour for Birmingham, Alabama-area students with disabilities.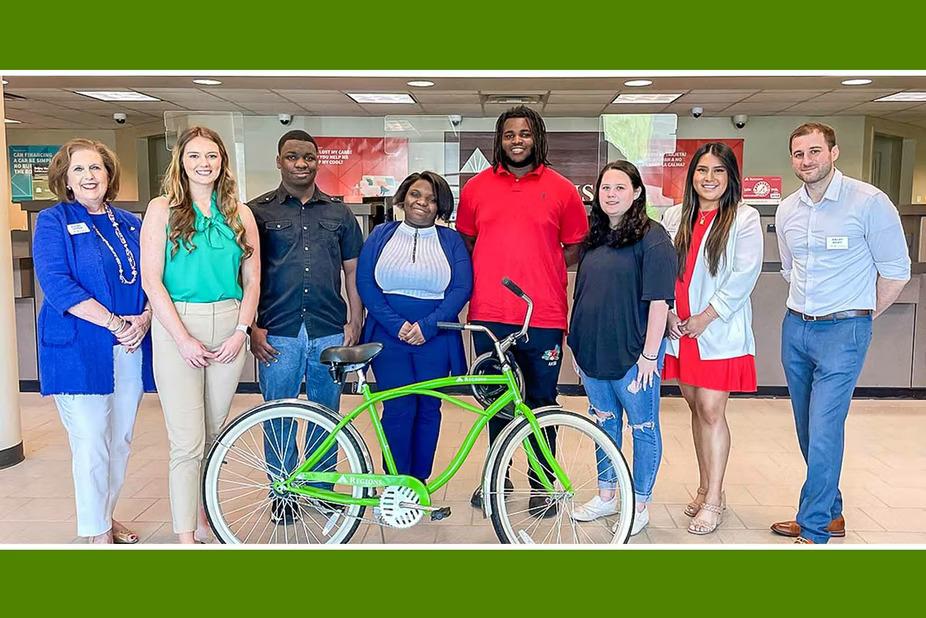 By Candace Higginbotham
Regions Bank closed out Financial Literacy Month in a special way.
On April 28, the Pelham, Alabama, branch welcomed 25 students from Hueytown High School for a tour of the bank facility and a discussion about the importance of financial wellness.
The tour was facilitated by United Ability, a Birmingham-based nonprofit whose mission is to provide innovative services connecting people with disabilities to their communities and empowering individual to live full and meaningful lives.
Regions has enjoyed a close relationship with United Ability for many years, providing financial support, volunteerism and board service.
Pelham Branch Manager Jeremy Bouet and Alabaster Branch Manager Daisy Mendoza led the tour, along with Kathy Lovell, Regions Disability Services and Outreach manager.
The students, mostly 11th graders, are currently participating in a classroom-based money management program in partnership with United Ability to help them successfully transition to life after high school. Some students will go to community college, some will go to trade school, and some will enter the workforce.
"All the tours we take the students on are important, but this one was especially so because not only are the students exposed to potential future careers, but also important life lessons," said Danielle Knoblock, employment specialist at United Ability. "I'm appreciative of Regions for stressing the importance of being knowledgeable about their finances and how that relates to being independent. This is setting them up for success in more ways than one."
Lovell explained how understanding basic banking processes can help ensure this success.
"A bank can be an intimidating experience if you're not familiar, particularly for a person with disabilities," Lovell said. "We want to make them comfortable with the environment and put their classroom instruction to work so when they need to visit on their own, they'll know what to do, who to talk to and what information they need to have available."
Bouet and Mendoza began the tour by welcoming students and providing an overview of the activities that take place in a branch – from check-cashing services to mortgage loan application and commercial banking. They got an up-close demo of how the drive-thru works and a peek inside the vault – which was definitely a crowd pleaser.
It's important to us at Regions that everyone be able to bank independently and on their own terms.
Kathy Lovell, Regions Disability Services and Outreach manager
Lovell provided the students with highlights of the services Regions provides to persons with disabilities, including audio ATMs, braille stickers for ATMs and other accessible products, services and options in our branches, offices and online through digital banking.
"It's important to us at Regions that everyone be able to bank independently and on their own terms," Lovell told the students. "I'm proud of the inclusive environment we've created in our branches that serves people the way they want and need."
At the end of the tour, everyone gathered in a conference room for a wrap-up and Q&A session. Bouet reminded the students that his goal as a banker is to help people "become financially free." The group talked about the importance of budgeting, paying bills on time, maintaining a good credit score, and saving.
The students were very engaged throughout the tour, asking lots of good questions and tossing out thoughtful responses to the tour guides' occasional pop-quiz-style questions. They were also eager to share what they learned.
Jaden Langham Carver said that he enjoyed seeing the vault and having a better understanding of the importance of security and protecting customers.
Regions' customer service made an impact on Layla Brown-Fair, who said, "I like seeing how customers are treated so well. The employees greet them a certain way and it's not fake – they really care about them."
Emmanuel Ricks also commented on the respect shown to customers, and he added that he appreciated the money-management conversation. April Martin was surprised at the variety of services offered at the branch and the emphasis on "helping people."
Lovell thanked the students for their active participation and encouraged them to "dream big and follow your heart." And with swag bags in tow and sporting their new Regions-logo shades, the group hopped back on the bus – ready for a fun group lunch.
Hueytown High Special Education teacher Harriett Elom expressed gratitude to Regions and United Ability for helping these students get on the right path financially. "How you manage money greatly affects your future," she said. "We want our students to live independently and be able to take care of themselves, and this financial education program is a great step toward that."
Lovell and the rest of the Regions team were also happy with the event and are looking forward to the next one. The branch tour series began in late 2021 and like this Hueytown High School tour, they've proven to be effective tools for educating and inspiring students and laying the groundwork for smart money management and bright futures.