How Solar Carports Can Generate Energy and Save Money
Kern High School District in California installed SunPower carport solar systems at 25 of its sites, allowing them to save money and conserve energy, thanks to financing from Wells Fargo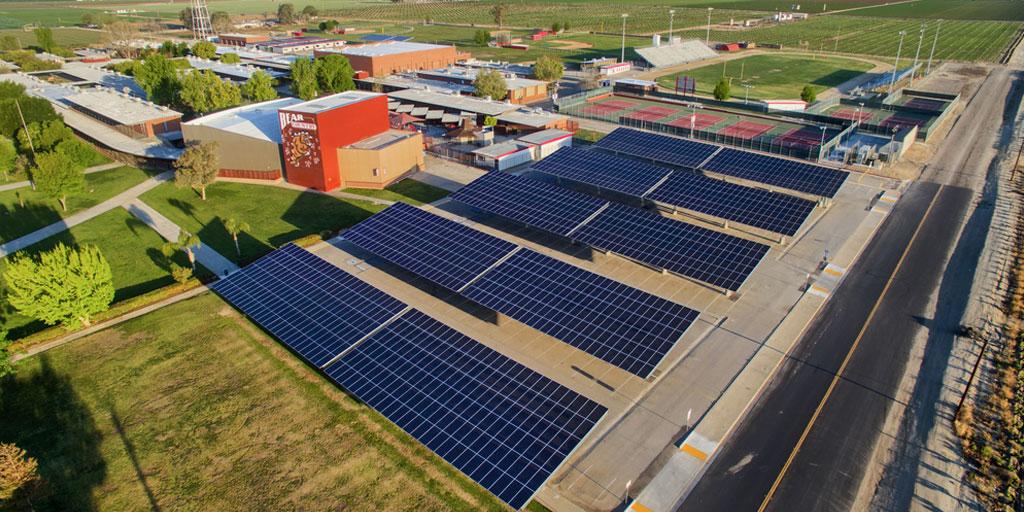 Kern High School District's carport solar systems have panels on top that absorb sunlight, produce clean energy, and generate power, while also providing shade. (Photo Credit: SunPower)
How Solar Carports Can Generate Energy and Save Money
Like many school systems, Kern High School District was looking for ways to cut expenses, put money back into classrooms, and conserve energy in 2015, said Matt Guinn, director of business for the school system. Today, the district in Bakersfield, California, has SunPower® Helix™ Carport solar systems installed at 25 sites and expects to save $80 million in electricity costs over 25 years.
"We've definitely already seen savings in energy bills," Guinn said.
The carport solar systems have panels on top that absorb sunlight, produce clean energy, and generate power for 23 schools and two administrative buildings, while also providing shade. Most of the systems in the Kern High School District are in parking lots as an efficient way to use school property, Guinn said.
'The benefit of doing business together'
Wells Fargo has helped finance more than 8 percent of solar and wind energy generated in the U.S. Since 2009, Wells Fargo has worked with SunPower, one of the largest solar power companies in the U.S., to finance 43 solar projects, including this multisite project with Kern High School District. The company provides capital for multisite projects by purchasing the solar energy system from SunPower at the completion of construction and leasing it back over the term of the power purchase agreement to customers like Kern High School District. The financing from Wells Fargo allows SunPower to operate and provide the solar-generated electricity to customers at competitive and fixed rates, said David McIlhenny, vice president of project finance for SunPower.
"We've done more commercial projects with Wells Fargo — more school districts and colleges — than any other funding source," McIlhenny said. "The benefit of doing business together so much is we have grown to rely on and trust each other to deliver a quality product and seamless customer experience."
As for the schools who invest in the systems, they receive three major benefits: economic, environmental, and educational, said Barry Neal, executive vice president of Renewable Energy and Environmental Finance for Wells Fargo. "Schools, particularly ones with budgetary pressures, are able to control electricity costs," he said. "There's an environmental benefit: if you're producing energy from the sun, there are no emissions, and you're displacing power that produces greenhouse gas emissions. The other element is educational. SunPower has a very strong educational program that comes with every installation."
Read the full story on Wells Fargo Stories.