How Service Year Programs Can Help Solve the Talent Crisis in Corporate Recruitment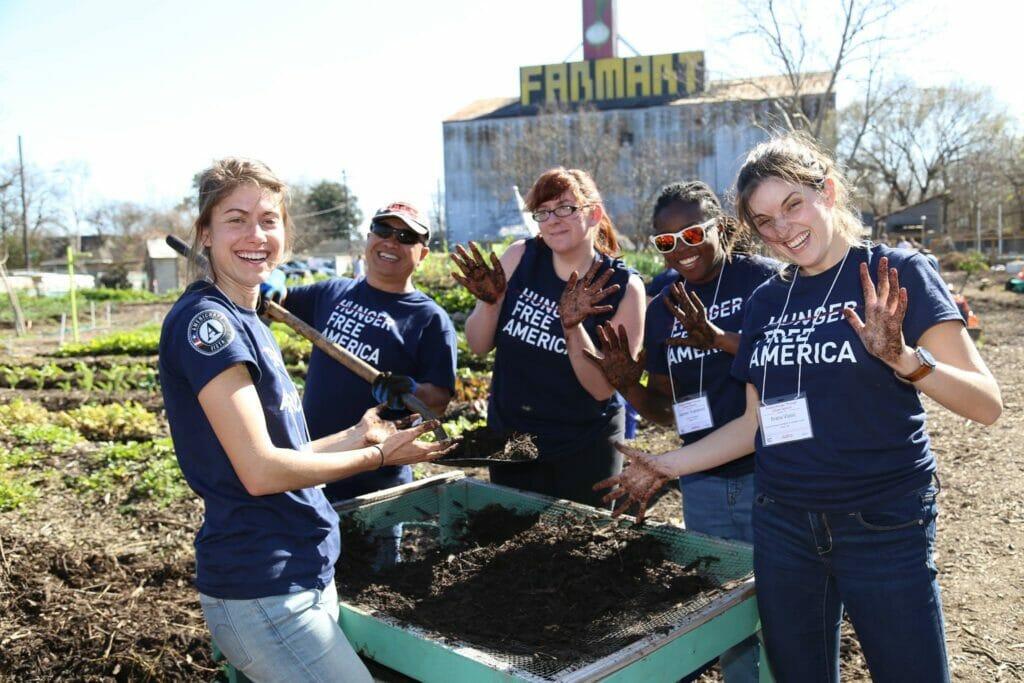 Hunger Free America - Houston Americorps Members, image courtesy AmeriCorps
Service comes in many forms. It's not just the type that corporate citizenship leaders are actively developing in order to mobilize employees to solve community issues. Citizens of the world also commit their time, energy and talent to public, national or military service. While providing opportunities to work with the communities where employees live and work is part of an impactful retention strategy and a way to attract purpose-driven talent, how can other types of service play a role in corporate recruitment?
Here's where your knowledge and connections as a leader in corporate citizenship can play a larger role in support of an increasing battle for talent. If they're not already plugged in, make sure your partners in HR are scouting from the perfect pipeline – alumni of service year programs.
Benefits of Service Year Programs for Corporate Recruitment
Offered by organizations like AmeriCorps, Peace Corps, City Year, Atlas Corps, Teach for America, YouthBuild and so many more, service year programs offer a participant a paid opportunity to develop real-world skills through hands-on service in communities around the globe. These real-world skills, especially soft skills that are not easily taught or learned, are incredibly important for businesses to remain competitive in today's economy. Alumni from these programs are equipped to lead and manage and are ready to help any organization achieve results.
What are some of the skills learned and honed while participating in a service year? More than likely it's the same competencies your company is looking for in new recruits.
1. Leadership: Alumni demonstrate strong ethics, empower others to self-organize, foster a sense of connection and belonging, show openness to new ideas and nurture growth.  
2. Critical thinking: Alumni are able to sort through useful and arbitrary details in order to evaluate a problem or situation, form an objective judgement that leads to a critical solution or decision.  
3. Getting things done with limited resources: Alumni focus on proactively achieving results through effective planning and optimizing the resources they have access to.  
4. Accountability: Alumni understand the responsibility that comes with being accountable for their own actions and decisions, the actions of team members and their individual and collective results. They hold themselves and others to common expectations that align with an organization's values and mission.  
5. Adaptability: Alumni have a proven ability to learn new concepts and skills quickly even without explicit instruction. They are creative and can respond effectively to changing working conditions. They also have experience dealing with ambiguity and demonstrate that they are able to act or shift gears without having all the details, making confident decisions even without the whole picture.  
6. Initiative: Alumni are immediate contributors who lead by example as well as through direction, delegation, motivation and inspiration.  
7. Interpersonal and intercultural communication: Alumni excel in partnering and communicating with diverse racial, religious, ethnic, cultural and geographic groups. Their broad experience has given them a deeper understanding of the world around them.  
8. Collaboration: Participation in a national service program has fostered an alumni's ability to work individually and as part of a team, instilling a strong work ethic and responsibility to and appreciation of one's colleagues.
Your company's hiring managers would also be well advised to think through the hard skills that service year alumni also possess that align with the roles they're trying to fill on Learning and Development or Communications teams, such as the ability to speak several languages or the aptitude to teach others.
Don't forget how this can positively impact you as well – these newly hired service year alums will make passionate and dedicated champions of your company's social good efforts. That's a win-win-win for the business, its employees and the communities in which your company operates.
Resources for Service Year Programs 
The Voices for National Service Business Council works to highlight the vital role the private sector plays in supporting and investing in national service programs, unleashing citizens to tackle the pressing problems facing their communities. Through the Business Council, companies and private sector leaders work to promote and strengthen bipartisan support for AmeriCorps and AmeriCorps Seniors and are recognized for their leadership and commitment to expanding service opportunities for all Americans.
Employers of National Service is an initiative that connects service year alums with over 600 employers from the private, public and nonprofit sectors. Through this initiative, employers have increased access to a dedicated, highly qualified and mission-oriented pool of potential employees, and service year alums have additional opportunities to connect with employers that value their skills. To become an Employer of National Service, employers pledge to recognize service year experience in their hiring practices.
Service Year Alliance is working to make a year of paid, full-time service — a service year — a common expectation and opportunity for all young Americans. Their vision: Every year, one million young Americans engaged in a service year, solving important problems while transforming their own lives.