How NAACP LDF Is Working to Secure Equal Justice for All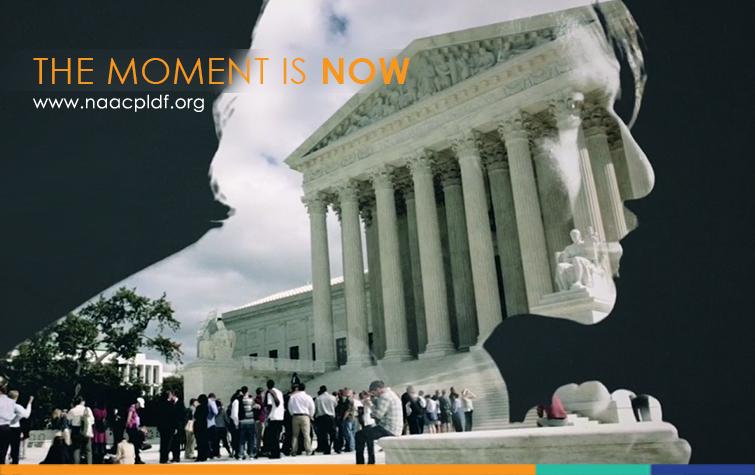 We are facing increased attacks against civil rights. The current presidential administration has launched an "Election Integrity Commission" aimed at thwarting non-existent voter fraud that will lead to more voter suppression nationwide. The Department of Justice is rolling back its vigorous enforcement of consent decrees that held entire police departments accountable for their actions against citizens of color. The rights of students of color and LGBT students are under siege by the Department of Justice. If left unchecked, the gains won over the last 75 years will be lost, and people of color will suffer the consequences.
The NAACP Legal Defense and Educational Fund (LDF) is one of America's leading civil rights legal organizations and is devoted to securing equal justice for all. 
Working in the four key areas of Criminal Justice, Economic Justice, Education, and Political Participation, LDF seeks to:
Diminish the role of race in the criminal justice system and the role of the criminal justice system in community life;
Increase fairness and African-American participation in all aspects of economic life;
Increase equity in education and eliminate tolerance for schools that fail students; and
Achieve full African-American civic engagement and participation in the democratic process.
The issues addressed by LDF impact average Americans in numerous ways. Approximately 12–13% of the American population is African-American, but they make up 35% of jail inmates, and 37% of prison inmates of the 2.2 million male inmates. African-Americans are more likely to get the death penalty, and receive harsher punishments for the same crime than their White counterparts. When it comes to voting, states have been targeting African-American and Latino voters since the Supreme Court gutted the Voting Rights Act in the Shelby County decision of 2013. The 2016 presidential election was the first election in 50 years without the full protections of the Voting Rights Act. As a result, hundreds of thousands of minority voters across the country were disenfranchised by new voting changes sweeping across the country. Schools across the country are still segregated, and we know that when children learn in an integrated environment, they received a better education that prepares them for the real world and learn how to cope with a diverse, American population.
These are just a few of the ways in which people are impacted by the things LDF seeks to change. When you donate to LDF, your support empowers them to continue their work, ensuring equal justice for all.
Support NAACP LDF through your employee giving program:
As a donor, you can support LDF by donating to them through your employer's workplace giving program (CFC# 11104 if you're a military or federal employee participating in the Combined Federal Campaign). Payroll pledges made through employer-sponsored charitable giving programs represent a cost effective and near effortless way to support your favorite charities.
As LDF's workplace giving partner, America's Charities can help your company design and implement a program centered on supporting their work - through workplace giving campaigns, employee fundraising, cause-focused signature programs, volunteerism, donation drives, matching gifts, Dollars-for-Doers, In-Kind Giving and other employee engagement and philanthropic initiatives. Click here to request a demo and learn how we can help you do this.