How a Mini Food Creator, a Pepper Farming Duo, and Other Iowans Are Accelerating Their Businesses
The Drake University Business Clinic is fostering a wide variety of new businesses from underrepresented entrepreneurs in Iowa with the help of a Wells Fargo grant.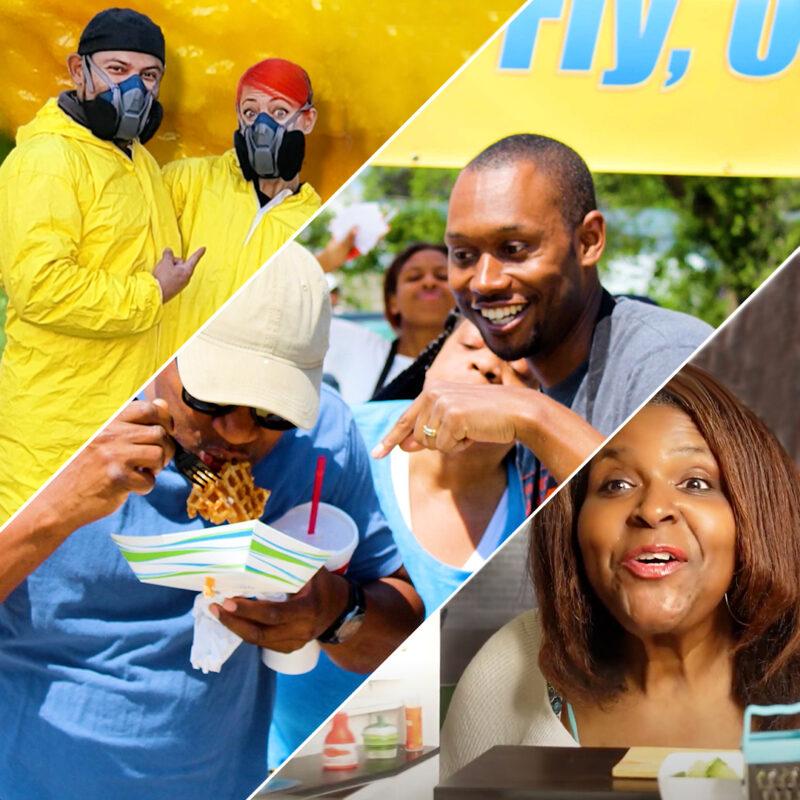 The Drake University Business Clinic has helped budding entrepreneurs around Iowa develop their business plans, including (from left) Celestino and Charlie Ramirez of Sweatshop Pepper Farm, Garrison Goodlett of G.G.'s Chicken and Waffles, and Karel Howell of Karel The Girl Miniature.
You might have had soul food before — but you haven't had Karel Howell's. The Des Moines-based food YouTuber sears her petite pork chops to perfection on a four-inch stovetop. Rice, gravy, and a teeny-tiny biscuit adorn her palm-sized platter. It might only take Howell a few moments to eat this miniature meal, but she hopes you'll stick around to watch her cook the next compact culinary creation.
Her food might be small, but her dreams are big. "My biggest dream is to work with Disney or Pixar on a miniature movie," she said. "And I want to open a miniature restaurant. I've been telling people this for years now."
Taught by her chef father, Howell combined an early love of tiny toys with cooking, which eventually turned into a hobby and then a job. The former Chicago schoolteacher, with the help of her son, makes a few videos each week cooking petite dishes in her dining room.
"I get up at 4:30 in the morning and I start making short videos," Howell said. "It's work."
Finding ways to turn her nontraditional business into income brought Howell to the Drake University Business Clinic in Des Moines. And she's far from alone. The school's business accelerator has helped many budding and established entrepreneurs across Iowa take their often out-there ideas to the next level through rigorous group classes. Students are expected to develop their passion and walk out with a business plan, investor pitch deck, or commercial loan application.
"If a student has been through other [business] programs before, no one's ever challenged them on what their value proposition is," said Bill Adamowski, who heads the accelerator. "Starting a business is tough. … We basically address the top reasons that startups fail."
Adamowski knows the ups and downs of running a business, from launching an IPO on the New York Stock Exchange to joining the C-suite of large financial services companies. As Drake's executive director of entrepreneurship, innovation, and human-centered design, he shares this experience through the program. The work is possible in part due to a $1 million Wells Fargo grant supporting the Drake University Small Business Clinic and the Evelyn K. Davis Center, a Des Moines-based business and career development organization that often refers clients to Drake after they complete coaching through its Business Boot Camp.
The accelerator primarily draws people who are underrepresented in the business community. Roughly two in three participants are Black or African American and about 60% are women. Their need for business coaching is often greater because of the additional challenges they face, such as raising startup money. Adamowski cites CNBC data showing that while 30% of all businesses fail after two years, 80% of Black-owned businesses fail within 18 months. That's despite the fact that women, especially women of color, start businesses at higher rates.
"We don't really make a difference unless we create successful businesses," Adamowski said. "That's where the program makes a difference."
Howell, who was in the middle of the program this spring, hasn't cast the next step of her business yet, but Adamowski is helping her envision what could be: catering, mall kiosks, pop-ups, tiny kitchenware, and more.
"I don't want to lose my dream of my miniature shop," she said, "My work could go a whole lot of different places in the world."
Like son, like father
On Sundays, Garrison Goodlett can typically be found behind his church's fryer making chicken. That community connection was the inspiration for G.G.'s Chicken & Waffles, a pop-up restaurant that Garrison Goodlett runs when he's off the clock as a financial counselor.
"If you can be the chicken fryer for a predominantly Black church, you're doing something right. We will tell you if it isn't good," he said. "I don't want to just be a business that sells food. I want to be a business that also connects with people and stands out with a positive message."
While Garrison Goodlett already had the drive and cooking talents, the Drake accelerator was where he learned how to pitch G.G.'s Chicken and Waffles to get into larger venues. His sights are set on the Iowa State Fair, the state's biggest event.
"The next step is a food truck, and if we can get to the fair, that would be a game changer," he said.
Garrison Goodlett's business manager is his father, Garry Goodlett, another graduate of Drake's accelerator. The retired family physician is launching a venture based on his invention: the Legg Buddy, a device that treats deep vein thrombosis, which nearly 1 million Americans are diagnosed with each year, according to the Centers for Disease Control and Prevention.
Garry Goodlett sees enormous potential in his invention, a vision he's put together because of accelerator courses on things like commercialization. If the Legg Buddy were to earn just a fraction of the existing market, it could see hundreds of millions in sales across the globe each year, according to his analysis. Garry Goodlett credits his son's referral to the accelerator as the launch pad for this big ambition.
"[The Drake program] catapulted my idea from the embryonic stage," he said. "I've gotten input from some who I consider titans in the business community, and I've had quite a bit of enthusiasm."
The spiciest peppers in Iowa
What do a circus performer and a heavy metal drummer get up to during the pandemic lockdown? Learn to grow the spiciest peppers in Iowa.
The secret, as Charlie and Celestino Ramirez have perfected, is to boost the pepper plant's spicy defense mechanism through horticultural torture.
We bring them to the point of death and then bring them back," Celestino Ramirez said. "[We're in the] fifth generation of that process, so it gets hotter and hotter every single time."
While the husband and wife duo are still professional entertainers, today their main jobs are growing and selling these fire-hot peppers as the Sweatshop Pepper Farm, their food processing company. Their products range from salsa kits and seasoned chips to tins of infused peppers and even keychains to store on-the-go spices.
The Drake accelerator graduates sought out the program for ways to expand their business. The courses pushed them to incorporate direct feedback from customers at farmers markets into product experimentation. Instead of focusing on the hottest peppers, the two began offering a spectrum of spice levels. Today, the mildest products are their top sellers.
"It literally opened our eyes to a brand-new way of thinking when it came to our business. Right from the get-go, it took our little salsa business and put it in the forefront," Celestino Ramirez said. "We brought them a hunk of steel and they helped us mold it and grind it. It gave us an edge."
A year and a half into business, the two sell wholesale products across the country. While it used to be a side gig, Sweatshop Pepper Farm is helping fund their return to live entertainment.
"He plays the fastest double bass you've ever heard, and I like to perform on chains," Charlie Ramirez said. "It's a little wacky."