How the COVID-19 Pandemic Has Shined a Light on Mental Health and Sparked a Movement to Change the Way We Work
How the COVID-19 Pandemic Has Shined a Light on Mental Health and Sparked a Movement to Change the Way We Work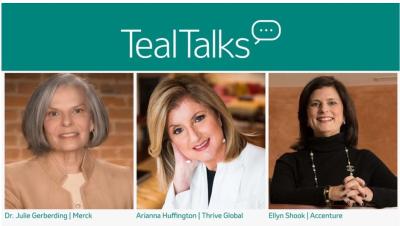 Monday, March 15, 2021 - 2:45pm
Arianna Huffington & Ellyn Shook join Dr. Julie Gerberding in Merck's first episode of Teal Talks series.
Arianna Huffington, founder of Thrive Global, and Ellyn Shook, chief leadership and human resources officer at Accenture, recently joined Merck's Dr. Julie Gerberding, chief patient officer and executive vice president, to talk about their personal struggles with burnout and their commitment to promoting healthier work cultures. In their conversation, filmed for the first episode of Merck's new Teal Talks series, they discuss the importance of leaving behind the "work-till-you-drop" mentality in favor of wellbeing and balance.
Teal Talks is a series of bold, intelligent conversations with innovators, leaders and influencers from around the world.  Listen to the conversation here.
Link to Arianna Huffington & Ellyn Shook on the silver lining of the pandemic - Merck.com and image below.