Hormel Foods Recognized with the Beyond the Yellow Ribbon Proclamation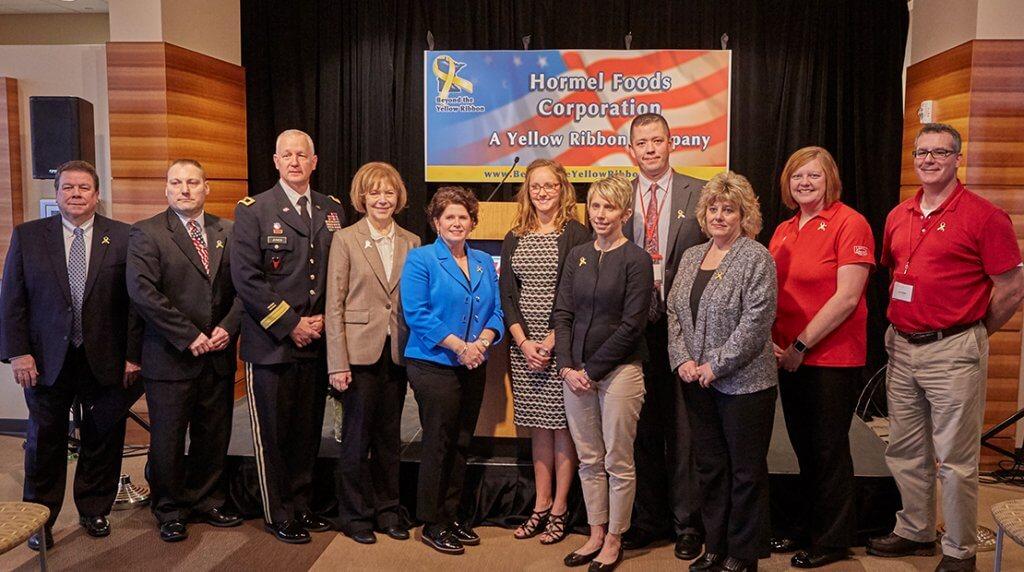 AUSTIN, Minn., December 6, 2017 /3BL Media/ – Hormel Foods (NYSE: HRL) announced today that it was recognized by the state of Minnesota with the Beyond the Yellow Ribbon proclamation. Minnesota Lt. Governor Tina Smith, Major General Jon Jensen, Adjutant General Minnesota National Guard, joined Jim Sheehan, senior vice president and chief financial officer at Hormel Foods, and hundreds of employees for the ceremony.
The Beyond the Yellow Ribbon network recognized Hormel Foods for its long tradition of supporting our troops, both in peacetime and war. This support continues today through the company's products used to feed our active duty servicemen and women, but also providing career opportunities for veterans as they transition from active duty service to the next phase of their lives as civilians.
"We are honored and humbled by this recognition," said Sheehan. "We hope more than anything that it inspires others to do everything in their power to attract and retain the men and women who have sacrificed so much for our country and the freedoms that we enjoy."
Minnesota's Beyond the Yellow Ribbon Recognition Program synchronizes local community, state and company resources in support of service members, veterans and military families. Yellow Ribbon Companies connect internal organizational areas to recruit, hire and retain currently serving and veteran employees, develop support policies and resources for military connected employees and partner with Community Yellow Ribbon Networks to synchronize efforts within the local community. http://mnbtyr.ng.mil/
About Hormel Foods – Inspired People. Inspired Food.™
Hormel Foods Corporation, based in Austin, Minn., is a global branded food company with over $9 billion in annual revenues across more than 80 countries worldwide. Its brands include Skippy®, SPAM®, Hormel® Natural Choice®, Applegate®, Justin's®, Wholly Guacamole®, Hormel® Black Label® and more than 30 other beloved brands. The company is a member of the S&P 500 Index and the S&P 500 Dividend Aristocrats, was named one of "The 100 Best Corporate Citizens" by Corporate Responsibility Magazine for the ninth year in a row, and has received numerous other awards and accolades for its corporate responsibility and community service efforts. In 2016, the company celebrated its 125th anniversary and announced its new vision for the future - Inspired People. Inspired Food.™ - focusing on its legacy of innovation. For more information, visit www.hormelfoods.com and http://csr.hormelfoods.com/.