Hormel Foods Hosts Student Winners of its Annual Dr. Martin Luther King Jr. Essay Contest
Hormel Foods team members commemorate MLK Day and Black History Month with an essay competition for elementary and middle school students from across the country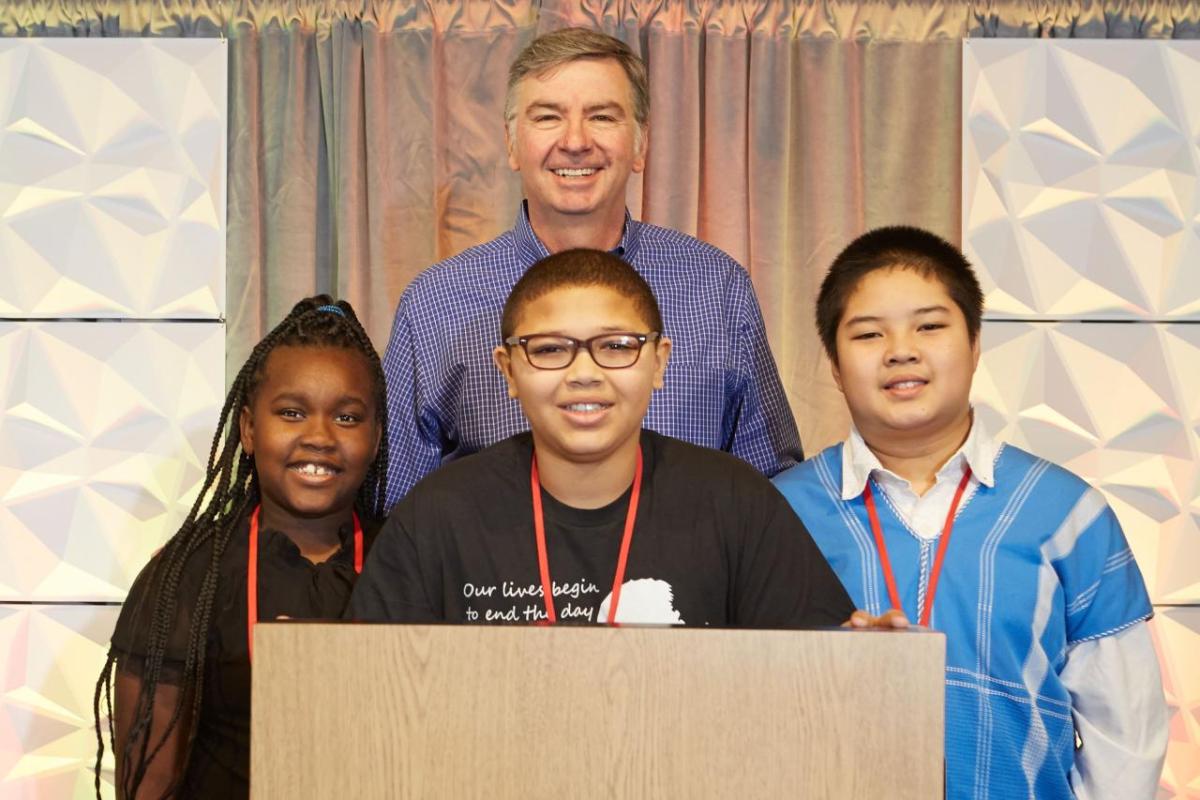 Jim Snee, chairman of the board, president, and chief executive officer of Hormel Foods with winners of the 12th annual Hormel Foods MLK essay contest that included: Ava Pigrum, Sacramento, Calif., Andre Smith, Minneapolis, Minn., and Michael Htoo, Willmar, Minn.
AUSTIN, Minn. February 28, 2023 /3BL Media/ - Three winners of the 12th annual Hormel Foods MLK essay contest visited the company's World Headquarters today to read their winning essays to Hormel Foods team members. The students – Ava Pigrum from Sacramento, Calif., Andre Smith from Minneapolis, Minn., and Michael Htoo from Willmar, Minn. – claimed the top honors among hundreds of entries from 12 schools this year.
The Hormel Foods Black Leaders & Allies Advancing Cultural Knowledge (BLAACK) business resource group sponsors the essay competition for elementary and middle school students across the United States. Contestants are asked to write an essay with the theme, "What Dr. Martin Luther King Jr. Means to Me."
"BLAACK is excited to bring our annual MLK Essay Contest back to our World Headquarters after several years of a hybrid format," said Cedric Moore, BLAACK president and senior customer executive for Retail sales at Hormel Foods. "The goal of this event is to promote the legacy of Dr. Martin Luther King Jr. by having the top three students from across the country share what Dr. King's legacy means to them. One of my favorite quotes from Dr. Martin Luther King Jr. is, 'No work is insignificant. All labor that uplifts humanity has dignity and importance and should be undertaken with painstaking excellence.' Today, these students are displaying the excellence of Dr. King's legacy by sharing their stories."
The nationwide competition promotes the value and importance of cultural differences and provides a platform for celebrating diversity. The goals of the program are to promote Dr. Martin Luther King's legacy, encourage children to aim high, give them exposure to minority professionals in business and create a lasting partnership between Hormel Foods and local schools.
These three students honored Dr. Martin Luther King's legacy by putting into words what he means to them.
"I thank my ancestors who pushed through," said winner Andre Smith in his essay. "I thank Dr. King because he gave me and everyone the faith to become a leader and take the next step to keep his dream alive. There is still not justice for all, if it wasn't for Dr. King we would not know how to fix today's problems."
ABOUT HORMEL FOODS — Inspired People. Inspired Food.™
Hormel Foods Corporation, based in Austin, Minn., is a global branded food company with over $12 billion in annual revenue across more than 80 countries worldwide. Its brands include Planters®, SKIPPY®, SPAM®, Hormel® Natural Choice®, Applegate®, Justin's®, WHOLLY®, Hormel® Black Label®, Columbus®, Jennie-O® and more than 30 other beloved brands. The company is a member of the S&P 500 Index and the S&P 500 Dividend Aristocrats, was named on the "Global 2000 World's Best Employers" list by Forbes magazine for three years, is one of Fortune magazine's most admired companies, has appeared on the "100 Best Corporate Citizens" list by 3BL Media 13 times, and has received numerous other awards and accolades for its corporate responsibility and community service efforts. The company lives by its purpose statement — Inspired People. Inspired Food.™ — to bring some of the world's most trusted and iconic brands to tables across the globe. For more information, visit www.hormelfoods.com and http://csr.hormelfoods.com/.