Hormel Foods Announces Three Employee Engagement Trips to Guatemala
Hormel Foods Announces Three Employee Engagement Trips to Guatemala
Employees and guests help those in need through the company's Project SPAMMY® program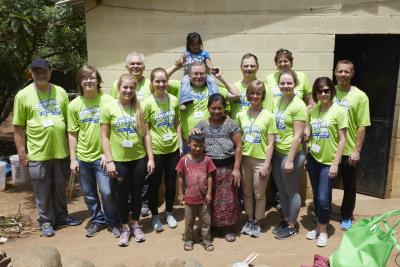 Wednesday, July 25, 2018 - 8:00am
AUSTIN, Minn., July 25, 2018, /3BL Media/ – Hormel Foods Corporation (NYSE: HRL) today announced the company has coordinated three trips for employees and their guests to travel to Guatemala this year to help those in need through its Project SPAMMY® program.
The company's Project SPAMMY® program consists of three core elements:
Nutrition – Hormel Foods developed SPAMMY®, a shelf-stable poultry product that is fortified with vitamins and minerals, to help prevent childhood malnutrition in Guatemala. Each year the company donates more than 2 million cans of SPAMMY®, which helps thousands of families.
Education – Hormel Foods has helped open more than 20 Chispa Centers where children develop skills at six stations: English, computer, psychomotor development, arts and crafts, imagination and sports. In addition, the company and its employees have provided several scholarships to further the education of children.
Engagement – The company provides opportunities for its employees to learn more about the program and to help out through annual employee engagement trips.
"Project SPAMMY®employee engagement trips are a great way for our employees to learn more about the company's program in Guatemala and to make a personal impact in the lives of others," said Kelly Braaten, manager of external communications – corporate responsibility at Hormel Foods. "Each trip consists of visits to Chispa Centers and schools where we have scholarship recipients, as well as service projects such as painting homes and serving meals."
One engagement trip took place in June; the other trips will take place in August and September with approximately 15 participants each.
For additional information about Project SPAMMY® and the company's philanthropic efforts, please visit https://csr.hormelfoods.com/communities/hunger/.
ABOUT HORMEL FOODS — Inspired People. Inspired Food.™
Hormel Foods Corporation, based in Austin, Minn., is a global branded food company with over $9 billion in annual revenues across more than 80 countries worldwide. Its brands include SKIPPY®, SPAM®, Hormel® Natural Choice®, Applegate®, Justin's®, Wholly Guacamole®, Hormel® Black Label®, Columbus® and more than 30 other beloved brands. The company is a member of the S&P 500 Index and the S&P 500 Dividend Aristocrats, was named one of "The 100 Best Corporate Citizens" by Corporate Responsibility Magazine for the tenth year in a row, and has received numerous other awards and accolades for its corporate responsibility and community service efforts. In 2016, the company celebrated its 125th anniversary and announced its new vision for the future — Inspired People. Inspired Food.™ — focusing on its legacy of innovation. For more information, visit www.hormelfoods.com and http://csr.hormelfoods.com/.