Homeless No More: A Friendship that Turned a Life Around
The homeless shelter wasn't David Williams' rock bottom; it was his springboard to a better life. Today, he's a Wells Fargo home loan servicer who says a Wells Fargo volunteer helped him turn his life around.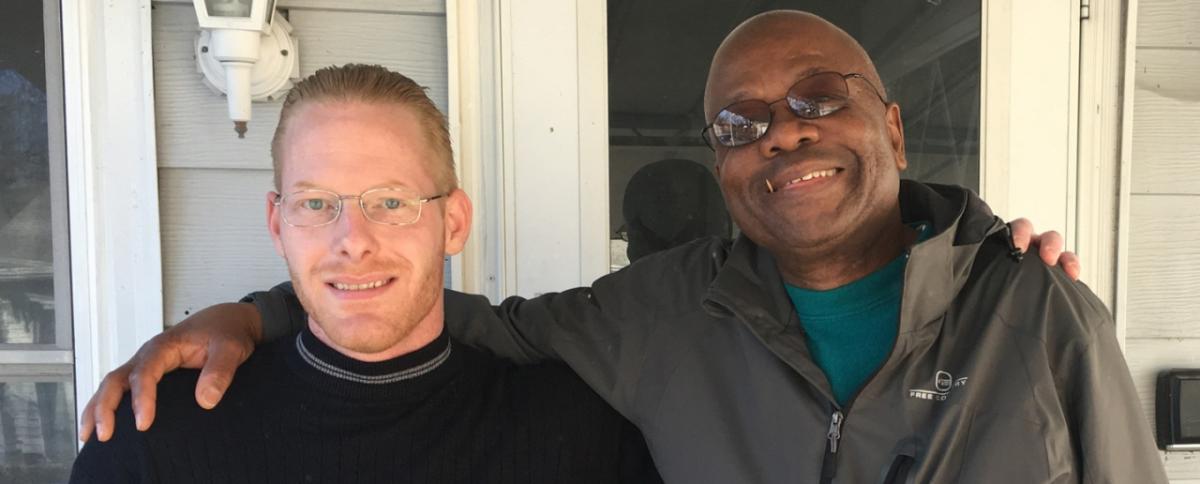 David Williams and John E. Johnson Jr. celebrate Williams' new home in Des Moines, Iowa, on Nov. 29, 2017.
Homeless no more: A friendship that turned a life around
After years of joblessness, homelessness, and depression, David Williams began to turn his life around not long after he arrived at a homeless shelter in Des Moines, Iowa.
On first impression, it might appear that being in a homeless shelter would represent a low point in his life. But for Williams, that's where he found himself again — and a life-changing friendship with John E. Johnson Jr., a community volunteer, Christian minister, and full-time customer service representative for Wells Fargo Home Lending.
From his spiritual insights to his knowledge about job opportunities, Johnson gave him a reason to believe again, Williams said. And more than just friendly handshakes and words, Johnson backed his talk with action.
"John is just an amazing person; he's always willing to give people a chance," said Williams, who lost his auto factory office job in Detroit and all his savings during the Great Recession. "When I needed a job, he didn't just tell me about an opening. He took me to the interview. When I needed a car, he took me to find one. He was by my side the entire time to help get me off the streets."
Today, the homelessness of his past is distant in the rearview mirror. He works as a home loan servicer for Wells Fargo, buoyed by his computer skills, financial acumen, and a strong recommendation from Johnson. Williams also recently became a homeowner himself for the first time, making him homeless no more.
To Johnson, Williams' transformation is a blessing that he attributes to faith, destiny, and Williams' own personal resilience. In 17 years of volunteering at the shelter, Johnson said he has learned to recognize those who have the heart, grit, and sincerity to potentially improve their lives. From their first greeting, he and Williams became fast friends, their conversations each visit ranging from work, family, and faith, to education, homeownership, and careers.
"When I met David in the shelter, there was immediately something special about him," Johnson said. "He had a professional demeanor, and, despite his circumstances, he always wore a navy blue topcoat, even though it was wrinkled, not fresh and crisp. It was still a sign that he wanted more out of life and was determined to rise up from his circumstances.
"Now, when I see him, I know he's comfortable, at ease with himself," Johnson added. "His clothes are sharp, he's professional, and I know he's a special contributor at work. It's been a great turnaround, and I'm so happy for him."
A Standout in the Workplace
It's stories such as these that exemplify and reinforce everything that Wells Fargo seeks to champion in terms of volunteer work in the communities it serves, said Perry Hilzendeger, head of Wells Fargo Mortgage Servicing. The company's Consumer Lending team members have logged more than 340,000 volunteer hours so far in 2017 — a major share of the company's overall volunteer service, which totaled 1.7 million hours in 2016.
"David Williams' story highlights the values of volunteering, serving our communities, promoting homeownership, and creating a culture of caring as part of our vision at Wells Fargo," Hilzendeger said. "It inspires us as we work together as an organization and as individuals to reach out and help others in need."
With his new lease on life, Williams has seized the opportunity and has become a standout in the workplace since he joined Wells Fargo nearly three years ago, said Brian Jack, manager of the mortgage servicing collections team where Williams works.
"From the moment you meet David, you recognize what a humble, intelligent, caring person he is. You'd never know he had lived life on the street in the past," Jack said. "I'm sure that explains the driving force in his life now. He is very committed to bettering himself every single day, at work with co-workers and friends, and online, with the inspirational messages he posts. It always impresses me how much he is willing to reach out to others."
Jack also noted how hard Williams has worked to become a homeowner, fiercely saving money for a down payment, establishing good credit by paying his bills on time, and otherwise boosting his financial health so he could obtain the best mortgage interest rate possible. "That's a major accomplishment," Jack said. "He's been a great example for us all."
'Different from Day One'
Since joining Wells Fargo, Williams said he has been encouraged by everyone he's met; inspired by the company's efforts to support team members with resources such as employee counseling and hardship assistance like the We Care Fund; and impressed with its charitable giving to communities.
"It was different from day one," he said. "I've worked for a lot of companies over the years, but not a single one of them was a place where people were as patient, kind, and fair as they are here. They've helped me work through the issues I had when I came off the street. Today, I'm a million miles in every way from how I used to be."
Williams said it all started with the bond with Johnson, whom he credits with being the best example of his personal faith and of the values the company represents.
"It was that one connection with him and what he called the 'culture of caring' the company is known for," Williams said. "He embodied it for me. Now, if I can share my story and help others who may be going through tough times, it's definitely something I want to do. I want people to know they can get through it and come out on top through it all."