Hitting the Slopes and Moving Mountains
People with disabilities achieve independence on Michigan ski hills, thanks to Moving Mountains Adaptive Program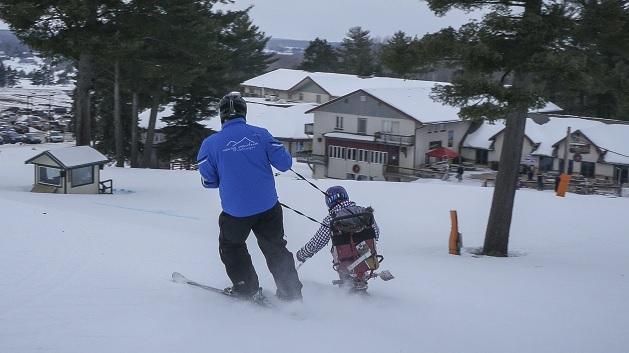 When her first child was born with a disability, this Wisconsin mom hung up her skis.
She'd envisioned taking her kids up the mountain and teaching them to love the sport she'd loved all her life, but that dream was no longer possible, she thought.
Then she heard about the Moving Mountains Adaptive Program in Upper Michigan. Using specialized equipment and specially trained instructors, the non-profit organization provides adaptive alpine skiing and snowboarding experiences to people with physical and cognitive disabilities. As one of the organization's early participants, her dream of hitting the slopes as a family came true.
This story is one of many inspirational stories, says Denise DeLano, co-founder and board member of Moving Mountains. "There's many stories like this because of the depth and breadth of the impact the program has," she says. "We get notes and cards and messages from people who witness it—staff, families, caregivers. People are changed by what they see."
Denise and her husband, Bud DeLano, were longtime co-directors of the Pine Mountain Resort Alpine Ski and Snowboard School in Iron Mountain. They founded Moving Mountains in 2011 to offer free adaptive ski and snowboard lessons for participants of all ages with disabilities, impairments, amputations, paralysis, disease and trauma.
The pair ran both ski schools simultaneously until their retirement from Pine Mountain two years ago; now they focus exclusively on Moving Mountains.
"Our goal is to get each individual to their highest level of independence on the mountains, whatever that looks like for them," explains Bud, who also serves as Moving Mountains' board president.
Each year, about 20 volunteers deliver 80 individual lessons. The program is free for participants and is entirely run by volunteers.
All instructors are Professional Ski Instructors of America (PSIA) trained, with many having advanced PSIA certifications. Moving Mountains provides the specialized equipment free of charge, and Pine Mountain waives fees for the use of any standard rental equipment.
Pine Mountain also provides day tickets for students and season passes for instructors. Individuals and community partners contribute funds for administrative costs, and help purchase expensive adaptive ski and snowboard equipment.
In 2021, Enbridge's Fueling Futures program donated $22,865 to Moving Mountains for three new sit-ski units, which include a lift system to help students and instructors at the chairlift.
"The chairlift doesn't stop," Bud explains. "The new sit-skis have a hydraulic type of lift that will assist in getting the sit-ski into loading and unloading positions. It takes the strain off lifting for our instructors and makes loading and unloading easier on the students."
Enbridge's grant also allowed Moving Mountains to purchase two sliders for upright skiers, units that resemble walkers but hold a pair of skis. When the slider is tethered to instructors, the student can ski standing up, while being supported.
Some students become so empowered by their experience with Moving Mountains that their lives change. Denise recalls one student who developed the confidence to move out of her parents' home into an apartment that accommodates her physical disabilities. Along with her dad, she went on to create a non-profit with the mission of "improving the lives of the cared for by supporting caregivers."
It's not only the participants who benefit from Moving Mountains, Bud adds.
"The effect radiates out to everyone who has the fortunate opportunity to be a part of the experience," he says. "It's life-changing for us as much as it is for them."