Helping Immigration, Child Services, Hunger and Homelessness – Viacom, Catchafire Celebrate another Successful Year Collaborating
Helping Immigration, Child Services, Hunger and Homelessness – Viacom, Catchafire Celebrate another Successful Year Collaborating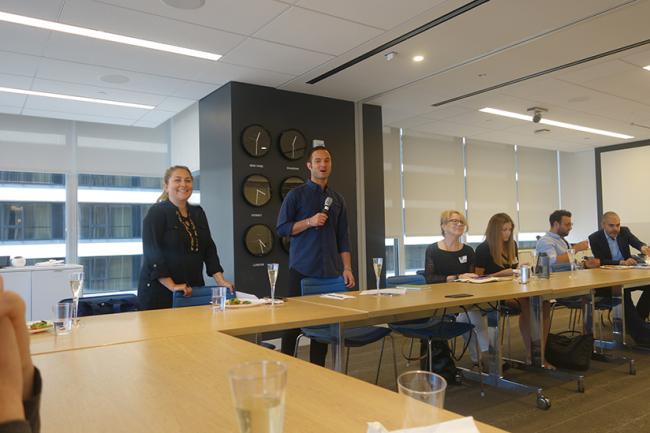 Wednesday, July 26, 2017 - 9:15am
This spring, Viacom teams collaborated with nonprofit organizations from across the country and donated their time and skills through Talent for Good, Viacom's skills-based volunteering program. These efforts culminated earlier this month when Viacom and Catchafire welcomed members from these four amazing nonprofits alongside the employees who volunteer with them in a celebration at Viacom's New York headquarters.
This event, organized and hosted by Viacommunity, united everyone to share their experiences and celebrate their achievements. Adam Robinson, director of Corporate Social Responsibility, kicked the event off with a toast.
"Talent for Good gives our employees the opportunity to build and sharpen their skill-sets, and give back to the community in a much needed and impactful way," Robinson said.
The first group to speak at the luncheon was a team of Viacom employees discussing how they banded together to create a pitch deck for L.A. based homeless youth shelter My Friend's Place. As a native New Yorker, I felt a personal connection to this particular Talent for Good project. Manhattan, much like other large metropolitan areas, is riddled with homelessness. I see sleeping bags filled with tired bodies and men holding out cups filled with coins every day on my way to work in Times Square.
My Friend's Place has a goal to increase corporate partnerships by more than $100,000 per year over the span of three years. Viacom employees helped the organization develop a pitch deck, strategize ways to strengthen relations with existing corporate partnerships, and increase their reach with desired organizations.
Another Viacom team discussed how the New York Immigration Coalition helps foster immigrant civic engagement and community leadership by targeting New York based moderate conservatives that switched from voting Democrat in the 2012 elections to voting for Donald Trump in the 2016 elections.
Viacom marketing employees, working with the New York Immigration Coalition, attempted to change these voters' heart and minds in regards to immigration. This wasn't so easy. Many individuals hung up right away when asked their opinion on immigration policy via phone. So the team switched tactics, slipping flyers with positive statistics and messages about immigrants into their mailboxes, a shift to a soft-power approach designed to more gently influence these moderates.
Child service agency Graham Windham – which provides foster care, family, community, and educational support programs – also teamed up with Viacom employees on a Talent for Good project. Tapping the momentum of Broadway smash-hit Hamilton, (Graham Windham co-founder Eliza Hamilton is a leading character), the Viacom Print/Online Ad Design team created a social media ad campaign for Mother's Day.
The Viacom team launched a #badassmom social media campaign on Mother's Day that featured the message, #badass in pink bolded letters slapped across the faces of the four female founders of Graham Windham.
The final group to present their Talent for Good project was a Spike production team that worked closely with hunger relief nonprofit, Rise Against Hunger. After undergoing a recent renaming and rebranding of the organization's  partnership with the United Nations, Rise Against Hunger was in need of a strong brand anthem film addressing world hunger, stating the organization's mission and values, and outlining how they aim to end hunger by the year 2030. The Spike production team produced and edited this video.
Each Talent for Good project encapsulates Viacom employees' creativity, talent, and commitment to social impact. Thank you to Catchafire, Viacommunity, and these life-changing organizations for all the time and hard work they put into making the world a safer and more just place for all.
About Viacommunity​
Viacommunity is the umbrella effort representing all of Viacom's social impact programs.
Through the power of entertainment, Viacommunity works to inspire social change hand and hand with the people we serve, the employees we work with, and the communities in which we operate. Some of Viacommunity's key areas of focus include building diverse and inclusive societies, promoting healthy living, inspiring future generations through education and empowering our employees with the tools, resources and freedom to truly make a difference.