Hands-On Scientific Learning Goes Global with Amgen Biotech Experience Expansion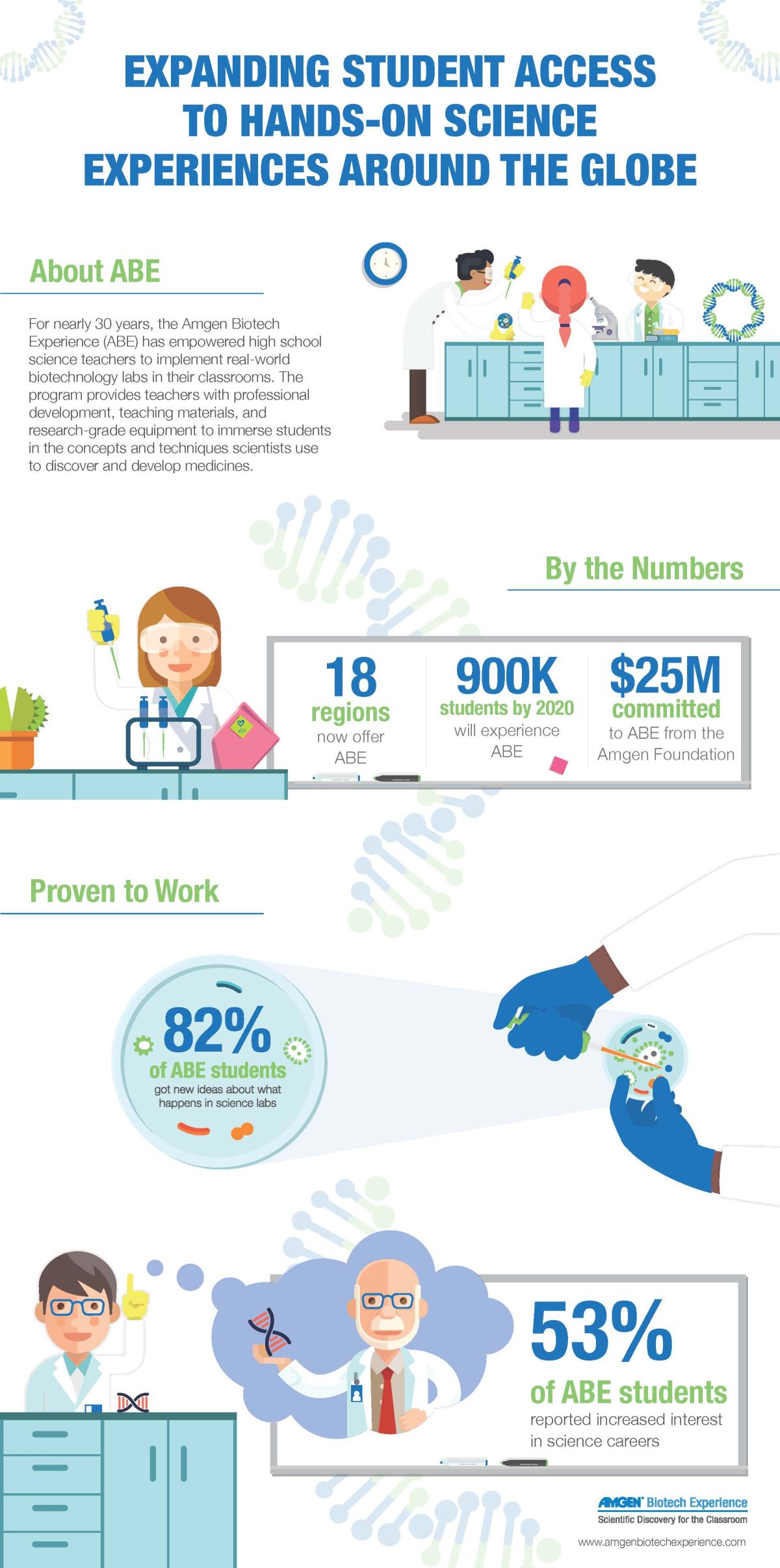 By Scott Heimlich, Vice President, Amgen Foundation
It's no surprise that when students become fascinated by science, that enthusiasm can be contagious. From our survey with Change the Equation, we know students crave hands-on biology experiences that are often lacking in the classroom. The Amgen Foundation is on a mission to help more students catch the science bug, by introducing them to the thrill of scientific discovery and the experiences of actual working scientists.
Today, we are excited to announce the expansion of Amgen Biotech Experience (ABE), a nationally distinguished STEM education program. Since its inception nearly 30 years ago, ABE has engaged 600,000 secondary school students around the world in a three-week course that gives them hands-on experience with research-grade equipment and techniques scientists use to discover and develop medicines. With this expansion, the Amgen Foundation aims to reach an additional 300,000 students around the world by 2020.
Results of an independent, rigorous ABE student assessment show:
82 percent of students got new ideas about what happens in science labs;
72 percent of students got new ideas about what science is;
53 percent of students are more interested in learning about science research; and
53 percent of students report increased interest in science careers from ABE participation.
When students make the connection between what they learn about DNA in the classroom and a medicine that improves people's lives, science becomes more appealing and relevant. Building on ABE's success in existing regions and the solid evidence proving its impact on students' learning and confidence in doing science and biology, we are eager to introduce the program to even more students and communities.
The Amgen Foundation's total past and current commitment to ABE now reaches $25 million. Currently available in Amgen communities throughout the United States, Puerto Rico, England and Ireland, ABE will roll out in Australia, Canada, China, France, Germany, Hong Kong SAR, Italy, Netherlands and Singapore. This means ABE is available in 18 markets around the world, and by 2020 should reach 100,000 students annually.
The critical thinking and problem-solving skills student gain from ABE are competencies that will serve them well throughout their lives – whether they are producing medicines in the lab or making informed decisions about healthcare.
To learn more about Amgen Foundation's ongoing commitment to improving science education, visit www.amgeninspires.com/blog.