Hands-on Learning Leads to an IT Career
A Cisco Networking Academy Success Story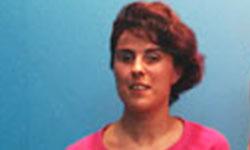 A Cisco Networking Academy Success Story
To prepare for CCNA certification Nurayy Guerler, 32, studied networking hardware with her hands at SFZ Förderzentrum Academy in Chemnitz, Germany, a vocational training center for people with visual impairments. Though Nuray is legally blind, she is now a successful IT trainer at an engineering office.
Ears-on, Hands-on Training
Inspired by networking technology, Nuray took advantage of the hands-on aspect of the Cisco Networking Academy curriculum. During her CCNA courses, she learned to solve practical networking tasks and connect routers and equipment in the classroom by touch, memorizing the shape and functions of equipment. She used a screen reader to translate the CCNA course materials into a braille display, and her instructor read questions and described pictures to her during exams.
She developed a mental image of network infrastructures, which are often displayed in graphics that can be difficult to verbalize. After completing the CCNA course, she passed her certification exam.
Certified and Hired
Nuray believes that her CCNA certification was key to her success in getting an interview. Nuray says: "Handicapped persons have to fulfill 150% to get the same recognition." That's why she made the extra effort to complete CCNA certification.
Shortly after registering her profile on a job search site, Nuray received a request for an application followed by an invitation to interview. She met with the company on a Saturday morning and was sent home with an assignment: test the technical function of a software program. By Monday, she had completed the task and received a job offer. Learn more about job resources available from NetAcad Advantage.
IT Training Career
Nuray now works as an IT trainer in an engineering office, teaching wherever she is needed - Halle, Leipzig, Dresden, or Chemnitz. Her boss is impressed by her enormous willingness to learn. Nuray recommends the CCNA course and Networking Academy program for anyone who is inspired by the subject. "It can only make things better," she says.