Hallmark Enables Arts Education in the UK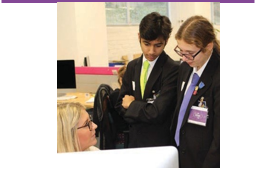 Students at Leeds Co-op Academy (above) visited the offices of Hallmark UK where they learned how to construct creative briefs, in addition to learning about creative careers.
Hallmark Greetings' United Kingdom (UK) business partnered with local colleges and universities to open the door for students toward a career in the arts, working with six different groups in the past year.
In 2017, Hallmark UK began a new partnership with One In A Million, a charity in Bradford that supports disadvantaged youth between the ages of 5 and 19 through sports, arts and enterprise-themed programs.
"My team and I would like to express our sincere thanks to everyone at Hallmark for playing their part and generously making a difference among Bradford's children," said Wayne Jacobs, One In A Million co-founder.
Hallmark donated more than £10,700 (about $15,000) to One In A Million — enough to support 16 youths in the program for one year — and hosted 12 individuals from the organization at its inaugural Craft House arts day at Bradford College's Hallmark Greenhouse facility.
"The Craft House project gives individuals an opportunity to be artistic, and explore print and design techniques, while learning from Hallmark's creative experts," said Heather Williams, innovation manager, Hallmark UK.
Hallmark UK also addressed the need to elevate the next generation of artistic talent by working with students through the following activities in 2017:
Leeds Beckett University:
Advised English and creative writing undergraduates on summer work placements.
Dixons Kings Academy:
Counseled students on asking questions of job fair employers.
Samuel Leicester Academy:
Acted as one of 20 businesses in a speed-networking session, helping to develop students' presentation and quick-thinking skills.
Leeds Co-op Academy:
Gave students experience working with creative briefs for Christmas cracker designs to be sold next year at the Co-op, a UK retailer. During the year, up to 40 students are selected from these types of projects to provide insight into working in a busy creative studio.
In addition, Hallmark UK continued its 20-year relationship with the New Designers Program by inviting top creative students from universities and art colleges across the UK and Europe to exhibit their work.
"We take up to 50 students to join us on a two-week placement," said Laura Broadley, studio manager, Hallmark UK. "We also select an overall winner from each week who gets a cash prize and a month's paid placement valued at £2,000 (about $2,800)."
Download and read more from our full 2017 Caring In Action Report here.