Half of U.S. Employees Believe Their Employer Is Focused Only on Profits
The Harris Poll/Cone Employee Purpose Engagement Survey Finds That Poor Activation of a Company's Purpose Can Lead to Significant Lost Value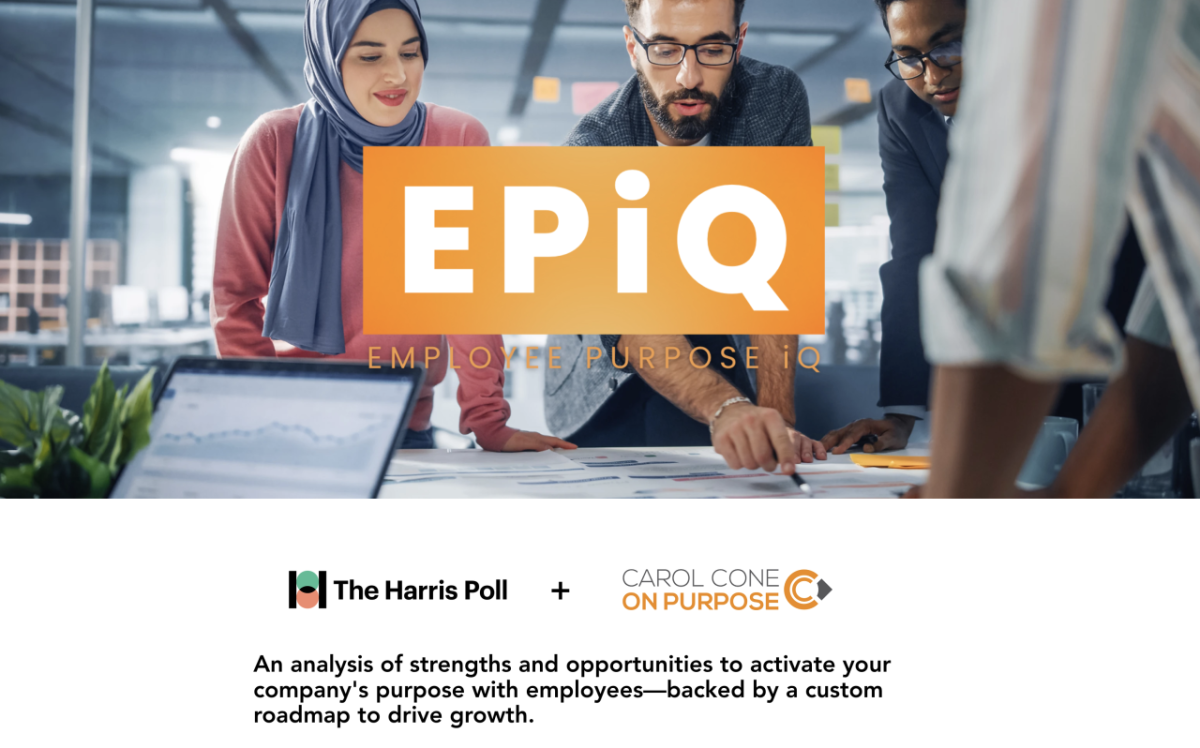 A national survey from Carol Cone ON PURPOSE (CCOP) and The Harris Poll found that only 50% of U.S. employees believe their company cares about more than just making a profit. This can result in a less engaged workforce and ultimately lost value, given that purpose-driven companies experience a 1.5x greater growth rate, according to McKinsey.
Additionally, companies whose employees feel "a sense of purpose at work and believe their leaders set clear direction" outperform the stock market by nearly 7%, according to Great Places to Work. Purpose-driven companies see retention rates 40% higher than other companies, according to Deloitte.
The Harris Poll/Cone Employee Purpose Engagement Survey also established that 68% of employees believe it is not enough for companies to just generate profit—they have a responsibility to positively impact employees, customers, communities, and the environment.
"Purpose is vital 'connective tissue' for organizations and their employees," said Carol Cone, CEO of Carol Cone ON PURPOSE. "This research highlights gaps in how employees perceive their company, which should send a strong signal to business leaders that they are losing critical value by not fully embedding or optimizing their purpose, or the reason they exist beyond profits alone."
Insights from the research were used to develop a new measurement methodology, Employee Purpose iQ (EPiQ), to help companies of any size or sector determine how their purpose impacts employees and ultimately drives business results. Based on a survey of an organization's employees, EPiQ is grounded in targeted metrics related to leadership, credibility, employee engagement / commitment, and purpose activation. EPiQ results in a custom roadmap that helps organizations understand where purpose is strong or weak in relation to its impact on employee performance, experience, and engagement.
"A company's purpose is known to be an important business asset, but before now, it has been hard to measure the impact of purpose on the workforce," said Wendy Salomon, Managing Director of Reputation and Corporate Strategy for The Harris Poll. "EPiQ provides a diagnostic tool to help companies understand and manage purpose as a key internal asset, and to reverse trends toward quiet quitting, burnout, and disengagement."
EPiQ also helps organizations use existing resources and investments more effectively. "When purpose is not embedded in an organization, it can't deliver on its potential to inspire and enhance employee performance," Cone said. "Previous research conducted by CCOP and The Harris Poll, Purpose Under Pressure, showed that purpose is often implemented inconsistently and not deployed in key functional areas. EPiQ helps organizations identify gaps, while illuminating areas of strength to build upon and ultimately ensure purpose produces returns across the enterprise."
EPiQ helps companies understand the impact of their investments in purpose related to leadership trust, talent attraction and retention, belonging, performance, and influence on decision making. EPiQ's precise findings reveal opportunities for deeper purpose awareness, engagement and ultimately impact. The diagnostic tool is designed to address questions like:
Where are the biggest gaps or opportunities to engage employees?
How to use purpose to drive talent retention and talent acquisition?
Do employees credibly believe in the company's commitment to its purpose?
What aspects of purpose are the biggest motivators by employee type?
"Successful companies are committed to measuring what matters. Now EPiQ allows them to reliably add purpose to their scorecards," said Salomon.
The research delivers an EPiQ score, which is an aggregate of the organization's Credibility, Talent, and Activation scores. The score is supplemented by a ~10-page presentation, designed to be C-suite ready, identifying strengths and areas of greatest opportunity.
To learn more about EPiQ or schedule a conversation, please visit CCOP's website.
###
About Carol Cone ON PURPOSE
Carol Cone ON PURPOSE is a pioneering consultancy helping companies, brands, and organizations harness the power of social purpose to advance their business and social impact. CCOP's proven approach meets clients at any point on their  purpose journey to unlock opportunities to build reputation, inspire employees, exceed financial targets, and support the greater good. The consultancy is led by Carol Cone, regarded as one of the founders of the purpose movement in the early 1980s and has been internationally recognized for her work.
About The Harris Poll
The Harris Poll is one of the longest-running surveys in the U.S., tracking public
opinion, motivations and social sentiment since 1963. It is now part of Harris Insights
& Analytics, a global consulting and market research firm that strives to reveal the
authentic values of modern society to inspire leaders to create a better tomorrow.
We work with clients in three primary areas; building twenty-first century corporate
reputation, crafting brand strategy and performance tracking, and earning organic
media through public relations research. Our mission is to provide insights and
advisory to help leaders make the best decisions possible.