Great Plains Grassland Loss Slows Overall, While South Dakota Conversion on the Rise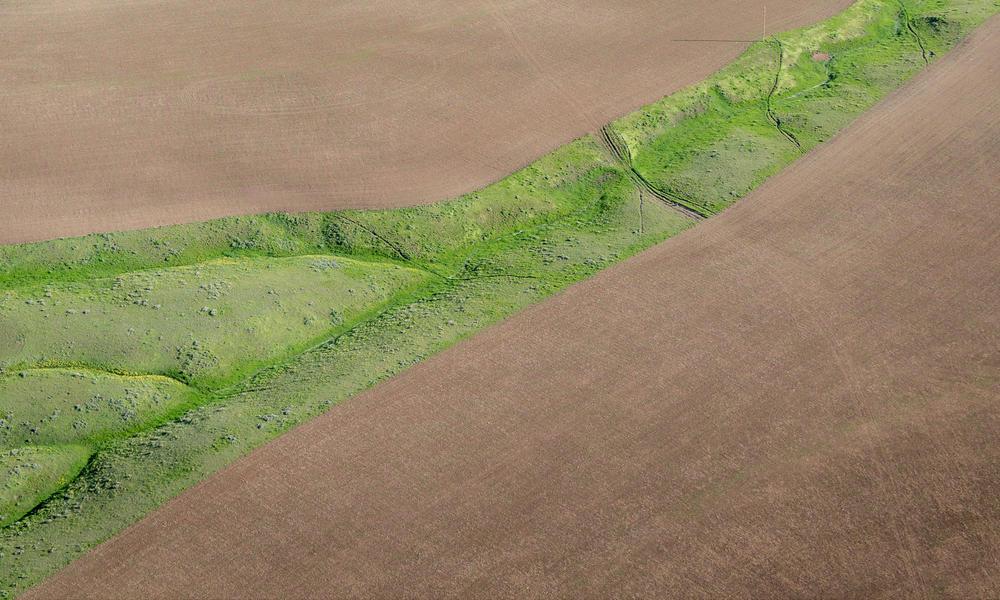 WASHINGTON, August 28, 2018 /3BL Media/ – Last year, 1.7 million acres of grasslands were lost across the Great Plains to crop production, according to new research from World Wildlife Fund (WWF). While stark, this number represents an overall decrease in conversion from 2016, with 800,000 less acres plowed, benefiting the critical ecosystems, wildlife habitat, and rural communities who rely on these intact grasslands. However, the region of South Dakota that was once hit hardest by the Dust Bowl has experienced a dramatic increase in plow-up over the past year.
The third edition of the Plowprint Report, analyzes and identifies remaining intact grasslands across the Great Plains region. To date, only about half of all grasslands remain, resulting in degraded soil health and leading to increased erosion that puts downstream drinking water for nearly 44 million people at risk from agricultural chemical runoff.
"Working to eliminate grassland conversion is at the core of our work in the Great Plains," said Martha Kauffman, managing director of the Northern Great Plains program at WWF. "While decreased conversion is always good news, cumulative loss over time contributes to ecological damage that is hard to recover. In a year when the Farm Bill is up for debate, we're calling for strengthened and expanded policies that help combat the ongoing loss of these vital grasslands."
To capture the full picture, the Plowprint also examines cropland that has been reverted back to grassland. Although grasslands conversion is not always permanent this land is less able to filter water, store carbon, reduce soil erosion, or provide key wildlife habitat. In 2017, about 3 million acres of cropland across the Great Plains reverted to perennial grass coverage, compared to just 370,000 acres in the previous year.
While the report found decreased conversion across the region, South Dakota lost grasslands at an alarming rate. Statewide, 181,000 acres were lost to the plow, and in the Northern Great Plains (NGP) region of the state 58,000 more acres were converted than in 2016. South Dakota was the only state across the NGP to experience an increase in conversion.
"If the grasslands of the Great Plains are going to thrive, bold action and investments must be made today," said Kauffman. "The 2018 Farm Bill comes at a pivotal moment. To ensure the preservation of the ecological and economic health of the states that call these grasslands home, WWF urges policymakers to deliver a bill that improves support for conservation programs for native grasslands and protects them against future funding cuts."
In the coming weeks, the 2018 Farm Bill will near its expiration date. As Congress comes together in conference to determine what a final bill will deliver, WWF specifically calls for strengthening the Sodsaver Policy, maintaining 8-10 million acres annually in the Conservation Stewardship program, and committing to baseline funding for the conservation title. WWF continues to work with farmers, ranchers and other stakeholders across the region to co-develop programs that prioritize sustainable production and responsible sourcing, while keeping the integrity of the region and the wildlife that depend on it intact.
###
About World Wildlife Fund (WWF)
WWF is one of the world's leading conservation organizations, working in 100 countries for over half a century. With the support of almost 5 million members worldwide, WWF is dedicated to delivering science-based solutions to preserve the diversity and abundance of life on Earth, halt the degradation of the environment and combat climate change. Visit www.worldwildlife.org to learn more and follow our news conversations on Twitter @WWFNews.
Media Contacts:
Susan McCarthy
susan.mccarthy@wwfus.org
202-495-4133
Kathryn Walsh
kathryn.walsh@wwfus.org
202-495-4441