Global Perspective – India Plans Coal Plant Emissions Reduction
India is planning major investments in its power generation and distribution infrastructure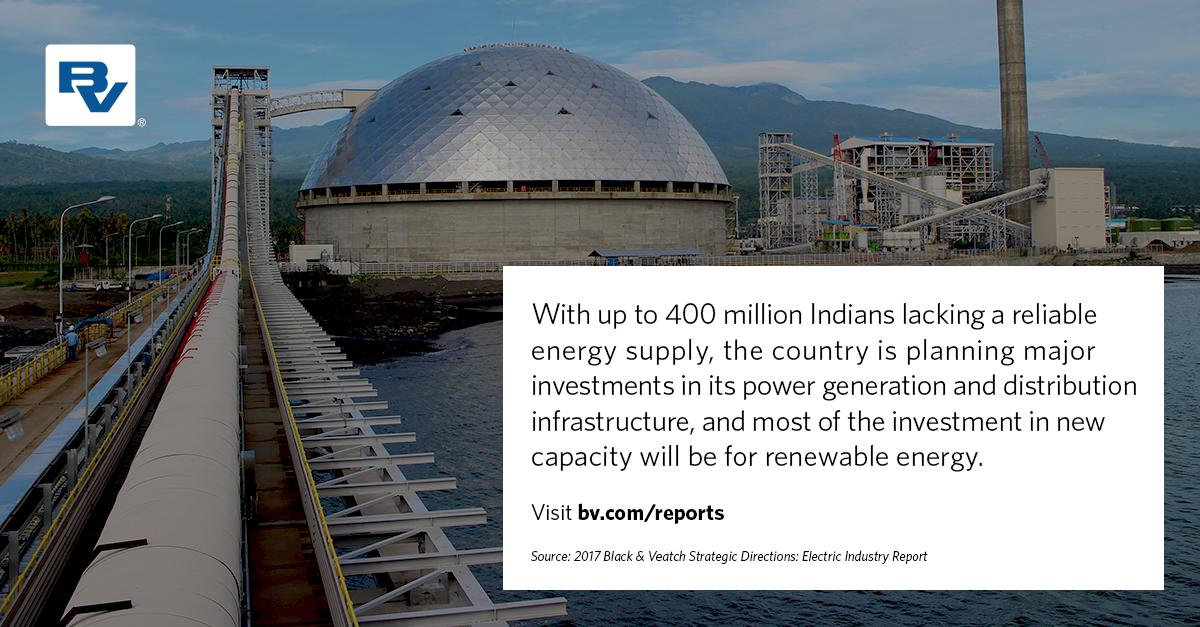 India plans major investment in power generation and distribution
With up to 400 million Indians lacking a reliable energy supply, the country is planning major investments in its power generation and distribution infrastructure. Most of the investment in new capacity will be for renewable energy. India has a 175 gigawatt (GW) target for renewable energy (100 GW solar, 60 GW wind and 15 GW biogas and others) by 2022.
The fact remains that most major agencies, including the Central Electricity Authority, agree that although little additional coal power capacity is needed over the next decade in India, coal will continue to be a significant source of electricity generation in the next two decades.
Download the 2017 Electric Industry Report
Striving to Meet Renewable Energy Targets
The Centre for Science and Environment estimates that if the country can meet the 2022 renewable energy target, India should be close to meeting half of its energy needs from non-fossil fuels by 2031 to 2032. The other half, however, would still predominantly come from coal. Early in 2017, the Minister of State with Independent Charge for Power, Coal, Renewable Energy and Mines, Piyush Goyal, noted that without a base load of coal-based capacity, it would be difficult to add any more renewable capacity.
When we talk about cleaner energy in India, the focus is almost always the government's drive for renewables but something important is missing. Solar power works well when the sun shines, but stops at sunset, just as power demand soars to its evening peak. Partial thermal power has to remain idle during the day and be ready to pick up the slack when solar production stops. This forced idleness carries huge costs hidden by ostensibly inexpensive solar power. Renewable energy is essential to sustainably power future growth; in the present, however, when most of India's energy comes from coal, cleaner energy conversations need to be the focus.
About 60 percent of India's installed power capacity is currently coal-based. This is set to increase to 70 percent in 2026, according to BMI Research. The electricity generation target of conventional sources from 2017 to 2018 has been fixed as 1229.400 billion units.
To date, the power industry in India has been facing less stringent emissions regulations than more developed countries because of the critical need to rapidly grow the generating capacity to bridge the gap between power supply and demand. 
Meeting Today's Emissions Standards
Now, for the first time, all of this coal capacity (new and existing assets) has to meet emissions standards for sulphur dioxide (SO2), oxides of nitrogen (NOx) and mercury. In addition, there are significantly tighter standards for pollutants such as particulate emissions. The new emissions standards are expected to cut particulate emissions from new plants by 25 percent, SO2 emissions by 90 percent, NOx emissions by 70 percent and mercury emissions by 75 percent compared with existing state-of-the-art plants.
The current deadline for compliance is December 2017, but getting an extension is likely. The cost of compliance, according to the Association of Power Producers, could be as much as Rs 2.5 trillion. NTPC Limited, India's largest energy conglomerate, has estimated that implementing the new standards could increase its cost of power production by 10 percent.
The path to compliance is challenging. Supercritical technology is one route to cleaner coal for operators building new assets. The government legislated to ensure that all Ultra Mega Power Projects, and all new capacity built after 2017, uses supercritical technology. In addition, the government has identified old plants totaling 7,738 megawatts (MW) — owned by central and state agencies — for replacement with supercritical plants.