Global Organizations Align on Societal Engagement Trends, Seeing Commonalities From Asia to Europe and Africa
Local authorities from CECP's Global Exchange cite levering assets, purpose, support of the Sustainable Development Goals, and digitization as top of mind for large companies around the world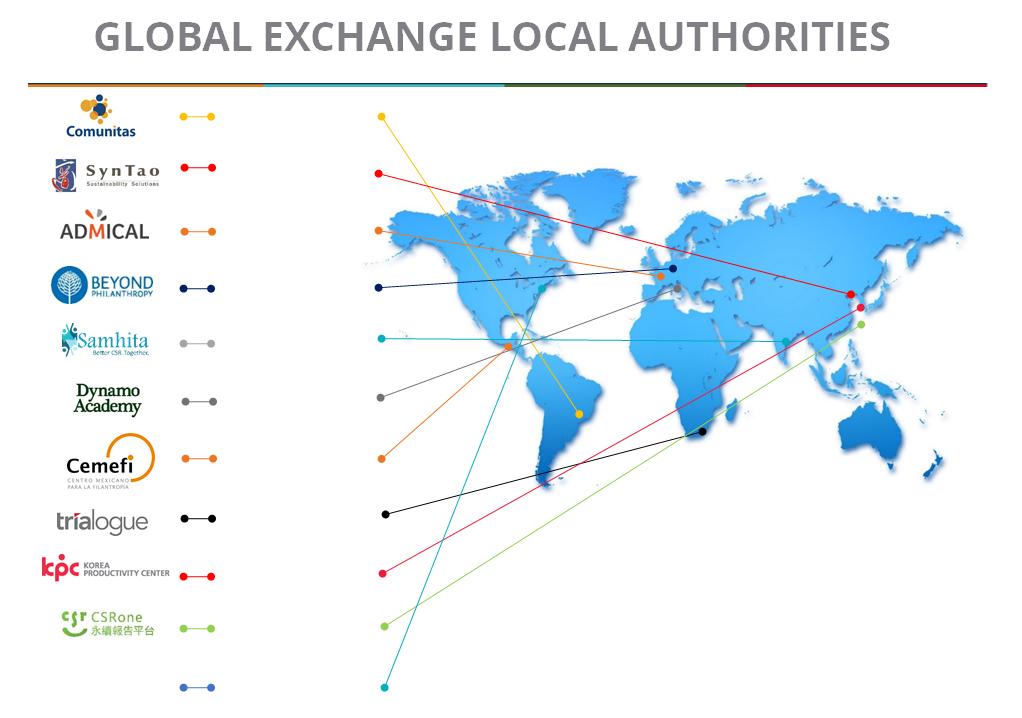 Further reinforcing world-wide trends seen over the last year among some of the world's largest companies, affiliates of the Global Exchange, a network from CECP: The CEO Force for Good, have identified four key areas of focus taking root: Levering Assets, infusing Purpose throughout the business, broader support of the Sustainable Development Goals, and Digital Adoption and Integration in multiple areas. 
CECP's Global Exchange, an effort initiated nearly two years ago, seeks to unite country-based, mission-driven corporate societal engagement organizations to advance the corporate sector as a force for good around the world. Participating organizations – each a Global Exchange Local Authority in their respective country – combined cover 59% of the world's GDP and 50% of global population. They include Admical in France, Beyond Philanthropy in Germany, CECP in the USA, Cemefi in Mexico, Comunitas in Brazil, CSRone Reporting in Taiwan, Dynamo Academy in Italy, Trialogue in South Africa, Korea Productivity Center in South Korea, Samhita in India, and, SynTao in Mainland China and Hong Kong. Local Authorities work individually with some of the world's largest companies to support their societal engagement efforts, offering cultural learnings and context, expert data-driven insights on country-specific social impact efforts, and opportunities to deepen corporate programs in regions around the world.
"The Global Exchange's leadership efforts in standard-setting and benchmarking on corporate societal engagement around the world has been vital in meeting the needs of multinational companies," said Carmen Perez, Director, Data Insights, CECP. "The Global Exchange network's ability to identify key trends represents a powerful tool for companies seeking to find solutions to some of the world's most pressing problems."
Local Authorities report hearing from companies that these four trends are top of mind for CSR executives and practitioners around the world. The themes were echoed by findings in CECP's Giving Around the Globe, due to be published in mid-October.
Levering Assets: From impact investing, to data, to intellectual property, to brand and logistics, leading companies are solving societal challenges by leveraging their many skills and assets.
Trialogue cited an example from South African cellular services company Vodacom, which set up a Stock Visibility Solution to enable clinic nurses to manage the availability of chronic medication and avoid supply depletion. The program offers South Africa's Department of Health up-to-the-minute information on medication availability, enabling improved supply of necessary medications at clinics.
 
KPC offered a relevant example of how multiple telecommunication companies in South Korea are using their mobile technology to identify needs among critical demographics, including senior populations and refugees.
Infusing Purpose:
Comunitas notes that leading Brazilian companies have focused on increasing social investments while simultaneously aligning programs with core business functions to reinforce a sense of shared value creation among employees, instead of keeping social investment work siloed.
 
Giving Around the Globe finds that the Asian region reflected a higher average employee volunteer participation rate than in any other region in 2016 (55%).
Sustainable Development Goals: With 169 targets among 17 global goals, organizations and companies alike are aligning their social impact efforts to support the United Nations ambitious agenda to find solutions to global systemic crises, including poverty and hunger, climate change, health, and access to education.
According to CSRone Reporting, "The SDGs provide common goals and regulations that allow private sectors to rethink their business models which can turn global challenges and issues into business solutions."
 
SynTao reports similar attention to the SDGs in Mainland China and Hong Kong with China's 13th Five-Year Plan. Within this plan, China's business sector has been asked to review CSR development strategy within their respective companies and ensure plans are aligned with the national government's goals, which are also closely in sync with the SDGs. With the use of big data, the time frame provides companies key indicators in order to address social needs of customers and clients in alignment with the slogan "Care for What They Care."
 
Dynamo has noted that the SDGs offer a unique opportunity to create a concise societal engagement vocabulary on corporate philanthropy that can be globally communicated, as the SDGs represent widely recognized themes and objectives.
Digital Adoption and Integration: With digital technology offering an opportunity to improve multiple social issues around the world, the widespread adoption of technology and strategic use of data represents a significant opportunity for organizations and companies.
Beyond Philanthropy reports corporate use of complex algorithms and data analysis for vetting and identifying effective charitable organizations and NGOs and helping to identify potentially impactful partnerships.
 
In India, Samhita has seen leadership from the information and telecommunications technology sector in the growing investment in digital literacy programs as part of their social impact programs, as this cause area aligns well with their business models.
Global Exchange Local Authorities work with corporate leaders of some of the world's largest companies to help transform their social strategy by providing customized connections and networking, counsel and support, benchmarking and trends, and awareness building and recognition.
CECP's Giving Around the Globe is the result of a comprehensive analysis of data from large companies headquartered in countries across the world. The forthcoming publication is the fifth edition of the expanded report, benchmarking global corporate engagement activities in multiple regions around the world and analyzing trends and developments among leading companies.
Contact Laura Galindo for more information about the Global Exchange: lgalindo@cecp.co.
#  #  # 
ABOUT CECP: THE CEO FORCE FOR GOOD
CECP is a CEO-led coalition that believes that a company's social strategy—how it engages with key stakeholders including employees, communities, customers, and investors—determines company success. Founded in 1999 by actor and philanthropist Paul Newman to create a better world through business, CECP has grown to a movement of more than 200 of the world's largest companies that represent $7 trillion in revenues, $18.6 billion in societal investment, 13 million employees, and $15 trillion in assets under management. CECP helps companies transform their social strategy by providing customized connections and networking, counsel and support, benchmarking and trends, and awareness building and recognition. http://cecp.co