Global Citizen and the World Food Programme Partner to Raise Awareness for the School Meals Coalition
Coalition Urges Countries to Invest in School Feeding Programs and Join the International School Meals Coalition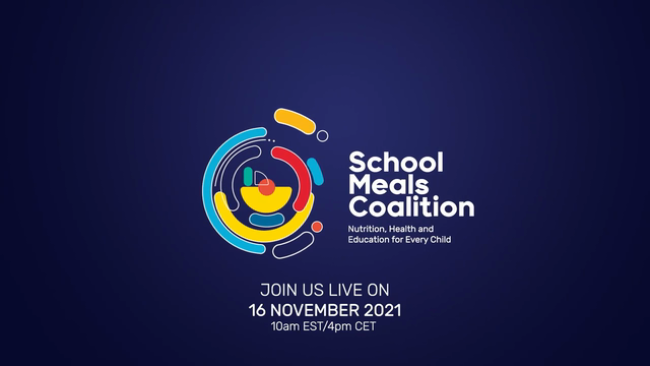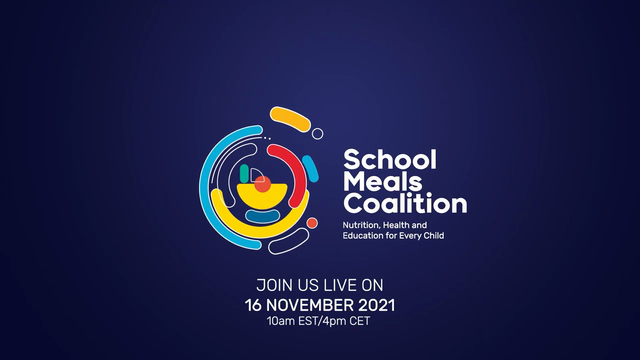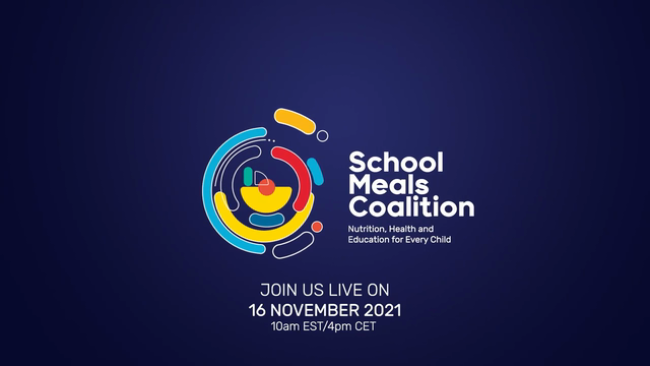 NEW YORK, November 16, 2021 /3BL Media/ - The international advocacy organization, Global Citizen, and the World Food Programme (WFP), have partnered on a 6-month global campaign to raise awareness around the School Meals Coalition. The coalition was launched in September 2021 as one of the major initiatives of the Food Systems Summit, where 61 governments and 50 partners joined in a call to action, restore access to school meals lost during the pandemic, mobilize $4.7 billion to bring meals to 73 million vulnerable girls and boys who were falling through the cracks even before COVID-19, and improve the quality of the programmes across the board. 
For millions of children, school is not just an opportunity to learn, but it also represents the only chance to eat a nutritious meal during the week. School lunches have become an invaluable resource for these children suffering from food insecurity. With the onset of school closures during the pandemic, millions of children who depended upon school-provided lunches faced new challenges in finding nutrient-dense and dependable meals. 
School meals are seen by governments as a key intervention because they can transform lives and communities and serve as platforms for improving education and food systems globally. They do more than provide food, particularly when combined with other school-based interventions. In fact, robust school lunch programs can uplift entire communities, as for every 100,000 children receiving school meals, 1,668 direct jobs are created by a school meals programme. 
The School Meal Coalition aims to optimize how these programs are structured, with a particular focus on working with communities to develop traditionally appropriate meals and support local farmers and commerce -- making communities more sustainable and resilient while supporting the health, nutrition and education of children.They also support gender equality by keeping girls in school and local farms and catering companies, often run by women
By using locally produced food, these programs can minimize greenhouse gas emissions associated with transportation and storage. They can also incentivize local farmers to invest in regenerative agriculture.
For every $1 invested in school meals, communities receive $9 in economic returns, according to an analysis by the WFP. Despite this, school meal programs around the world remain underfunded. 
"The question to me is: 'What's the cost of NOT providing a school meal to all the children on the planet?' If you want increased poverty, don't provide school meals," David Beasley, the executive director of the WFP, said in a statement. "If you want more child marriages, don't provide school meals. If you want more destabilization and migration, and recruitment by extremist groups, don't provide school meals." 
"But if you want to see stronger local communities, and teen-pregnancy rates drop, and educational opportunities increase, and GDP and economic empowerment, especially of girls — if you want to see that increase, then provide school meals," he said. 
Benefits of school meals programmes:
Better health and nutrition
Increased concentration 
Financial relief for low-income families 
Increased job opportunities for local communities
Global Citizen is working to raise the profile of the School Meals Coalition and the importance of school meals by featuring actions, pledges, quizzes, and engaging activities on the organization's platform. Now, global citizens all over the world can participate in life-saving actions by helping to support the School Meals Coalition. 
-Ends- 
For press inquiries please contact:
Global Citizen Public Relations
media@globalpoveryproject.com