#GivingTuesday the JetBlue Way
#GivingTuesday the JetBlue Way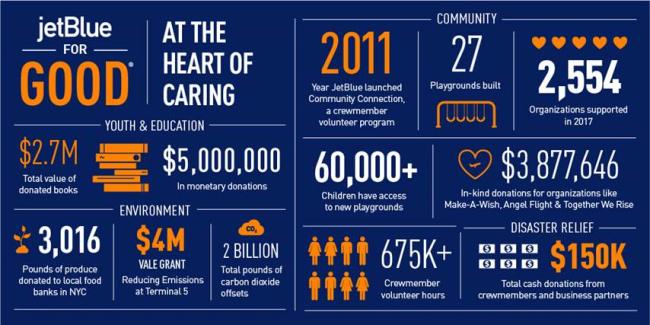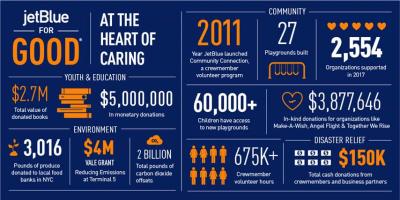 Tuesday, November 28, 2017 - 10:15am
JetBlue is celebrating November (aka Philanthrophy Month) as JetBlue For Good Month. Service is part of our DNA at JetBlue. JetBlue For Good Month celebrates all the ways we give back year-round. Earlier this month, we asked our customers to "Check-In For Good."  In honor of #GivingTuesday, the international day of giving kicking off the holiday season, we're offering even more opportunities for customers and crewmembers to get on board to bring our mission of Inspiring Humanity® to life.  In fact, several lucky customers are in Houston and Jamaica today on volunteer trips.
#CheckInForGood to Help Houston Public Libraries, Nov. 27-

29, 2017
Like many in Texas, the Houston Public Library (HPL) is still reeling from the impact of Hurricane Harvey. Seven branches remain closed due to storm damage, leaving these communities without access to the libraries' vital programs, services and books resources.

Building on JetBlue's signature Soar with Reading literacy program, designed to inspire and encourage kids' imaginations to take flight through reading, volunteers on this trip will check in with elementary schools in communities which have been impacted by Harvey, have low literacy rates and where their libraries are still closed. While the Mobile Express, HPL's library-on-wheels hits the road to distribute free books, volunteers will help operate "pop-up" libraries and host reading events, with books donated in partnership with Simon & Schuster Children's Publishing. JetBlue will also bring its innovative free book vending, powered by IVS, to Houston to distribute 25,000 children's books throughout the remainder of the year.
#CheckInForGood to Help the Sandals Foundation's Local Caribbean Community Efforts- Jamaica, Nov. 27-

29, 2017
The Sandals Foundation, the philanthropic arm of Sandals and Beaches Resorts, is committed to improving the lives of its local communities, supporting schools, facilities and centers across eight islands in the Caribbean.

The Eltham Community Centre serves the rural area surrounding Ocho Rios region. Here, neighbors can gather for recreational activities and informative workshops, receive mentorship and gain access to free mental and dental care as well as spay and neuter services for animal clinics. Volunteers on this trip will help paint, renovate and restore The Centre with upgrades to ensure it can continue to be a safe, healthy and inspiring space for both the young and elderly.
Our commitment to doing good doesn't expire, just like our TrueBlue points. In addition to JetBlue For Good Month, JetBlue lives its mission of Inspiring Humanity all year long. Some of our recent philanthropic initiatives include those in the infographic above.
JetBlue For Good is JetBlue's platform for social impact and corporate responsibility. Giving back is part of JetBlue's DNA and is core to its mission of Inspiring Humanity. Centered around volunteerism and service, JetBlue For Good focuses on the areas that are most important to the airline's customers and crewmembers - community, youth and education and the environment. Combining JetBlue's corporate efforts with its customers' and crewmembers' passions, the common theme is Good – JetBlue For Good. Join the #JetBlueForGood conversation on Twitter, Instagram and Facebook, check for regular updates and get involved.
For more information about causes supported by JetBlue customers and crewmembers, or to learn more about JetBlue For Good, visit jetblueforgood.com.