The Gender Equality Balancing Act
By Alan Foster, National Grid UK Chief Financial Officer.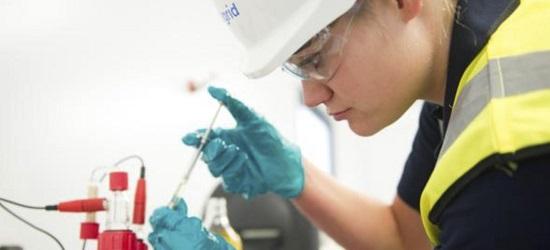 At National Grid, we're committed to inclusion and diversity and our goal is to maximise the potential of every employee.
Originally posted on National Grid's Connecting site
In January 2018, National Grid will sponsor the Leadership Conference for Women in Energy – Europe in London. It's a timely reminder that there's still a lot of work to do to achieve parity between men and women in senior leadership roles in energy and beyond. Alan Foster, National Grid's UK Chief Financial Officer, explains.
You only have to scan the newspapers and airwaves from the past 12 months to recognise that gender equality in the workplace remains an issue.
While the UK has made great strides since 2011 in increasing the number of women on the boards of leading businesses, nobody would claim there's now a 'level playing field'.
The statistics paint a stark picture. Fewer than 10% of current FTSE 100 CEOs are women, while in the top 100 UK energy firms, women hold only 6% of executive board seats. Certainly, the energy industry has long been viewed as a male-dominated environment, which is why the Leadership Conference for Women in Energy – Europe has an important role to play.
It aims to help all energy professionals develop the skills they need to bring about change and facilitate greater opportunities for women in leadership roles.
Progress to date
We should not ignore the fact that some progress has been made. The percentage of women on FTSE 350 boards has doubled since 2011 to 21.9%. This figure combines the current female representation on FTSE 100 boards (26.1%) and on FTSE 250 boards (19.6%).
Unlike other European countries, the UK has chosen to take a voluntary route to improving board gender parity. This involves setting voluntary targets rather than legislating quotas as has happened elsewhere.
The opportunity ahead
There's plenty of evidence that a diverse workforce with strong representation of women in leadership roles has a positive effect on business performance.
The latest McKinsey study, Women Matter: Ten years of insight into gender diversity, identifies a direct link between the profitability of a company and the proportion of women at senior executive and board level.
The report says there's a "difference in return on equity of 47% between the companies with the most women on their executive committees and those with none, and a 55% difference in operating results".
The McKinsey report also finds that $12 trillion could be added to global gross domestic product (GDP) by 2025 by closing the gender pay gap. It concludes that 240 million workers would be added to the world's labour force by closing the gender gap in the economy.
Earlier this year, McKinsey published The power of parity: Advancing women's equality in the United Kingdom. That report says bridging the gender pay gap in the UK could add another £150 billion to business-as-usual GDP forecasts in 2025.
So, the evidence is out there. But what next? Regardless of gender, everyone can contribute. The Powerful Women organisation has studied what it takes to address the issue of parity in the workforce. It sets out a goal of 30% of senior positions within UK companies to be held by women by 2030. To do this, we need as many people on board as possible to develop and unlock women's potential.
Our work at National Grid
At National Grid, we're committed to inclusion and diversity and our goal is to maximise the potential of every employee.
We're proud to close the gender gap through our Powerful Women's target. We now rank fifth out of 80 UK companies. A third of our board seats are held by women and a quarter of executive members are female. But we can still do more.
I'm also proud to be the executive sponsor of National Grid's UK women's network, Women in National Grid (WiNG), which does a huge amount to promote progression for women and which created a book entitled Remarkable, celebrating gender diversity in engineering and energy industries.
Final thoughts
In the 21st Century, it's easy to assume that equality for women in the workplace is a given. All the evidence suggests there's much work ahead.
The conference in London at the start of 2018 is one example of practical steps that can make a difference. It will bring together women from across Europe who have leadership roles in energy to share industry knowledge, strategies and experience. You can find out more and sign up to take part here.