Following Tragedy and Disability, CMT Empowers Dad to Return to School to Help Others
CMT's Empowering Education provides crucial marketing expertise and talent networks to expose adult learners to community colleges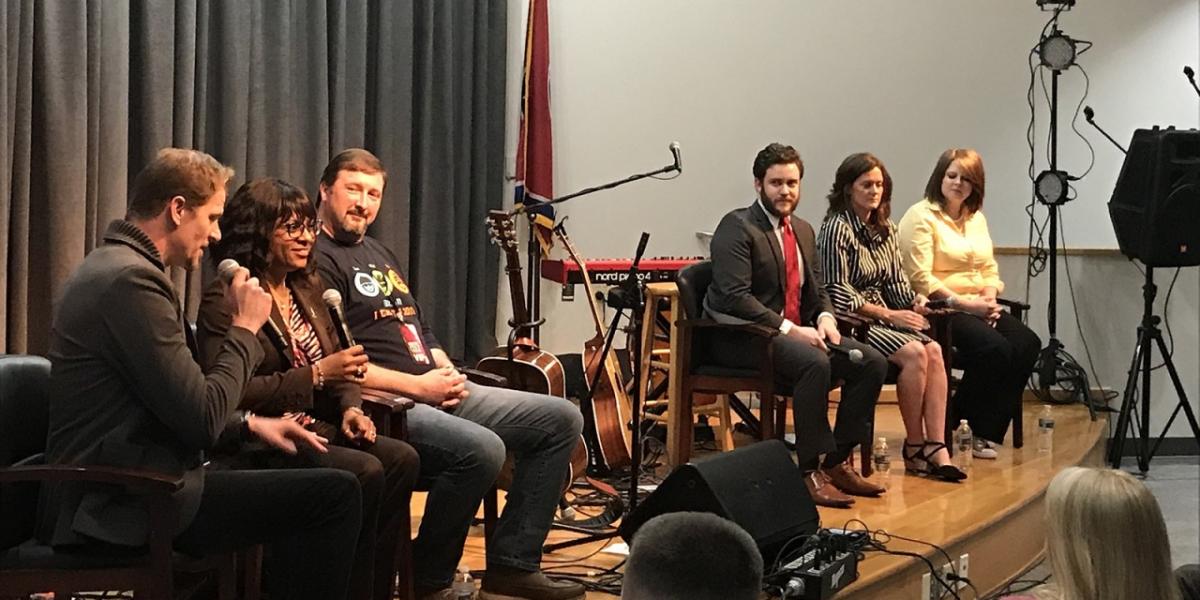 Randy Smith, third from left, sits with other students on a CMT-sponsored panel at the April 2019 Empowering Education tour stop at Jackson State Community College in Tennessee.
Originally published by Viacom
By Stuart Winchester
When Randy Smith graduated high school in 1993, he went directly to work, first at factories, and then in the more lucrative business of painting water towers. It was grueling but adventurous labor. He was on the road nine months a year, working from sunrise to sundown seven days a week, a jagged trek through the lower 48 states.
The money was good, and he was young and strong. Then, little by little, that life of travel and manual labor became less viable.
In 2007, his twin daughters, Gabrielle and Gracelynn, were born prematurely. Each weighed less than two pounds. Both developed normally, but 18 months later Gracelynn suffered a brain injury during routine surgery. She was confined to a wheelchair, unable to eat without a tube. An army of physical, occupational and speech therapists worked to ease her pain.
Despite their efforts, she died in 2012. Smith went on disability from a chronic back injury and was diagnosed with lupus. His marriage collapsed. Out of work, he began considering a return to school. In his late 30s, he found the thought of starting over daunting.
Smith is exactly the type of student that CMT hopes to connect with via its Empowering Education campaign. This spring, CMT partnered with the Tennessee Board of Regents – which supervises all community colleges and colleges of applied technology in the state – to bring the Empowering Education initiative across the state. The partnership taps into CMT's production expertise, distribution partnerships and access to talent to help prospective students overcome perceived obstacles to furthering education.
"Community colleges are not being funded to the level that they need to be funded, especially in marketing," says CMT Public Affairs Director Rachael Wall. "That's where CMT comes in. We're able to use our platform and brand recognition to increase awareness for community colleges."
In addition to offering online resources for prospective students, Empowering Education hosts an annual on-campus concert series. Courtney Cole, one of CMT's Next Women of Country headlined this year's tour, which visited four Tennessee community colleges. Empowering Education also awarded two scholarships to prospective students at each event and hosted a meet-and-greet with Cole afterwards.
Aside from being CMT's longtime home, Tennessee's commitment to help students finance post-secondary education makes it a logical place for these efforts. Its Tennessee Promise program guarantees two years of tuition-free community college, while its Tennessee Reconnect program encourages adult learners to return to school.
Smith is a case study in the potential of the returning student. Inspired by the progress that various therapists had made to improve his daughter's condition, he enrolled at Jackson State Community College, which has a competitive physical therapy program.
"There were just such improvements that were made with her," Smith says. "Maybe not functional, but her quality, her happiness. I thought, 'Man, I want to be able to give that back.'"
Even for someone fearless enough to work hanging from a water tower hundreds of feet in the air, returning to school was intimidating at times. He sat in classrooms alongside students half his age, being taught by professors his age or younger.
"I thought, 'I am 39 years old – I don't know if I even belong in that place,'" Smith remembers. "I was scared to death. But I found a determination in myself after I got started. I wanted to be able to make people as happy as my daughter had been if at all possible."
A few years down the road, with graduation approaching, Smith had become an ambassador for the potential of the returning student. At the Jackson State Empowering Education tour stop, he sat on a student panel hosted by CMT, to encourage undecided students to enroll in school.
"We're really working with those local community colleges to identify those students like Randy," says Wall. "His role is being that representative for anyone who's attending the events to see what's possible. And to see someone that looks like them, or sounds like them, or is familiar to them in their community, and to hear his amazing story, and see all that he's done in the face of all the things that his family has struggled with."
To help spread the back-to-school message, CMT cut a public service announcement, featuring Courtney Cole, to encourage viewers to pursue a post-secondary education. They distributed it across Tennessee via Comcast.
Smith graduated May 4 with a degree in physical therapy. Next up is his required medical board exams in July. As he moves toward full-time work of the sort that comforted his daughter in her final days, he draws inspiration from her.
"There's not a day that goes by that I don't think of her," Smith says. "You know, I thrive on the thought that she would be happy with me. Getting this degree has been the best experience of my life. It's been one of the toughest ones. But this side of it is awesome."