Five Ways to Engage the Private Sector in the SDGs
Greater corporate input needed to reach the Sustainable Development Goals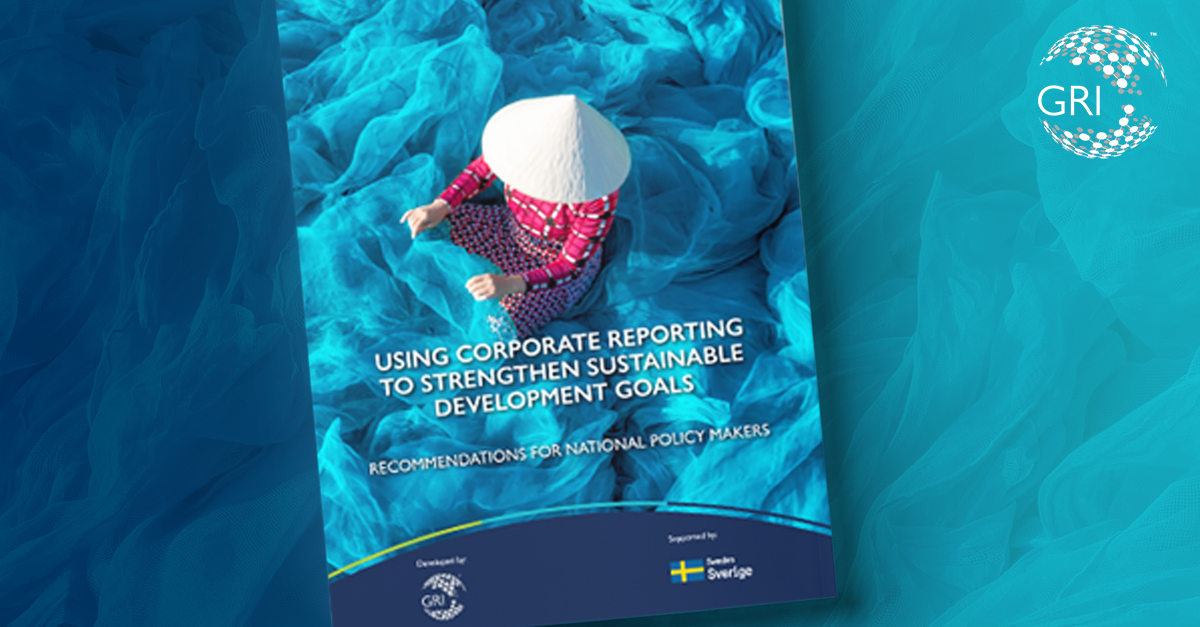 Recommendations for policymakers from Global Reporting Initiative
April 8, 2020 /3BL Media/ - With the clock ticking on the deadline to complete the Sustainable Development Goals (SDGs), governments need to up the pace of progress – and do more to harness participation from both the public and private sectors.
GRI has set out recommendations to help policymakers work with companies to capture their contributions as part of national SDGs strategies. This includes the Voluntary National Reviews, the annual SDGs status updates from individual countries, which offer a platform for the partnerships needed to achieve the 2030 Agenda.
This new report has five key recommendations for how governments and other policy actors can use corporate reporting to strengthen SDGs progress at the national level:
Involve the private sector in every step of SDGs implementation: ensure priorities are shared, and the contributions of different businesses and sectors is understood
Facilitate and enforce effective SDGs disclosure by companies: such as through best practice guidelines and regulations for mandatory reporting
Align with existing corporate disclosure practices and frameworks: focus on those already widely used and working well, such as the GRI Standards
Develop a measurement and monitoring tool to track private sector input: start with the data available through sustainability reports
Enable regular dialogue between business, policy and investors: encourage collaboration and reinforce their respective SDGs contributions
Peter Paul van de Wijs, GRI Chief External Affairs Officer, said:
"The SDGs are an ambitious set of targets to address the pressing global challenges of our times, on issues as diverse as inequality, health, poverty and climate change. And as demonstrated by the current COVID-19 pandemic, collective action is essential. Countries cannot deal alone with issues that transcend national borders.

With ten years to go to achieve the Goals, it is already clear that progress is too slow. Partnerships and collaboration, particularly with the private sector, are crucial. That's why governments must harness all the tools available to assess progress and enable the step change required to avoid the consequences of falling short.

GRI, as the leading organization for understanding and disclosing sustainability impacts, has provided practical solutions to engage companies in the process. I encourage all policymakers to do more to understand and make the most of the contribution from the private sector, at every level of their plans and actions in support of the SDGs."
View Using corporate reporting to strengthen Sustainable Development Goals. This publication was developed with financial support from the Government of Sweden.
The report also shares latest examples from around the world of how countries are supporting  SDG target 12.6, which requires them to encourage companies to adopt sustainable practices and report sustainability data.
GRI's publication will help countries as they prepare their next Voluntary National Reviews, to be reviewed at the UN High-Level Political Forum (currently scheduled for 7-16 July).
Driving Corporate Action Towards Accomplishing The SDGs is a project between GRI and power company Enel, which uses online collaboration forums to explore how to increase the SDGs contribution of the private sector.
The Global Reporting Initiative (GRI) is the independent international organization that helps businesses, governments other organizations understand and communicate their impacts. The GRI Standards are the world's most widely used for sustainability reporting.