Final Days to Register for the 2018 Shared Value Leadership Summit
Final Days to Register for the 2018 Shared Value Leadership Summit
Registration closes on Thursday, April 26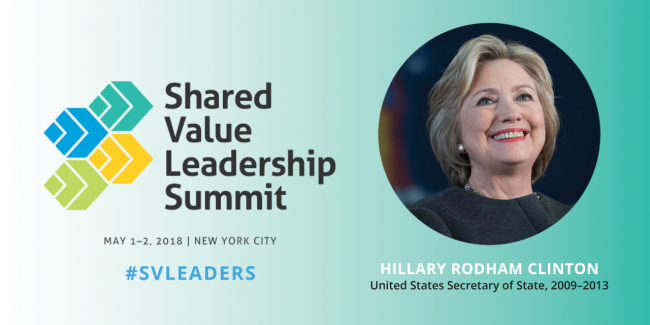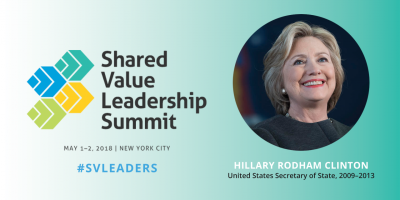 Tuesday, April 24, 2018 - 3:15pm
Inpsire. Innovate. Act. 
Time is running out to join business leaders committed to providing scalable solutions to society's greatest challenges at the 2018 Shared Value Leadership Summit on May 1-2 at the Conrad New York. Registration closes on Thursday, April 26 and 12:00pm Eastern Time.
Here's what you'll miss if you don't secure your seat today: 
A keynote discussion between former U.S. Secretary of State Hillary Rodham Clinton and President of FORTUNE, Alan Murray about today's socio-political environment and the need for business to take action to solve the world's most pressing issues.
 
Rich plenary conversations that focus on topics that are top of mind for business leaders around the world including mobilizing capital for shared value, leveraging technology to accelerate shared value initiatives, developing the next generation of talent and more. 
 
Seven Solutions Salons, a series of small group conversations with changemakers like PATH, Johnson & Johnson, Mars, Merck, Barclays and others who are leading shared value solutions to challenges such as climate resiliency, global health, financial inclusion and more. 
 
Experiential labs hosted by leading practitioners such as PYXERA, The Design Gym, WeSpire, Leaders' Quest and others that are designed to give attendees practical tools and knowledge they can take back to the office and apply to their shared value work.
 
Countless opportunities to learn from others, apply your expertise, and come away inspired to forge the partnerships you need to take action and answer the world's pressing social issues —not as problems, but as opportunities for growth.
Will you seize this chance to get the competitive advantage on creating both business and social value?
Follow #SVLeaders on Twitter.