Fifth Third Business Resource Groups Celebrate Asian American and Pacific Islander Heritage Month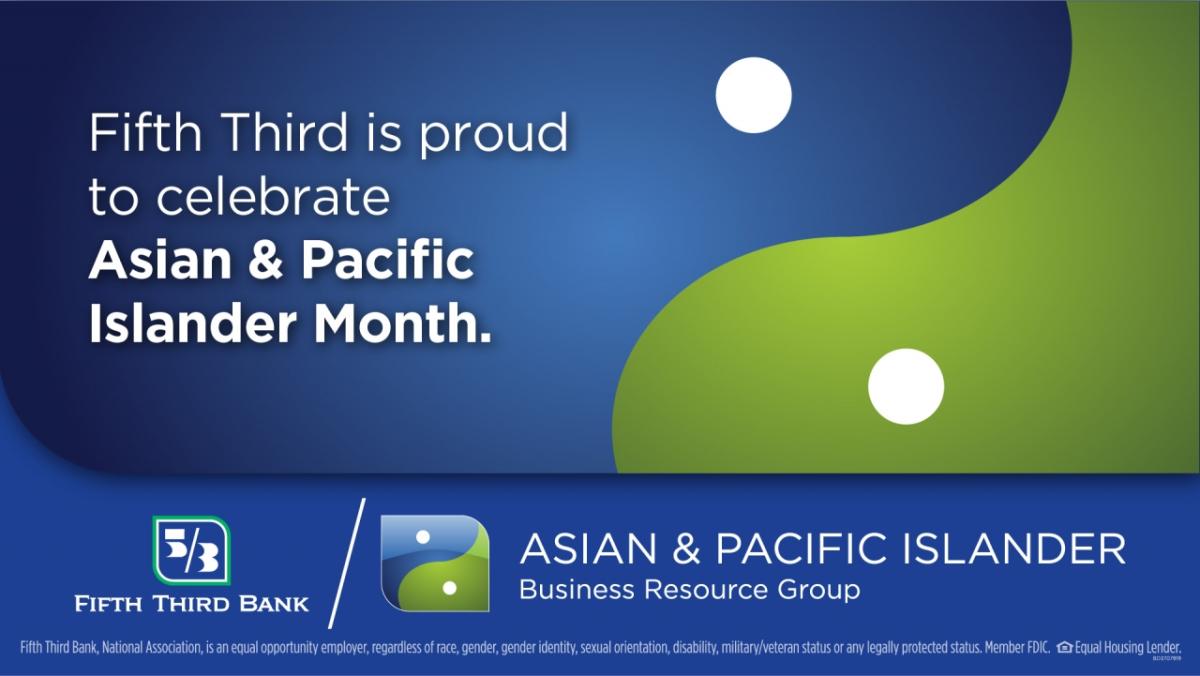 Fifth Third Bank actively promotes inclusion and diversity through 64 regional business resource groups overseen by inclusion councils in each of the Bank's 13 regions and through eight virtual Enterprise business resource groups led by Enterprise committee executives. More than 3,700 employees take part in the in-person regional BRGs.
Fifth Third's BRGs are focused on fostering employees, the Bank's reputation, and a work environment and culture that supports engagement and inclusion. BRGs are open to all Fifth Third employees, whether they're members of the group's constituency or allies.
Asian & Pacific Islander BRGs across the Company have planned a variety of events and activities to celebrate Asian American and Pacific Islander Heritage Month. Here is some of what happened and what's in store:
The Cincinnati Asian & Pacific Islander group hosted a virtual Asian American Pacific Islander Heritage Month celebration event. The Bank's chief inclusion and diversity officer and the API BRG executive advocate served as guest speakers.
The North and South Florida regions participated in the Smithsonian Social Studies Online: Asian American and Pacific Islander Heritage Month's virtual event. The group experienced an online exploration into key social studies topics, featuring museum resources from the Smithsonian.
The Western Michigan BRG is partnering with a food truck owner to host a virtual cooking demonstration for employees.
The Cincinnati Asian & Pacific Islander BRG co-chairs, Jing Wang, vice president and senior quant manager, and Diane Yi, officer and lead platform engineer, answered the following questions as they shared their thoughts about embracing the AAPI community:
What is something about the Asian American and Pacific Islander population that you wish more people knew?

The AAPI community is very diverse and represents close to 70 countries. Within each subculture there are various races, tribes, interesting nuances and values that make us different.  

Why is it important for awareness months like AAPI Heritage Month to be celebrated in the United States?

The United States is a country of made of immigrants from all parts of the world, and that makes it unique and special. It is important to understand one another to be united. An awareness of everyone's unique cultural background and heritage is an essential element to bringing everyone together to live in harmony.

 What advice would you give to those in the AAPI community on how to be their authentic selves at work on a regular basis? 
Be proud of your heritage and bring your best self to work. When you do that, you'll be happier and confident. It will also enhance your productivity and of those around you.
What are some simple things that people can do to show that they stand in solidarity with the AAPI community during the #StopAsianHate movement? 
Diane: We can use the month of May to learn more about Asian history, food, traditions, philosophies and values by attending events that introduce them. Learning the language and travelling are also great ways to learn more about the people. Understanding who we are will help others connect with the AAPI community and build relationships that are nurturing, progressive and productive, which will lead to an enhanced quality of life.

Jing: People can share resources and opportunities that encourage others to share their experiences and listen. In addition to this, people should step up when they feel that something is not right about situations where they see discrimination happening.
To learn more about Fifth Third's inclusion and diversity efforts, please visit: www.53.com/diversity.