Fifth Third Bank Hosts Inaugural HBCU Leadership Conference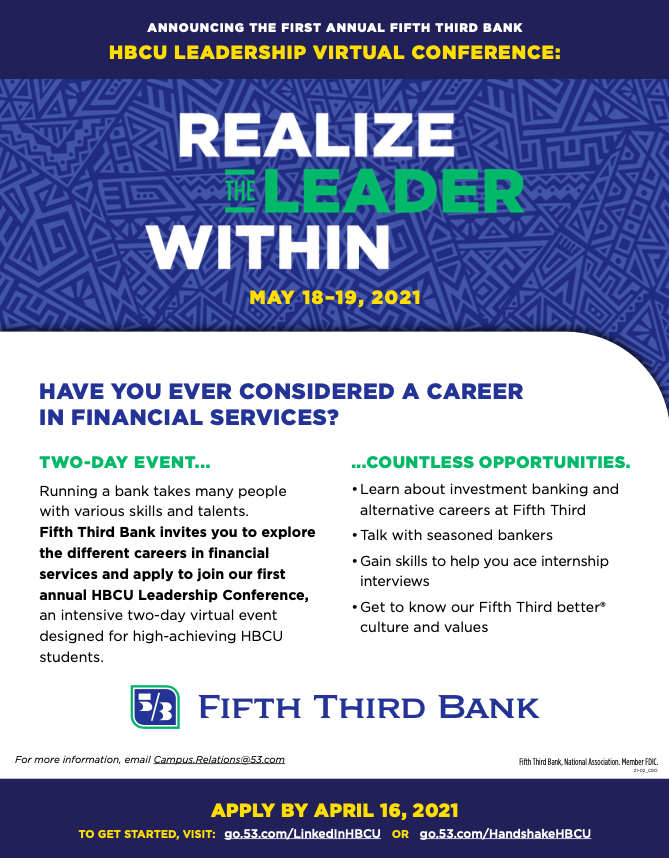 Recruiting and engaging an inclusive and diverse workforce is a top priority at Fifth Third Bank. Its collaboration with historically Black colleges and universities is one way that the Bank works to nurture a multicultural employee base.
As part of its multicultural and HBCU recruitment strategy, Fifth Third hosts its inaugural HBCU leadership conference May 18 and 19. The two-day virtual conference is designed to help high-achieving HBCU students explore traditional and nontraditional careers in banking. Attendees will hear from several Bank and nationally known speakers. They also will have the opportunity to network with other HBCU students from around the country.
The Bank's HBCU leadership conference is part of a $2.8 billion Fifth Third commitment that will provide $2.2 billion in lending, $500 million in investments, $60 million in financial accessibility and $40 million in philanthropy as part of its Executive Diversity Leadership Council's Accelerating Racial Equality, Equity and Inclusion initiative. The commitment is focused on four strategic pillars that directly impact customers and communities with targeted outcomes that will enable the Bank to track progress and measure success in the areas of strategic investments, access to capital, financial inclusion and education, and social justice and advocacy. The conference is part of the Bank's commitment to financial inclusion and education. To learn more about these efforts, please visit: www.53.com/racialequity.
To apply to attend the conference, please visit: go.53.com/LinkedInHBCU or go.53.com/HandshakeHBCU by April 16. To learn more about internships and the leadership programs at Fifth Third, please visit: www.53.com/careers.