Fifth Third Bank Comments in Bank Director Magazine Article, "Confronting Climate Change"
Fifth Third Bank Comments in Bank Director Magazine Article, "Confronting Climate Change"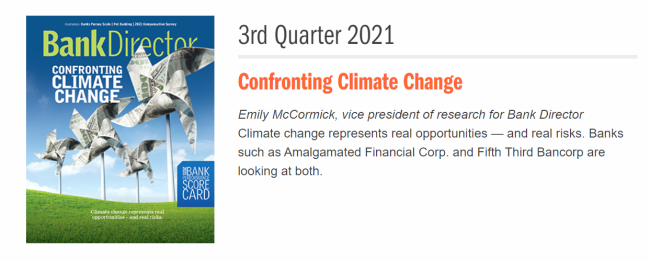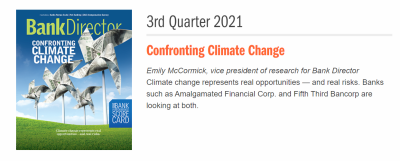 Tuesday, August 31, 2021 - 10:00am
In the Third Quarter 2021 issue of Bank Director Magazine, writer Emily McCormick penned an article titled, Confronting Climate Change. In it, she quoted Mike Faillo, director of ESG analytics and reporting, about the Bank's approach to environmental sustainability. The full article can be accessed at BankDirector.com, which is subscriber-based.
"Climate change represents real opportunities—and real risks," she begins. "Banks such as Amalgamated Financial Corp. and Fifth Third Bancorp are looking at both."
The following excerpts featuring Fifth Third Bank are used with permission: 
"Measurement drives action, says Mike Faillo, director of environmental, social and governance (ESG) reporting and analytics at Cincinnati-based Fifth Third Bancorp. The $207 billion regional bank joined PCAF in April. It achieved carbon neu­trality in its operations in 2020, meeting targets it set to purchase 100% renewable power, and reduce water consumption and location-based greenhouse gas emissions."
***
"But Faillo is most excited by the opportunities in moving toward sustainability, and he's work­ing with the bank's business lines to come up with solutions. These could include ESG bonds, or offer­ing loans with sustainability metrics, incenting borrowers with reduced rates if they meet climate-friendly targets. Other key initiatives include Fifth Third's renewable energy lending and finance practice, created in 2012; the bank has set a target of $8 billion in lending and capital raising services to this sector by 2025."
***
"Faillo breaks Fifth Third's climate change strategy into three parts. First, the bank wants to reduce its direct impact. 'It's important to demonstrate leader­ship in your own emissions first, because then clients will get on board with it,' he explains. Second, the bank wants to understand and manage the associated risks. Third, it seeks to support clients and com­munities in the shift to a sustainable, low-carbon economy."
***
"Fifth Third believes that carbon-intensive com­panies still play an important role in today's econ­omy, at least in the short term. '[We're] trying to examine how we can work with them and support these customers through the transition to a more sustainable economy,' says Faillo. 'That transition will likely take investment.' He points to the auto industry as an example, with manufacturers like General Motors Co. recently ramping up plans to expand its production of electric vehicles. That will have a ripple effect for that company's suppliers, end users and businesses like gas stations that cen­ter around serving a carbon-based economy.
More about the Bank's efforts to accelerate the transition to a sustainable future are available in the Bank's 2021 Environmental, Social and Governance Report.