From the Fifth Third Bancorp 2021 ESG Report: A Leadership Message
By Greg D. Carmichael and Tim N. Spence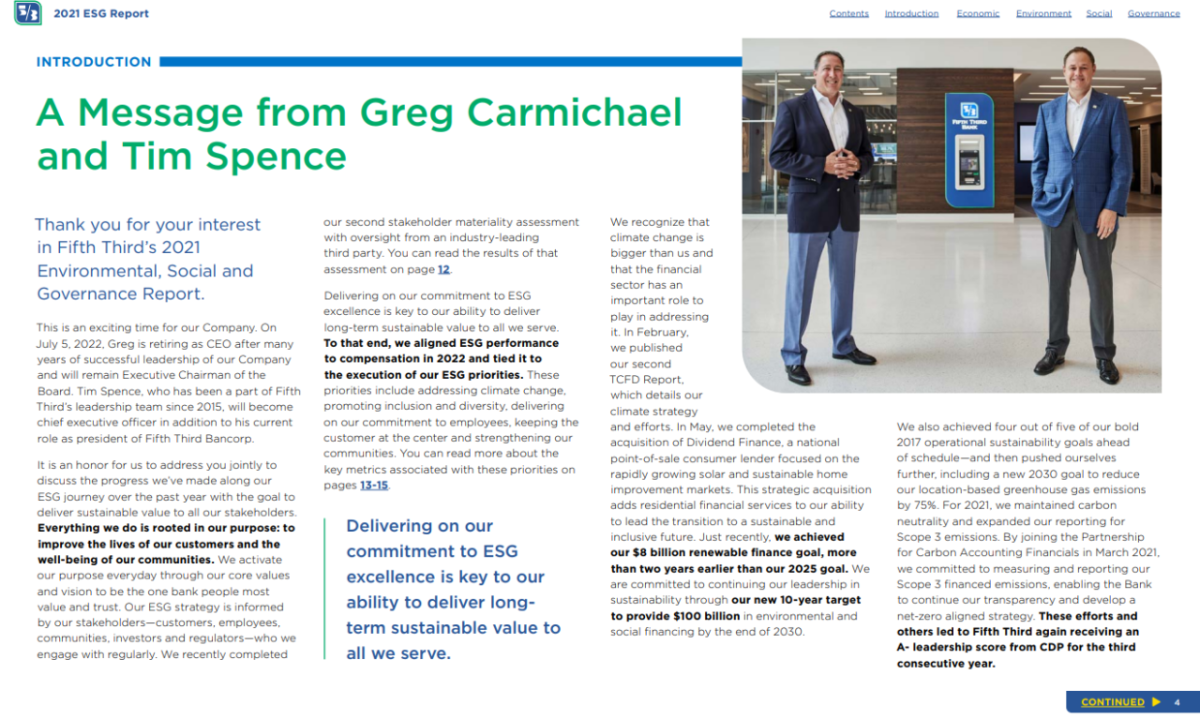 Originally published in Fifth Third Bank's 2021 Environmental, Social and Gover…
Thank you for your interest in Fifth Third's 2021 Environmental, Social and Governance Report. This is an exciting time for our Company. On July 5, 2022, Greg is retiring as CEO after many years of successful leadership of our Company and will remain Executive Chairman of the Board. Tim Spence, who has been a part of Fifth Third's leadership team since 2015, will become chief executive officer in addition to his current role as president of Fifth Third Bancorp.
It is an honor for us to address you jointly to discuss the progress we've made along our ESG journey over the past year with the goal to deliver sustainable value to all our stakeholders. Everything we do is rooted in our purpose: to improve the lives of our customers and the well-being of our communities. We activate our purpose everyday through our core values and vision to be the one bank people most value and trust. Our ESG strategy is informed by our stakeholders—customers, employees, communities, investors and regulators—who we engage with regularly. We recently completed our second stakeholder materiality assessment with oversight from an industry-leading third party.
Delivering on our commitment to ESG excellence is key to our ability to deliver long-term sustainable value to all we serve. We recognize that climate change is bigger than us and that the financial sector has an important role to play in addressing it. In February, we published our second TCFD Report, which details our climate strategy and efforts. In May, we completed the acquisition of Dividend Finance, a national point-of-sale consumer lender focused on the rapidly growing solar and sustainable home improvement markets. This strategic acquisition adds residential financial services to our ability to lead the transition to a sustainable and inclusive future. Just recently, we achieved our $8 billion renewable finance goal, more than two years earlier than our 2025 goal. We are committed to continuing our leadership in sustainability through our new 10-year target to provide $100 billion in environmental and social financing by the end of 2030.
We also achieved four out of five of our bold 2017 operational sustainability goals ahead of schedule—and then pushed ourselves further, including a new 2030 goal to reduce our location-based greenhouse gas emissions by 75%. For 2021, we maintained carbon neutrality and expanded our reporting for Scope 3 emissions. By joining the Partnership for Carbon Accounting Financials in March 2021, we committed to measuring and reporting our Scope 3 financed emissions, enabling the Bank to continue our transparency and develop a net-zero aligned strategy. These efforts and others led to Fifth Third again receiving an A- leadership score from CDP for the third consecutive year.
Accelerating inclusion and diversity is another top ESG priority for Fifth Third, as evidenced by our being named a Best Employer for Diversity by Forbes. We have made significant progress on our three-year, $2.8 billion Accelerating Racial Equality, Equity and Inclusion initiative by delivering over $1.3 billion, 46% of the plan, by year end 2021. We also made progress on our six bold inclusion and diversity goals and have published our baseline for reporting progress. These include ensuring the diversity of our workforce reflects the markets we serve and ensuring the leadership positions reflect the overall workforce. In 2021, our tier one diverse supplier spend was $88.4 million, an increase of 17% over 2020, and about 9% of net addressable spend.
Our employees are our greatest asset and we invested over $2.5 billion in total rewards for our employees last year. We paid special COVID-19 bonuses to 7,500 employees, while providing on-site vaccinations, flexible work arrangements, additional paid time off and sick time as well as expanded back-up family care and support. We also announced a special equity award for eligible employees.
In April 2022, we announced our planned increase in our minimum wage to $20 per hour, a first among our peers. Concurrently, we announced a wage adjustment for our first four job levels that are above the Bank's new minimum wage. In total, more than 40% of our workforce will receive a midyear compensation increase. Under Greg's leadership, we have been proud to lead in increasing our employees' wages. We led the industry in 2018 by increasing our minimum wage $15 from $12 and we were among the first to increase to $18. Our investment in employees led to Fifth Third ranking in the top quartile versus peers for employee retention in a leading industry survey.
Our customers truly are the center of everything we do, and we continually invest in our ability to differentiate our brand and deliver innovative products and services. During the pandemic, we Strong banks need strong communities— strengthening them is foundational to who we are as a Bank, and we are committed to being the catalyst for fundamental change. kept 99% of our branches open and made nearly 13 million outreach calls to customers to offer assistance. We launched our award-winning Fifth Third Momentum® Banking in 2021, an unparalleled new approach to banking that combines the best of fintech innovation with the strength, access and human touch of a traditional bank. Our Express Banking account earned the Bank On certification from the Cities for Financial Empowerment Fund for safe and affordable accounts. Earlier this month, we eliminated all non-sufficient fund (NSF) fees for all consumer accounts. This was part of our deliberate multiyear strategy to reduce punitive consumer fees. We have the lowest revenue concentration in punitive fees among peers with significant consumer operations.
Strong banks need strong communities— strengthening them is foundational to who we are as a Bank, and we are committed to being the catalyst for fundamental change. Our $180 million Fifth Third Empowering Black Futures Neighborhood Investment Program is key in that. Through this program, which is a part of our $2.8 billion AREEI initiative, we are infusing $20 million into each of the nine minority communities and working with community partners to execute tailored economic mobility plans in each.
In addition, we provided $1.3 billion in community development lending and investments last year, $41 million in charitable donations with $6 million in employee giving, and we provided 4.6 million meals to fight hunger across our nation as part of our Fifth Third Day celebrations in May. In support of our efforts, our employees logged nearly 100,000 hours of community service, many of which were dedicated to our financial education programs, which have now helped nearly 3 million people since 2004.
Our Company also responded when war broke out this year in Ukraine. The Fifth Third Foundation made a $100,000 donation to the American Red Cross for humanitarian relief efforts, and our generous employees personally donated nearly $39,000 to support individuals in the war-ravaged country.
Thank you for your continued support of our Company. We are committed to continued transparency and consistent progress in executing our ESG priorities. We are both excited about the future at Fifth Third and believe this will be our decade to accomplish even greater things.
Learn more in Fifth Third Bank's 2021 Environmental, Social and Governance Report