From the Fifth Third Bancorp 2021 ESG Report: Employee Demographics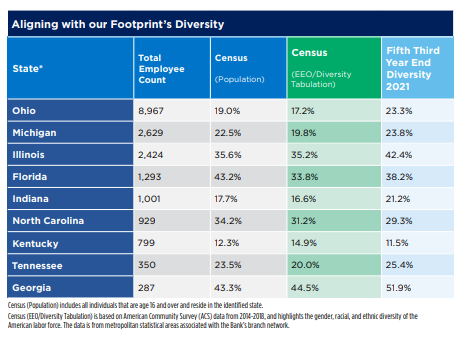 Talent diversity is of utmost importance at every level of our Company, from our Board of Directors to our executive team to our 18,655 full-time and 849 part-time employees as of Dec. 31, 2021.
Publishing demographic diversity data is part of our commitment. It's a practice we started in 2017 with the publication of our 2016 Corporate Social Responsibility Report.
Aligning with our Footprint's Diversity
To become the one bank people most value and trust, we continued on our journey to ensure our workforce reflects the communities we serve. To that end, we compared the makeup of our employee population with census data.
2021 Workforce Diversity
As part of our six bold goals that support inclusion and diversity within our workforce by 2025, we strive to grow leadership positions at the Exec/Senior Managers and First/Mid-level Managers categories for women and persons of color.
For the full graphs related to Fifth Third's employee demographics and diversity, read the Social section of the Company's 2021 Environmental, Social and Governance Report.