From the Fifth Third 2021 ESG Report: Community Development Co. Fills Gaps in Neighborhoods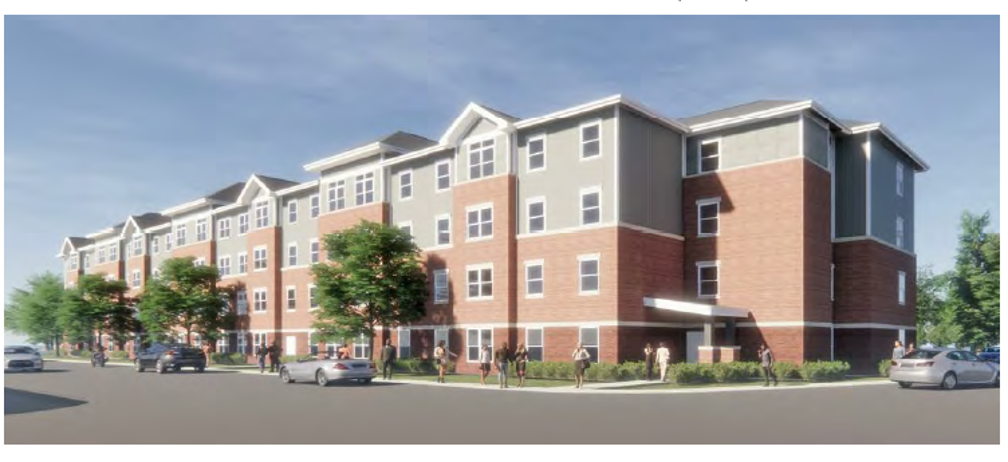 The Blair Lofts project in the Cincinnati neighborhood of Avondale. The Fifth Third Development Co. provided a $9.4 million equity investment.
The Fifth Third Community Development Co. invests in real estate projects across our footprint to help communities thrive. These investments can include affordable housing, small business spaces or commercial projects.
"Without this type of investment, many of these projects would struggle to come to life," said Susan Thomas, the CDC's president. "We look for projects that fill a need in the community. What do the people living there need that they don't currently have?"
Bringing affordable housing to Cincinnati's Avondale through Empowering Black Futures neighborhood program
The Blair Lofts project is an affordable housing development in Avondale, a neighborhood in Cincinnati. Avondale is one of the neighborhoods selected for our Fifth Third Empowering Black Futures neighborhood investment program. The project's first phase includes the construction of 64 units, consisting of a mix of one-, two- and three- bedroom apartments that will be affordable for families earning between 30%-60% of the area's median income. The location is along a bus line and within walking distance to the University of Cincinnati's innovation corridor, a multimillion-dollar revitalization effort with mixed-use development. As part of our financial commitment to the project, the Fifth Third Community Development Co. provided a $9.4 million equity investment, and Fifth Third provided a $10.5 million construction loan.
Helping up-and-coming minority real estate developers break through financial barriers
In November 2021, the Bank announced it was one of eight banks to invest a total of $85 million in first-round funding for National Equity Fund's Emerging Minority Developer Fund. The EMDF was established to help emerging minority-owned developers gain access to low income housing tax credits to create affordable housing. The EMDF does this by providing tax credit equity capital, technical support and tailored project underwriting to help the developers establish a track record of success and improve their financial stability as their business grows.
Neighborhoods need health care, too
When a neighborhood has quality health care facilities, the resulting improved outcomes can help lead to longer, happier lives. Five Rivers Health Centers, a federally qualified health center serving the Dayton, Ohio, community, also received funds from our Community Development Co. The CDC investment will assist the construction of Five Rivers' new Edgemont campus, located in the racially and economically diverse neighborhood of West Dayton. The new facility will offer services including internal medicine, obstetrics and gynecology, pediatrics, dental, hematology and oncology, psychiatry, sports medicine, addiction medicine, general surgery, infectious diseases, gastroenterology, acupuncture and massage therapy in one location. This new facility will serve over 15,000 patients, regardless of their insurance status or ability to pay.
"Without the unwavering commitment from Fifth Third to this project, there is no way that Five Rivers Health Centers could have embarked on our first property," said Gina McFarlane-El, chief executive officer.