From the Fifth Third 2021 ESG Report: Attracting Employees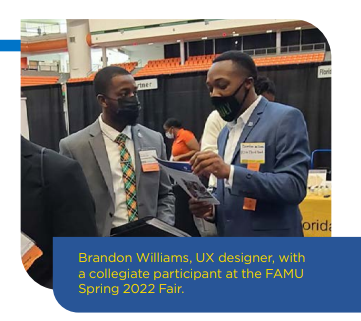 Attracting diverse and bright talent is essential to Fifth Third's success. The combination of competitive compensation, flexible work locations, best-in-class benefits, innovative programs that foster work-life balance, financial rewards for physical and financial wellness activities and the Bank's reputation as a business and community leader makes us attractive to prospective employees.
Diverse Recruiting and Hiring
We believe the diversity of our workforce should reflect the communities we serve. Our diversity recruiting strategy enables us to build strong relationships with a pool of qualified diverse applicants that reflects the demographics of our markets through a focus on women, minority and LGBT+ communities, individuals with disabilities and veterans.
Part of this strategy includes relationships with key regional and community-based organizations and connections with diverse student organizations on campuses. Our strategy also emphasizes internships and long-term employment through various early career roles that provide a talent pipeline for professional roles across the organization.
Our strong partnership with external providers and internal resources ensures that we engage with a diverse candidate population. This partnership provides talent acquisition services for professional and nonprofessional positions that solve compliance, scalability, cost, quality and other recruiting challenges.
Early Career/University Relations
The pandemic called for another year of heavy virtual engagement with our university partners and students. We expanded our reach by engaging with hundreds of students through virtual workshops, information and listening sessions, professional development panels and financial wellness series.
Highlights include:
Our University Relations team attended over 30 virtual career fairs and over 25 virtual relationship events.
Filled 96 summer internships and 75 full-time positions.
Enhanced all early career job descriptions and interview guides to appeal to and more effectively access and select top early career talent.
Provided career coaching scholarships to students at historically Black colleges and universities in partnership with NextJob.
Hosted students from four HBCU partner universities in the summer of 2021.
Created an early career housing policy through which the Bank offers $2,000 stipends to eligible interns and co-ops to offset the cost of moving for those positions.
The Fifth Third Foundation, through our AREEI commitments, awarded over $500,000 to support scholarships, financial wellness and learning for students enrolled at core HBCUs.
The team presented at the Bank's first virtual HBCU Leadership Conference and engaged in several other leadership efforts with our core HBCUs. University Relations also collaborated with organizations such as Dell Technologies to bring student insights into our cybersecurity, identity protection, technical interview prep and Agile efforts. Students from Clark Atlanta, Tennessee State, North Carolina Central and Florida A&M universities participated in these sessions that reached 100 students.
Our summer 2021 internship programs, while 90% virtual, did bring all interns to our headquarters at the end of the summer for a weeklong internship celebration. Interns participated in numerous activities and engaged with Enterprise members, Fifth Third leaders and other Leadership Program participants. All interns received new Chromebook computers in appreciation of their hard work. In addition, many received offers of employment to join the Bank upon graduation.