FDA Authorizes Quest Diagnostics' COVID-19 Collection Materials for Emergency Use
FDA Authorizes Quest Diagnostics' COVID-19 Collection Materials for Emergency Use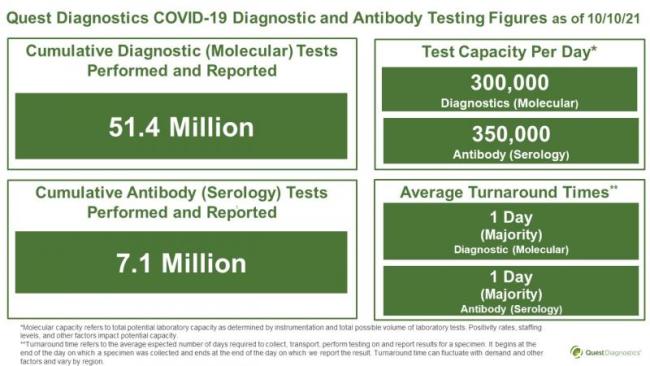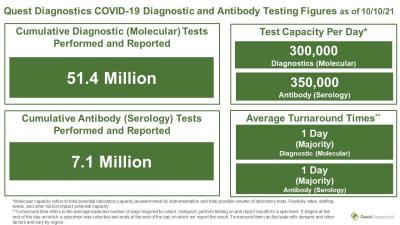 Friday, October 15, 2021 - 10:55am
SECAUCUS, N.J., October 15, 2021 /3BL Media/ -- Quest Diagnostics, the world's leading provider of diagnostic information services, has received FDA emergency use authorization (EUA) for its Quest Diagnostics Collection kit for COVID-19 (COVID-19 Collection kits), which are intended to be used as part of a program to collect anterior nares (nasal) swab specimens for molecular testing at the laboratory.**
Quest developed the COVID-19 Collection kits to speed large-scale testing deployments involving multiple individuals (such as workforce and K-12 school testing) while also reducing packaging waste and associated environmental impact.
Rather than provide individual specimen collection kits, the COVID-19 Collection kits enable us to designate program sponsors to operate locations for picking-up collection supplies and dropping-off collected specimens. Specimens can be transported at ambient temperature for testing at an authorized laboratory that Quest designates as meeting the requirements of the EUA. The COVID-19 Collection kits can only be used with an in vitro diagnostic test for SARS-CoV-2 RNA identified by the company.***
This is the 21st FDA EUA or amendment Quest Diagnostics has received for COVID-19 testing innovations. The company was among the first providers in the United States to introduce COVID-19 testing, in March 2020. Since then, the company has performed and reported more than 58.5 million COVID-19 molecular diagnostic and antibody serology tests. The company performs and reports the majority of COVID-19 tests within 1 day*.
*Molecular capacity refers to total potential laboratory capacity as determined by instrumentation and total possible volume of laboratory tests. Positivity rates, staffing levels, and other factors impact potential capacity. Turnaround time refers to the average expected number of days required to collect, transport, perform testing on and report results for a specimen. It begins at the end of the day on which a specimen was collected and ends at the end of the day on which we report the result. Turnaround time can fluctuate with demand and other factors and vary by region.   
**From individuals age 18 years or older (self-collected), 16 years and older (self-collected under adult supervision), or 2 years and older (collected with adult assistance) when determined to be appropriate by a healthcare provider.
***Testing is limited to laboratories designated by Quest Diagnostics that are certified under the Clinical Laboratory Improvement Amendments of 1988 (CLIA), 42 U.S.C. §263a, and meet the requirements to perform high complexity tests and that run the specimens collected from the Quest Diagnostics Self-Collection Materials for COVID-19 Testing on an IVD molecular test that is indicated for use with the Quest Diagnostics Self-Collection Materials for COVID-19 Testing when used consistent with its authorization. The Quest Diagnostics Self-Collection Materials for COVID-19 Testing.is only for use under the Food and Drug Administration's Emergency Use Authorization.