FCA US "Women of Color" Gain Recognition at Annual STEM Event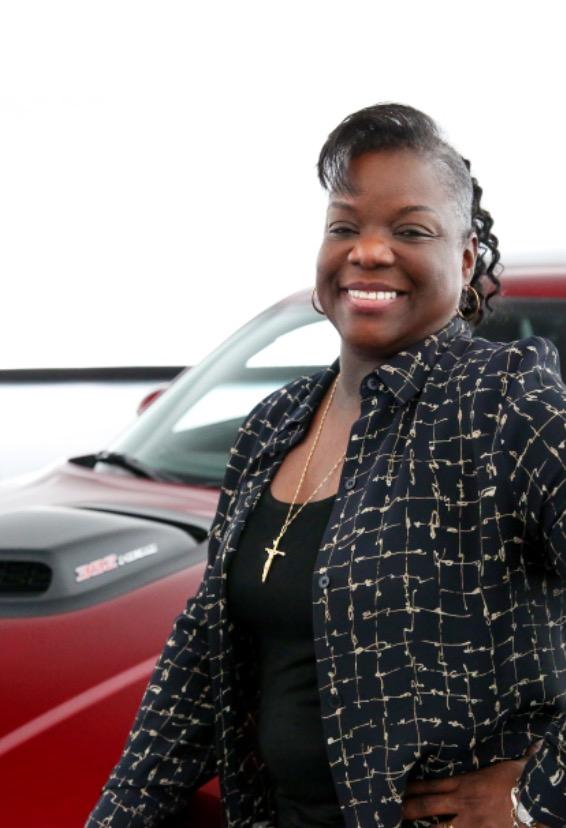 Keera Riddick, Senior Manager - Electrical Engineering Components, FCA US LLC, led a talent-laden group of 17 FCA US women to earn recognition at the annual Women of Color STEM conference in Detroit. Riddick received a Chairman's Award, which recognizes business leaders who make innovative financial or diversity decisions.
AUBURN HILLS, Mich., October 9, 2017 /3BL Media/ - FCA US LLC technical business leaders received honors for their career achievements at the annual Women of Color STEM Conference held October 5-7 in Detroit. 
The Women of Color Conference honors the significant achievements of women in STEM (science, technology, engineering and math) professions. The conference ensures that the accomplishments of outstanding women in technical fields are highly visible to industry professionals, government officials and students.
"The Women of Color Awards celebrate some of the country's most promising and influential female business and community leaders," said Kelly Tolbert, Head of Diversity, FCA US LLC. "FCA US is proud that our women leaders are consistently recognized among such accomplished honorees."
FCA 2017 Women of Color Award Recipients
Chairman's Award: Recognizes an elected or appointed leader who makes innovative financial or diversity decisions and recommendations to corporate or community leadership
Keera Riddick – Electrical Engineering Components 
Technology All-Stars Award: Recognizes accomplished professionals who have demonstrated excellence in the workplace and in their communities.
Sohaila Feizy-Marandy – Interior Electromechanical Design
Mary Camilla Raju – PentaSAP Procurement
Technology Rising Stars Award: Recognizes young professionals who are helping to shape technology for the future.
Paulina Almada – Powertrain Automatic Transmissions
Pallavi Annabattula – Computational Fluid Dynamics
Gabriela Perea Aguirre – HVAC Systems
Tianna Barnes – Quality Control, Warren Stamping Plant
Shin Boulware – EMC Components
Caron Drake – World Class Manufacturing, Jefferson North Assembly
Lora Faraon – Electrical Engineering
Hong Geng – Powertrain Virtual Engineering Programs
Aisha Johnson – Human Machine Interface & Ergonomics
Erika Keeling – Pressroom, Sterling Stamping Plant
Divya Myneni – Active Noise Cancellation
Dr. Neeharika Anantharaju – Vehicle Safety/Crash Engineering
Nikkita Soni – Digital Marketing
Sangeeta Theru – Powertrain HIL & Validation Tools
Over the years, FCA US employees consistently have earned important technical professional recognition from various diversity organizations, including Black Engineer of the Year, Women of Color, HENAAC Great Minds in STEM and others, reflecting the Company's strong commitment to developing its diverse workforce.
Additionally, the Company actively supports initiatives that aim to increase the number of college-bound minority students in the STEM pipeline. For instance, FCA US partnered with Florida International University (FIU) to sponsor a STEM education initiative called "Engineers on Wheels." The program features mobile classrooms, bringing hands-on engineering and science experiments and experiences to South Florida K-12 schools, and to the community at large. FIU annually graduates the largest number of Hispanic engineers in the U.S., and is one of the country's top institutions for graduating African-American engineers.
 
About FCA US LLC
FCA US LLC is a North American automaker based in Auburn Hills, Michigan. It designs, manufactures, and sells or distributes vehicles under the Chrysler, Dodge, Jeep®, Ram, FIAT and Alfa Romeo brands, as well as the SRT performance designation. The Company also distributes Mopar and Alfa Romeo parts and accessories. FCA US is building upon the historic foundations of Chrysler Corp., established in 1925 by industry visionary Walter P. Chrysler and Fabbrica Italiana Automobili Torino (F.I.A.T.), founded in Italy in 1899 by pioneering entrepreneurs, including Giovanni Agnelli. FCA US is a member of the Fiat Chrysler Automobiles N.V. (FCA) family of companies. (NYSE: FCAU/ MTA: FCA).
FCA, the seventh-largest automaker in the world based on total annual vehicle sales, is an international automotive group. FCA is listed on the New York Stock Exchange under the symbol "FCAU" and on the Mercato Telematico Azionario under the symbol "FCA."
Follow FCA US news and video on:
Company blog: blog.fcanorthamerica.com
Company website: www.fcanorthamerica.com
Facebook: https://www.facebook.com/FiatChrysler.NorthAmerica/
Instagram: www.instagram.com/FiatChrysler_NA
Twitter: www.twitter.com/FiatChrysler_NA
Twitter (Spanish): www.twitter.com/fcausespanol
YouTube: www.youtube.com/fcanorthamerica
Media website: media.fcanorthamerica.com
-###-
For more information, please visit the FCA US LLC media site at http://media.fcanorthamerica.com.
Contacts:
Mike  Palese
(248) 512-2682 (office)
(313) 930-1252 (cell)
Valerie  Oehmke
(248) 512-0497 (office)
(248) 462-4867  (cell)