Extended! Renewable Energy Markets™ 2020 Call for Abstracts Open Through April 15
Apply to speak, moderate a panel, or lead a table at REM™ 2020. The Call for Abstracts will not be extended again!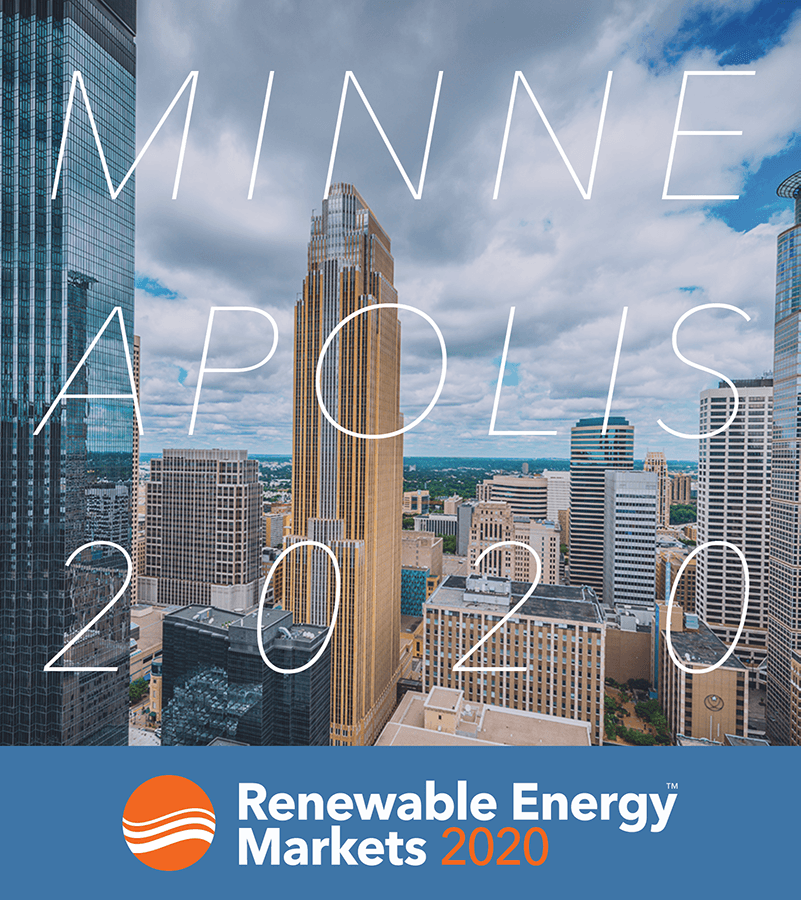 March 25, 2020 /3BL Media/ - The REM™ 2020 Call for Abstracts has been extended two weeks—don't miss this unique opportunity to present at the most important event of the year for leaders in clean energy markets. We're seeking abstracts for presentations, panels, and table topics that are timely, engaging, and informative. Presentations and session proposals should focus on being as discussion-oriented as possible. We'd like sessions to feature new data or ideas, consideration of important issues, and most importantly, fresh and informed thinking about where renewable energy markets are headed. We're looking for dynamic, engaging speakers with a compelling story to tell.
This year we're also looking for Table Topics—brief, informal conversations with a single moderator per topic per table. Table Topics are a great way to share your experience and expertise with other attendees.
Application period open through Wednesday, April 15th, 2020 at 5PM PT. Learn more at www.renewableenergymarkets.com/speak
Corporate and Institutional Procurement
How corporate and institutional renewable energy purchasers are participating in the market.
Corporate Renewable Energy Procurement
Achieving Impact and Making Claims
Aggregation and Syndicates
City and State Government Procurement
Options for Onsite Renewable Energy
Renewable Energy in the Supply Chain
Energy Accounting Challenges in Scope 1-3
Corporate Engagement in Market Development
Power Purchase Agreements
Financial Models in Energy Procurement
Solar Opportunities for Corporate and Institutional customers
Risk, Co-benefits, and Certification
ESG: Corporate Climate Risk and Investors
Pathways to 24/7 Renewable Energy Procurement
Renewable Energy Policy
How policy changes at state, federal and local levels will influence the direction and growth of renewable energy markets and investments; any legal issues impacting markets; changes to guidance and voluntary standards that could impact market activity.
State 100% carbon-free power mandates
Recent RPS changes and projections, including clean peak standards
Community solar policies and programs
Changes in wholesale markets (e.g. FERC PJM MOPR)
Interactions between carbon and renewable energy markets
Impact of state carbon/RE policies on wholesale power markets
Power Source Disclosure and supplier emissions factors
Clean transportation policy, electric vehicles, and green power
Other key state, federal, local, or regional policy trends or updates (e.g. CCA-enabling policy, power market rules, sector-specific policies, siting policies, etc.)
Community and Residential Programs
Issues faced by providers of renewable energy. Sessions will address the unique challenges and opportunities faced by each of these provider categories: utility programs & products, community choice aggregation, competitive electricity and REC suppliers, and developer-led community renewables.
Strategies for Increasing Green Power Customer Acquisition & Retention: Call Centers, Social Media & More
Marketing Renewable Energy & REC programs
Community Solar (utility- and developer-led)
Community Choice Aggregation
Residential Programs
Competitive Electricity Suppliers
Innovative Utility Products and Programs
Utility Green Pricing Programs
International Renewable Energy and Corporate Action
Green power procurement outside of North America.
International Renewable Energy Markets and Market Development
International Corporate Renewable Energy Purchasing Goals and Strategies
Emerging Latin American Market Opportunities
Emerging Asian Market Opportunities
International Carbon and Energy Policy Market Impacts
Renewable Energy Supply Chain Targets
Asia: Corporate Purchasing Opportunities and Market Developments
Linking Local Communities to Corporate Procurement Goals
International Market Boundaries
Social Impact from RE Commitments
Policy Barriers, Claims & Co-Benefits
Trends in regional and technology-specific renewable energy markets. Hot topics and emerging markets. New platforms and practices, exchanges, auctions, brokerages, and tracking systems.
Renewable Fuels (biomethane, hydrogen, etc.)
Blockchain in the Energy Sector
Renewable Resources and Grid Resiliency
Renewables and Transportation Electrification
The Intersection of Storage and Renewable Technologies and Markets
Spotlight on Upper Midwest Power Markets
The Intersection of Storage and Renewable Technologies and Markets
Distributed Energy Resources (DER), Microgrids & Peer-to-Peer Transactions
Regional Voluntary and Compliance Markets
Renewable Energy Tracking Systems
SDGs
Solar Market Trends
Trader and Broker Data and Outlooks
Emerging Energy Efficiency Markets
Other Hot Topics
If you would like to include a proposal that is not on this list, please select this category.