Essity and the Philadelphia Eagles Team up to Encourage Proper Handwashing With Free Posters for Regional Schools
Essity and the Philadelphia Eagles Team up to Encourage Proper Handwashing With Free Posters for Regional Schools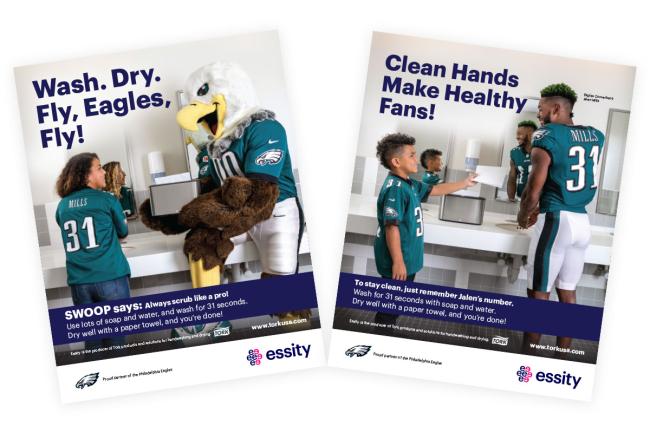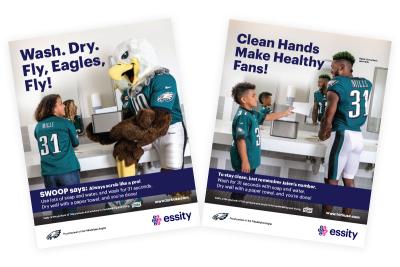 Summary
In honor of Global Handwashing Day 2017, Essity (formerly SCA), the leading global hygiene and health company with North American headquarters in Philadelphia, has partnered with The Philadelphia Eagles to remind students about the proper steps to follow when washing their hands. 
Wednesday, October 18, 2017 - 11:00am
A series of two posters were created feature Eagles Cornerback Jalen Mills, Eagles mascot SWOOP, and two local children, taking the steps to properly wash and dry their hands with a paper towel, with the messages, 'Clean Hands Make Healthy Fans!' and 'Wash. Dry. Fly, Eagles, Fly!' Jalen Mills' jersey number is 31, and students are encouraged to wash their hands for 31 seconds. The posters are free and will be made available to schools in the Delaware Valley region.
The campaign, which launches at the beginning of flu season, reinforces the message to teachers, students, school nurses and parents that proper hand washing can prevent illness.
According to the Centers for Disease Control (CDC), regular handwashing is one of the best ways to remove germs, avoid getting sick, and prevent the spread of germs to others. The CDC refers to handwashing as "the do-it-yourself vaccine."
The free posters are available here for either download or print.
"Essity is dedicated to improving well-being through health and hygiene solutions, and with October marking the beginning of flu season, this is the perfect time to launch this handwashing campaign with our long-time partner, The Eagles," said Don Lewis, President, Essity Professional Hygiene, "We know that good hand hygiene habits ultimately support children's health so that they can focus on learning."
Essity produces Tork, which is the number one professional hygiene tissue brand in the world, the number two brand in the U.S., and is used throughout the Eagles' home stadium, Lincoln Financial Field.