Energy Star and LG Help Us Breathe Easier This Holiday Season and Beyond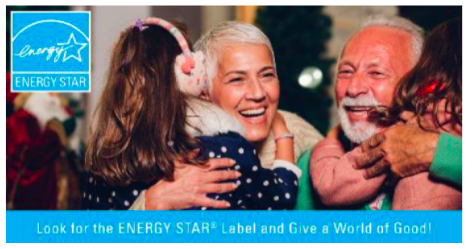 WASHINGTON, December 15, 2021 /3BL Media/ — Wrapping up the U.S. Environmental Protection Agency's "Twelve Days of ENERGY STAR,®" LG Electronics USA is spotlighting the benefits of  ENERGY STAR certified air purifiers. 
LG and ENERGY STAR are helping shoppers across the country "Give a World of Good" this holiday season. Giving LG air purifiers and other ENERGY STAR certified LG products saves energy and money, while helping to protect the climate. 
Growing consumer interest both in climate action and improved indoor air quality make ENERGY STAR certified air purifiers a popular holiday gift item this year. The LG PuriCare 360° is designed for purifying 512-square-feet, while the LG PuriCare 360° Single is ideal for 310-square-foot spaces. 
Both ENERGY STAR certified models feature a unique purification method that promotes 360 degrees of clean air delivery, including areas low to the floor. For more even air distribution, the head rotates up to 70 degrees while operating at whisper-quiet sound levels (as low as 25dB). 
Seven-time ENERGY STAR Partner of the Year LG Electronics USA, based in Englewood Cliffs, N.J., is the North American subsidiary of LG Electronics Inc., a $56 billion global innovator in technology and manufacturing. 
# # # 
About LG Electronics USA
LG Electronics USA Inc., based in Englewood Cliffs, N.J., is the North American subsidiary of LG Electronics, Inc., a $56 billion global innovator. In the United States, LG sells a wide range of innovative home appliances, home entertainment products, commercial displays, air conditioning systems, solar energy solutions and vehicle components. LG is a seven-time ENERGY STAR® Partner of the Year. The company's commitment to environmental sustainability and its "Life's Good" marketing theme encompass how LG is dedicated to people's happiness by exceeding expectations today and tomorrow. www.LG.com