Employee Activism Movement Started by Google Employees
by John Howell, Editorial Director & VP of Content, 3BL Media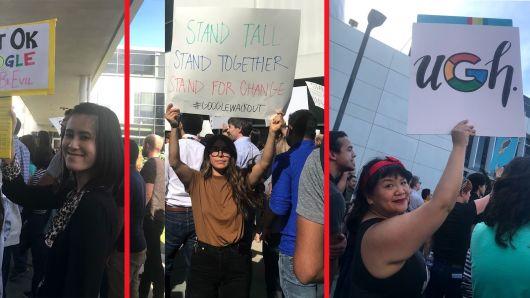 Image credit: Jillian D'Onfro/CNBC
Brands Taking Stands™ | November 7, 2018
When I began this newsletter exactly one year ago, the inspiration came from the increasing CEO activism I saw taking place throughout the business community. I had been reporting for 3BL Media on this movement since its beginnings, in 2014, when Apple's Tim Cook and Starbucks' Howard Schultz spoke out on gay rights and race, respectively. From their positions at the top of highly profitable companies with large, loyal consumer bases, I thought their statements bold and welcome, although privileged and perhaps unique.
 
In 2015, the "bathroom" and "religious freedom" bills proposed in several states prompted statements in opposition from dozens of prominent CEOs from all sorts and sizes of companies—the rules of the game had clearly changed. Following the inauguration of the current administration in 2016, issues of immigration, gun control, climate change, and gender equity rose to the top of the agenda at many more companies; C-suite executives and boards began regularly commenting publicly on social and political issues. Since then, many hundreds of CEOs have signed on to one or more collective statements on these issues (notably, 550 chief executives are supporting CEO Action for Diversity and Inclusion).
Now, on the cusp of 2019, a second wave of disruption in business-as-usual has hit with full force: Employees taking stands. Last week, 20,000 Google employees walked off their jobs in 50 offices around the world to protest revelations that the company had fired three senior executives over sexual misconduct, paying one of them a severance package of $90 million. The reveal came from an article in The New York Times, not from any internal Google announcement. The lack of transparency, on top of the original payoff, angered the company's employees and ignited calls for collective employee action: A one-day "strike." (The company subsequently informed its team that 48 employees had been fired over the past two years without severance packages for sexual misconduct reasons.)
 
Google employees were protesting their workplace culture, which they felt had protected sexual harassers if they were senior-level executives. From a company with the motto "Do No Evil" and a parent company, Alphabet, with the slogan "Do the Right Thing," they expected much more.Their demands to the company were basic: Improve transparency in reporting on sexual conduct, end pay and opportunity inequity, and elevate the position and authority of the chief diversity officer.
 
"Employees are now a company's most powerful interest group" says Alison Taylor, a managing director at Business for Social Responsibility (BSR), in an article for the Harvard Business Review: "When CEOs Should Speak Up on Polarizing Issues." She explains that "workers are freely using the tools of this hyper-transparent era — including petitions and email leaks — to land punishing blows against corporate reputations and finances, in the process emerging as companies' most powerful interest group. At a time when the U.S. economy seems to be approaching full employment, employees have more influence over whether and how their leaders speak out."
 
There's no doubt that Google employees are protesting from a privileged position. The company is "built on human capital and nothing else," John Wilson, Cornerstone Capital Group's head of research and corporate governance, is quoted as saying in the HBR article. "Google hires people who can work anywhere. So if employees don't trust the company will have their backs, it will impact Google's ability to attract, retain and motivate employees."
It's a major bottom-line issue. An Accenture study has calculated a perceived material loss of trust from stakeholders, including employees, had cost more than half of the 7,000 companies across 20 sectors analyzed as much as $180 billion in revenue. The study defined "trust" as encompassing consistency, integrity and transparency.
 
"This is part of a growing movement," the organizers wrote in a news release, "not just in tech, but across the country, including teachers, fast-food workers and others who are using their strength in numbers to make real change."
 
It's déjà vu, all over again. A stand taken by some admittedly privileged employees at one admittedly unique company will inevitably spread throughout businesses of all types, in all sectors.
 
Values in the workplace are here to stay.