Embracing Equity
Celebrating Women's History Month and International Women's Day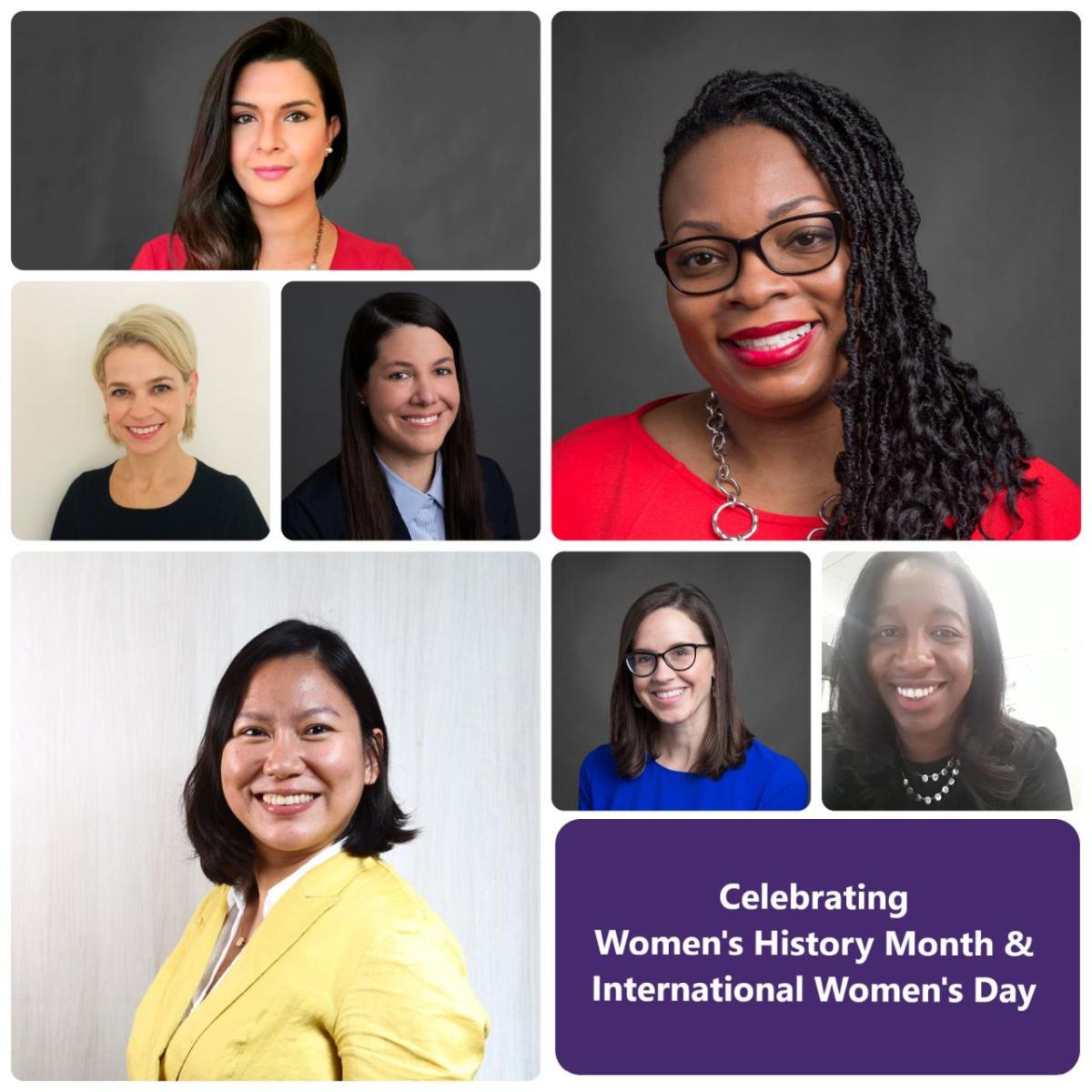 (L to R) T. Rowe Price associates Ritu Vohora, Vinnett Mason, Shevaun Walters, Gaby Infante, Sarah Teves, Sabrina Thornton, and Watikqua Lange
As we celebrate Women's History Month and International Women's Day, we highlight the contributions of women throughout history, while also recognizing that more work is needed to create gender equity. A key part of this is acknowledging the differences between equity and equality; fostering allyship; and leaning into programs, resources, and policies that support female associates and their professional development.
At T. Rowe Price, we are committed and intentional in our approach to attract, develop, and retain women and foster an inclusive culture for all. Our diversity, equity, and inclusion (DEI) efforts include increasing female representation, instilling leadership accountability in building and growing diverse teams, and providing inclusive experiences for our associates and clients. A few of our associates shared what it means to #EmbraceEquity, this year's theme for International Women's Day: 
 
Gaby Infante, Director, Corporate ESG and WAVE @ T. Rowe Price Chair
International Women's Day commemorates women's achievements and raises awareness of persisting societal challenges. It's also an important call to action. Gender inequality remains the norm around the world—despite some progress on closing gender gaps in work and education. This is the celebration of all the differences that make us be seen, appreciated, and included. Being included feels good. Belonging somewhere feels good and brings out the best in us. As a long-term solution for addressing imbalances in social systems, equity is the path we must walk together to reach equality. Embracing equity is the right thing to do.
Watikqua Lange, Diversity Partner and Women in Investments Program Lead
Embracing equity is layered. To me, it means you understand that, in life, different groups have a different starting point. As a result, each group needs tailored and nuanced support that acknowledges that different starting point. And the tailored and nuanced support will and should look different because there isn't a "one size fits all." But more importantly, embracing equity means championing these nuanced solutions even if you are not the direct beneficiary.
Vinnett Mason, Head of High-Net-Worth Investors and Amplify Voices Chair
To embrace equity means to acknowledge there isn't always a level playing field. We have different backgrounds and experiences that must be taken into consideration when determining the unique resources and support each of us needs to succeed. One size does not fit all. Equity addresses the systemic and societal systems that create obstacles that make it more difficult for some to succeed. As a leader and chair of Amplify Voices, an advisory committee that supports the firm's ongoing efforts to attract, develop, advance, and retain underrepresented female talent, it is my role to meet associates where they are, educate others to increase awareness of the disparities, and address the imbalance to level the playing field. Equality is the goal—how we get there is through equity.
Sarah Teves, APAC Diversity Partner
At work, embracing equity is the path to an equal world. Diversity and inclusion will not work without guaranteeing fair treatment, access, and opportunity for all. We need to do this collectively in the workplace and examine systems, processes, and norms that may prevent the full participation of everyone. As a parent, embracing equity means showing up as a conscious and present parent. It is a lot of observing and truly listening to my children to see their uniqueness and needs and providing them with the opportunities and support they need to thrive. It also means modeling how I confront bias, stereotypes, and discrimination.
Sabrina Thornton, Creativity and Innovation Program Officer, T. Rowe Price Foundation
Embracing equity means embracing individuality. Each individual is unique in their ideas, abilities, and demeanor—and I think we can accomplish great things when we welcome diversity of thought. Throughout my career, I've had the joy of working with, and learning from, people from all backgrounds and walks of life. And while we honored each other's individuality, we always found some significant commonalities as well.
Ritu Vohora, Vice President, Investment Specialist – Global Capital Markets and Cochair of MOSAIC @ T. Rowe Price's EMEA Chapter
Embracing equity is acknowledging that each person has their own unique story. It's consciously looking at ways to break down barriers, both structural and systemic, to create a fairer playing field and proactively support individual needs so they can flourish. It's creating a culture where people are comfortable being their true authentic selves, are included, have a sense of belonging, and do not feel they have to constantly go above and beyond to prove themselves to command attention and respect. Respect is the basis of inclusion. Individuals need to feel comfortable and confident enough to be visible, express their views and ideas, and to be heard. When we really embrace the multitude of perspectives and champion difference, then we achieve equity.
Shevaun Walters, Regional Head of Human Resources, APAC
To me, embracing equity is about ensuring that everyone, regardless of circumstance or experience, receives equal access to opportunities and what they need to be successful. In order to improve equity, we need to acknowledge there are broad historical barriers or circumstances that have prevented certain individuals from involvement and advancement. As a human resources professional, a leader, and a parent, I do my best to call out discrimination, stereotypes, and exclusion.
As we commemorate Women's History Month, International Women's Day, and other celebrations of diversity, we invite you to learn more about our DEI initiatives and how our differences bring us together at www.troweprice.com/diversity.