Ellen DeGeneres Announces Wells Fargo's Additional Funding for Puerto Rico
After a previous $200,000 donation, Wells Fargo is donating an additional $250,000 to support relief efforts in Puerto Rico following Hurricane Maria.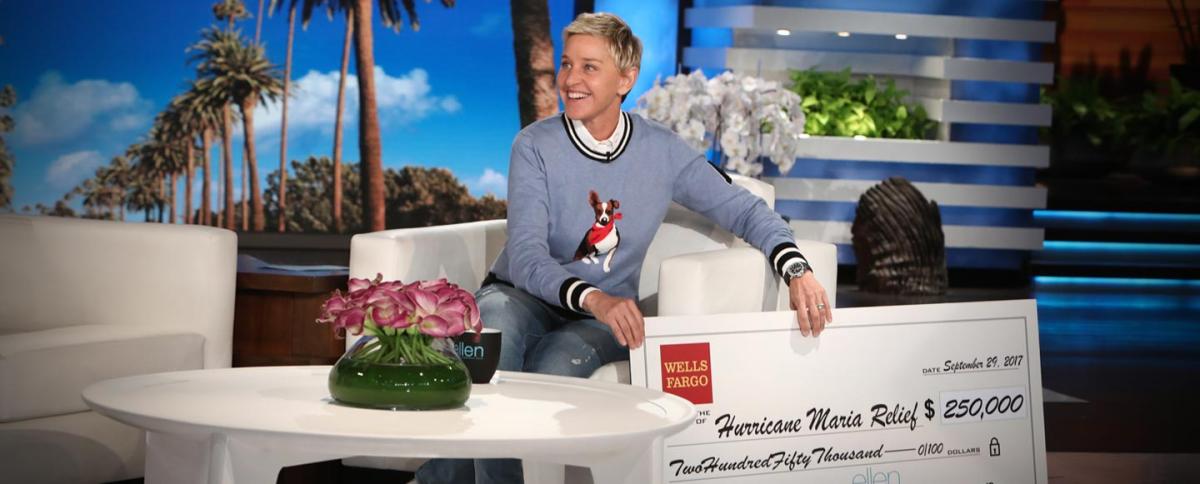 Ellen DeGeneres with Wells Fargo's check for Puerto Rico relief efforts on the Sept. 29 episode of her show.
Ellen DeGeneres announces Wells Fargo's additional funding for Puerto Rico
Ellen DeGeneres announced on the Sept. 29 episode of her television show that Wells Fargo will donate $250,000 to support relief efforts in Puerto Rico. The funding will help immediate and long-term recovery efforts in Puerto Rico after Hurricane Maria hit the island as a Category 4 storm on Sept. 20. Habitat for Humanity® of Puerto Rico is the primary beneficiary of the funding.
"(Singer) Ricky Martin was here yesterday to help raise money for hurricane relief in Puerto Rico, and our friends at Wells Fargo saw that and did something incredible," DeGeneres said on the show. "They're donating $250,000 to our Hurricane Maria relief fund. So thank you so much."
This is in addition to Wells Fargo's $200,000 donation to the American Red Cross on Sept. 20 to help emergency responders provide supplies to Puerto Rico, support shelter efforts for those affected by the storm, and help people in the region rebuild the homes, businesses, and schools that were destroyed.
"The devastation wrought upon nearly 3.5 million United States citizens in Puerto Rico is heartbreaking," said Jon Campbell, head of Corporate Responsibility and Community Relations for Wells Fargo. "Needs on the island seem to be growing by the day, and in response we have grown Wells Fargo's commitment to help."
We're going to keep working'
Martin, who is from Puerto Rico, appeared on The Ellen DeGeneres Show on Sept. 28 and asked viewers to help support the island's recovery. Visit Wells Fargo Stories to watch a selfie video of singer Ricky Martin thanking Wells Fargo for its donation to Hurricane Maria relief efforts in Puerto Rico.