Eaton's Positive Impact Solutions: Designed With a Purpose
Eaton's Positive Impact Solutions: Designed With a Purpose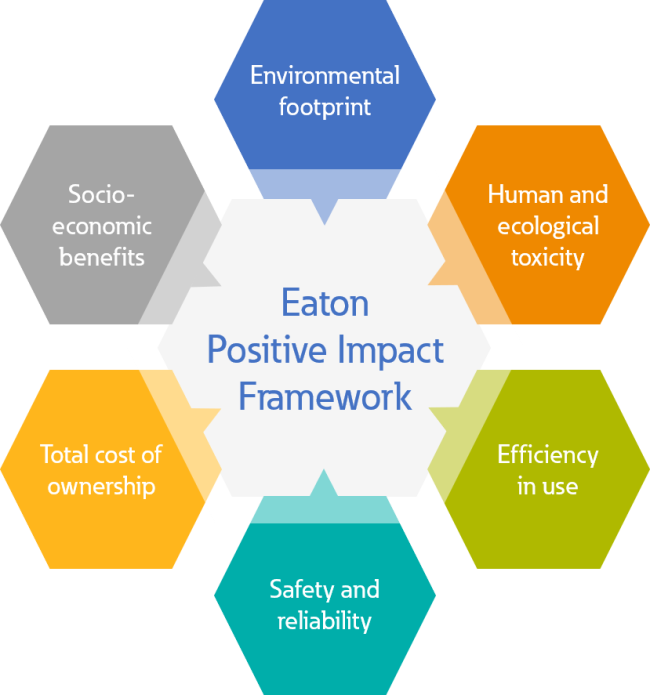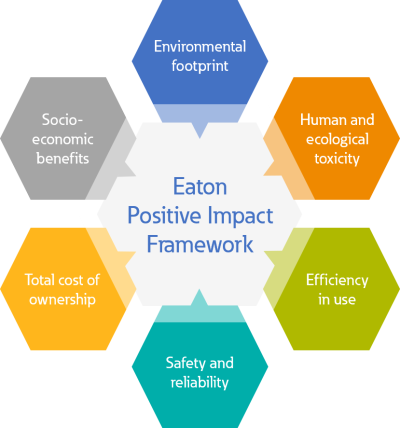 Tuesday, September 6, 2022 - 2:45pm
Countries around the world have committed to ambitious targets to reduce greenhouse gas emissions. According to the World Resources Institute, net-zero commitments have been made by one-fifth of the world's largest corporations and account for 68% of global GDP, compared to 16% in 2019. Forty-nine countries plus the European Union have pledged a net-zero target. That represents half of global greenhouse gas emissions.
Around the world, Eaton solutions help solve global sustainability challenges and allow our customers to meet their ambitious climate action goals. Eaton engineers design solutions that enable our customers to conserve resources and make smart energy decisions. That's why we've committed to spending $3 billion on sustainability research and development by 2030.
We use the six dimensions of our Positive Impact Framework to design solutions that deliver a range of sustainability benefits, including reduced environmental impact, increased use-phase efficiency, safety and reliability. More than 90% of our top new product development programs started in 2021 enable a positive sustainability impact.
Decarbonizing our portfolio of solutions
We help our customers avoid emissions by advancing green and modernized grids, sustainable transport, and by leveraging intelligent technology to enable efficient and economical use of resources. In 2021, 65% of our net sales were from sustainable solutions that enable electrification, energy transition, electric grid resilience, increasing efficiency in ground and air transportation and improved air quality. Deemed clean tech by some stakeholders, these solutions align with the global aims for sustainable development in alignment with the UN SDGs.
In 2021, we improved our methodology to better align with our financial reporting. We expect our reporting on the sustainability of our solutions will be further refined in the future to conform with pending regulatory reporting requirements on climate and sustainability disclosures. Because of the nature of these expectations and changing regulations across the globe, these numbers are subject to change.
Our innovation strategy is advancing our commitment to cleaner, lower carbon technology and solutions. We are committed to being the best global citizen we can be while helping our customers achieve their sustainability goals at the same time.
What we're doing:
We are targeting $3 billion in sustainable research and development by 2030. Since 2020, Eaton has invested $528 million in R&D to grow our sustainable Positive Impact solutions.
We have integrated our Positive Impact Framework into our new product introduction system to embed sustainable design into our core innovation processes.
We are improving our carbon accounting for products, goods and materials and use to meet our customers' needs and to drive faster results toward our targets.
We are part of the World Business Council on Sustainable Development (WBCSD) Carbon Value Accounting working group that will publish a framework for credible accounting and reporting on avoided emissions—the carbon reductions our customers achieve through the use of our solutions and the contribution toward global net-zero carbon goals.
We are one of 35 stakeholders participating in the development and piloting of the WBCSD Value Chain Carbon Transparency framework for the calculation and exchange of product-level carbon emissions data across value chains.
In 2021, our Scope 3 emissions were reduced by more than 15% from our 2018 baseline.* Product use emissions represent 96% of our Scope 3 emissions, and there are two primary drivers for the reduction of this category. The first is a shift in the sales mix of our solutions to more efficient technologies and lower carbon intensity products as well as some impact from the greening of the grid. The second is sales volume decline related to the ongoing impact of the pandemic on certain industries. We expect some of these reductions to be more permanent and some to change as industries recover and our company grows. Scope 3 emissions for all other categories were reduced 17% from our 2018 baseline.
* Product use emissions for 2018-2021 do not include recent acquisitions. These emissions will be restated in the future to include them.