Earth Day From Home
NortonLifeLock inspires employees to take action at home to support the planet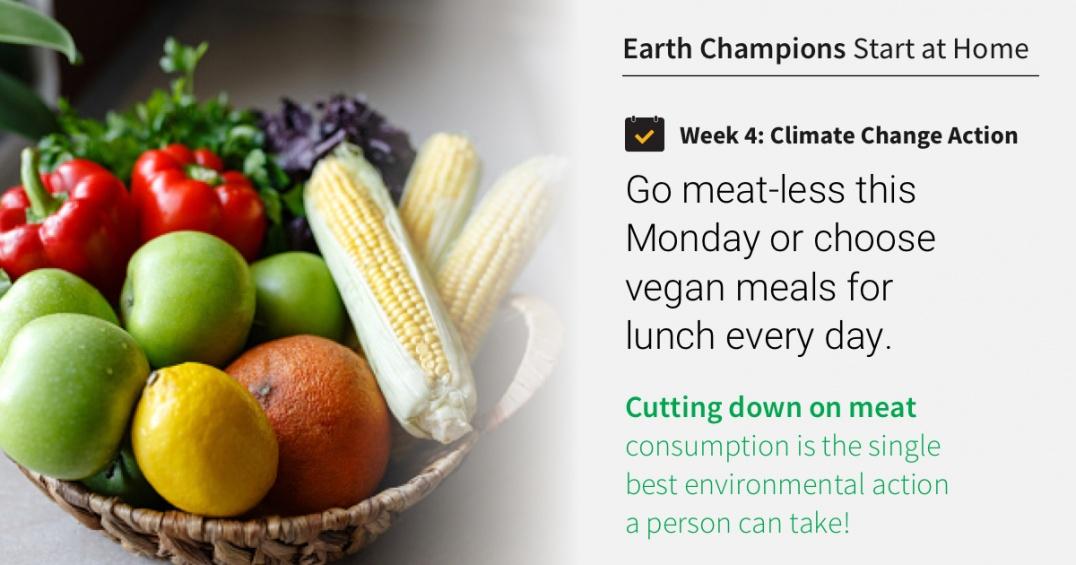 NortonLifeLock Blog | Corporate Responsibility
By Amanda Davis | Sr. Manager, CR and Environment
Earth Day began in 1970 as a way to harness the collective power of millions of people looking to protect the planet. Today, it serves as a catalyst for action and more than one billion people in 192 countries participate. The theme this year, "Restore Our Earth," focuses on natural processes, emerging green technologies, and innovative thinking that can restore the world's ecosystems.
This theme also rejects the idea that incremental change is enough. Here's why: every decade has been hotter than the last for the past sixty years[1] and our oceans absorb 90% of the excess heat caused by global warming[2]. Since 1994, satellite analysis shows that 28 trillion tonnes of ice have disappeared from Earth's surface[3].
A wholly healthy Earth is a necessity, and in order to get there, we have big changes to make. Many governments are working to reduce emissions. While India has voluntarily committed itself to reducing energy intensity by 33-35% by 2030, compared to 2005 base year, by 2050, Europe aims to become the world's first climate-neutral continent. In the U.S., President Biden rejoined the Paris climate accord, announced a plan to reach net zero emissions by 2050, and today is convening dozens of world leaders for a virtual climate change summit.
Companies and individuals also need to be participate. At NortonLifeLock, we focus on environmental stewardship year round. We work to minimize our Scope 1, 2, and 3 greenhouse gas emissions, increase our use of renewable energy, and continue to make even more sustainable products. In 2020, 24% of our energy used came from renewable sources, and 90% of our products are delivered digitally.
We are also stepping it up to celebrate Earth Day by pushing ourselves to do more. We know that when it comes to saving our planet, small actions matter, and we've challenged employees to take 10 small actions over 10 weeks to make a big impact, together. Each week, through our Earth Champions Start at Home employee challenge, we are sharing one easy and impactful way employees can make a difference from home. Whether it's reducing energy consumption, rethinking waste, or protecting natural resources, there are many ways to help the environment without even leaving the house.
We've also partnered with SolarBuddy to host an interactive virtual volunteer event. The virtual team-building event, Solve the 17, asks employee to develop a solution to one of the 17 UN Sustainable Development Goals (SDGs). The educational program helps employees discover, define, develop, design, and deliver a unique solution to a global issue we currently face, including inequality and injustice, extreme poverty, and climate change. And next month, we'll be working with WeHero and Heifer International on their Honey Harvest event, where employees will get the opportunity to grow hydroponic pollinators for bees and learn about the importance of regenerative agriculture.
To round out our Earth Day efforts, we are offering a 2-1 match for all employee donations that support our environmental partners on April 22nd. While time and action are vital, we also know that funding these programs can help scale our impact.
Get Involved
Earth Day is a great reminder that there are a number of actions you can take right now to help save the planet. Lowering your meat consumption, unsubscribing to catalogs you never look at, picking up trash while out for a jog or walk, and being mindful of your plastic use is a great place to start.
You can also join in our Earth Champions challenge! Electricity and heat generation are responsible for 30% of the world's greenhouse gas emissions[4], and this week we challenge you to turn off lights when you leave a room, or swap in CFL and LED light bulbs. These bulbs use 25-80% less energy and last 2-25 times longer[5], saving you money and hassle.
We hope you'll join us in protecting and caring for the planet.
[1] https://www.bloomberg.com/news/articles/2021-01-14/global-warming-led-to-2020-tie-for-the-hottest-year-on-record
[2] https://www.epa.gov/sites/production/files/2016-08/documents/print_ocean-heat-2016.pdf
[3] https://www.scientificamerican.com/article/earth-has-lost-28-trillion-tons-of-ice-since-the-mid-1990s/
[4] https://www.wri.org/insights/4-charts-explain-greenhouse-gas-emissions-countries-and-sectors
[5] https://www.energy.gov/energysaver/save-electricity-and-fuel/lighting-choices-save-you-money/how-energy-efficient-light