During October, We Celebrate Diversity and Inclusion All Month Long at Aramark
During October, We Celebrate Diversity and Inclusion All Month Long at Aramark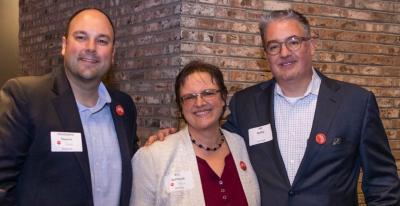 Monday, October 21, 2019 - 2:00pm
Celebrating Diversity, Fostering a Culture of Inclusion
Diversity is essential to our success and creating a welcoming culture for all is what makes our organization so strong. Our goal is to hire, develop, retain and engage a workforce that reflects the communities we serve. We understand that diversity—of gender, background, age, race, ethnicity, sexual orientation, perspectives, abilities and more—is critical to our success. We're proud that Aramark's management and operational leadership teams currently include about 56% women and 57% of workforce is racially/ethnically diverse.
This month, we celebrated the continuation of Hispanic Heritage Month, as well as Global Diversity Awareness Month, National Disability Employment Awareness Month and LGBT History Month. Here are a few highlights:
Best Places To Work for Disability Inclusion
We're very proud that for the third year in a row, Aramark was named one of the "Best Places to Work for Disability Inclusion" by the 2019 Disability Equality Index (DEI) with a top score of 100%.
The DEI is a joint initiative of Disability:IN and the American Association of People with Disabilities (AAPD), and is acknowledged as the most comprehensive disability inclusion assessment tool designed and embraced by both business leaders and disability advocates.
We at Aramark are part of the 86% of participating companies that have a disability-focused employee resource group (ERG). We have nine ERGs, giving team members access to like-minded people with similar backgrounds and interests. Aramark Thrive ERG is dedicated to the interest of team members who self-identify as having a disability and for caretakers and advocates of those with disabilities.
Hispanic Heritage Month 30/30 Awards
In honor of Hispanic Heritage Month, we honored 30 of our associates, who were recognized for their commitment to fostering a diverse and inclusive work environment that encourages workforce engagement and creates memorable consumer experiences. Winners were nominated by co-workers, managers and business leaders and were celebrated at a special reception.
The 2019 HHM 30/30 honoree class are members of Aramark's IMPACTO employee resource group, whose mission is to provide impactful contributions to the business that build a multicultural adept workforce, an inclusive workplace and awareness of Hispanic marketplace insights to support growth and consumer engagement. We are proud to celebrate them.*
LGBT History
In recognition of LGBT History Month, we celebrated Pride of Aramark at our headquarters in Philadelphia. Each year, Aramark PRIDE employee resource group awards one member of the group who most demonstrates the ERG's mission to foster an open, inclusive environment in which lesbian, gay, bisexual and transgender (LGBT) employees and allies are fully engaged to achieve organizational goals and enhance has gone above and beyond to advance the mission of the ERG.
This year, Kris "Alyx" Reinhardt, Senior Telecommunications Analyst, has been named the 2019 Pride of Aramark awardee, in recognition of her commitment to advancing our Pride ERG and supporting the LGBT community. Reinhardt, who has been with Aramark for 20 years, has been an active member and leader of the ERG since its founding in 2011.
At Aramark, we view Diversity and Inclusion as a people strategy and a business. Building a culture of inclusion throughout our workplace is not only the right thing to do, we know that building a more inclusive organization will help us perform at our best. 
*This year's HHM 30/30 honorees include:
Allan Fernandes- Vice President, Safety & Risk, Corporate
Ana Echeverria- Assistant Production Manager, AmeriPride
Anneth Camacho- Finance & Accounting Supervisor, Uniform Services
Christina Custus- Communication & Knowledge Management Senior Specialist,    Corporate
Deanna Perez- Food Service Supervisor, United Regional Healthcare System
Debbie Malaczewski- Security and Risk Control Administrative Assistant, Corporate
Denise Jimenez- Human Resources Manager, Lewisville Independent School District
Dominique Chavarria- HR Manager, Uniform Services
Eddie Noriega- Director of Business Development, K-12 East Region
George Castro- HR Operations Manager, Uniform Services
Hugo Montilla- Food Service Manager, UNC Chapel Hill
Ileana Medina Otero- Chef Manager, University of North Carolina
Jacqueline Rodriguez- Benefits Coordinator, Uniform Services
Jahaziel Cano- Food Service Manager, Georgetown University
Jennifer Kugler- Environmental Safety Senior Specialist, Corporate
Jessica Roa- Manager, Customer Service Analytics, Uniform Services
Joel Hernandez- General Manager, Camden City Public Schools
Lorena De Leon- Customer Service Supervisor, Baylor University
Lynn Farrell- Vice President, Human Resources, Corporate
Margaret Rodriguez- Marketing Strategy Manager, Corporate
Maria Martinez- Food Service Worker, Indian Hills High School
Martina Maldonado- Lead Food Service Worker, Western Carolina University
Mayra Velazquez- Administrative Assistant, Chicago Public Schools
Melissa Garza- Administrative Assistant, Christus Spohn Shoreline
Natily Santos- Director, Supplier Diversity & Strategic Sourcing, Corporate
Paul Sizer- Vice President, Finance International, Corporate
Rudy Garza- Executive Catering Chef, Baylor University
Vivian Siewert- Lodge Manager, Far View Lodge, Mesa Verde National Park
About Aramark
Aramark (NYSE: ARMK) proudly serves Fortune 500 companies, world champion sports teams, state-of-the-art healthcare providers, the world's leading educational institutions, iconic destinations and cultural attractions, and numerous municipalities in 19 countries around the world. Our 270,000 team members deliver experiences that enrich and nourish millions of lives every day through innovative services in food, facilities management and uniforms. We work to put our sustainability goals into action by focusing on initiatives that engage our employees, empower healthy living, preserve our planet and build local communities. Aramark is recognized as one of the World's Most Admired Companies by FORTUNE, as well as an employer of choice by the Human Rights Campaign and DiversityInc. Learn more at www.aramark.com or connect with us on Facebook and Twitter.