Dow Recognized as a Leader in Supplier Engagement on Climate Change by CDP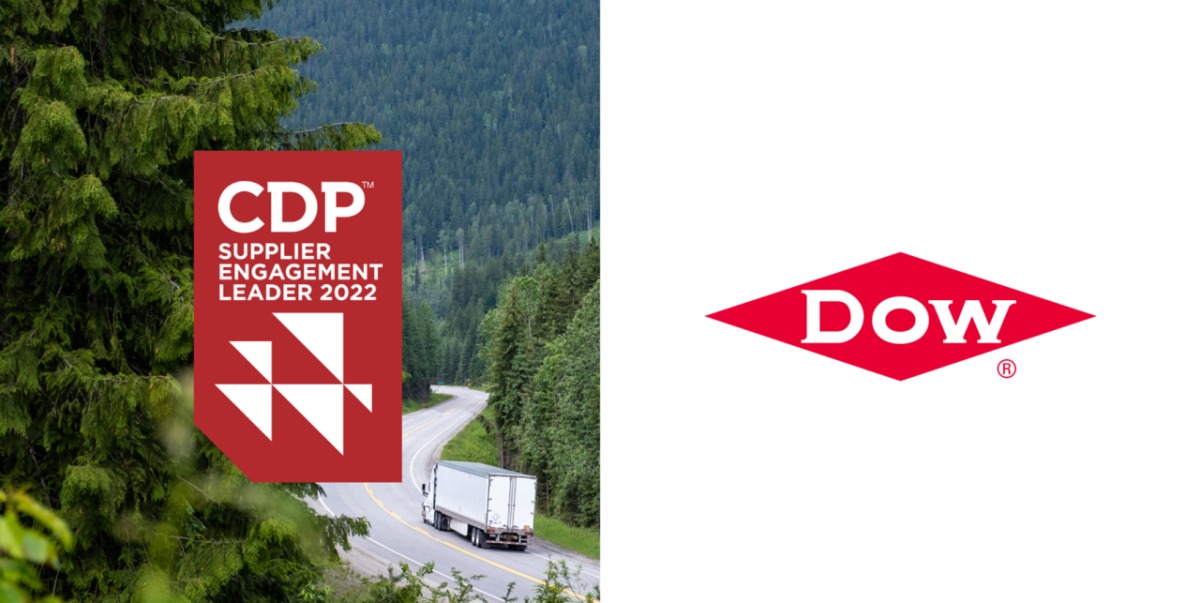 MIDLAND, Mich., May 15, 2023 /3BL Media/ - Dow (NYSE: DOW) has been named a Supplier Engagement Leader for addressing climate change for the second consecutive year by CDP, a global non-profit that runs the world's environmental disclosure system for companies, cities, states, and regions.
In 2022, Dow achieved an A score for climate change action in the supply chain and earned its place once again amongst the top-rated companies featured on CDP's Supplier Engagement Leaderboard. This score stands alongside Dow's A- rating from CDP for climate, forests, and water.
Reflecting on this great achievement, Dow's chief purchasing officer, Cathy Budd commented: "Only by effectively engaging our suppliers in emission reduction initiatives can Dow achieve scalable decarbonization at the pace required to meet our 2050 carbon neutrality targets. Scope 3 emissions represent approximately 70% of Dow's carbon footprint, with more than half of those originating from purchased raw materials, transportation, and other services. We need our suppliers to reduce their climate emissions to enable reductions throughout the value chain."
CDP evaluates supplier engagement best practices in GHG emissions reduction and climate change issues using an independent Supplier Engagement Rating (SER). The rating considers company responses to questions across four key areas: governance, targets, scope 3 emissions accounting and supplier engagement. In addition, an organization's overall CDP climate change performance is also factored into the rating.
Every year, those who obtain the highest SER score join CDP's Supplier Engagement Leaderboard. Inclusion on this list demonstrates that a company is working closely with its suppliers to ensure that climate change action is cascading down their supply chain.
"Being amongst the highest-scoring companies on CDP's SER system demonstrates that Dow is proactively collaborating with our supply chain partners to incentivize transparent and accurate disclosure of upstream emissions and drive accelerated climate action." said Leticia Jensen, Dow's global purchasing director for Sustainability, Supplier Diversity and ESG. "I am proud to see our global cross-functional teams being recognized for their relentless commitment to building sustainable and resilient supply chains."
About Dow
Dow (NYSE: DOW) combines global breadth; asset integration and scale; focused innovation and materials science expertise; leading business positions; and environmental, social and governance leadership to achieve profitable growth and help deliver a sustainable future. The Company's ambition is to become the most innovative, customer centric, inclusive and sustainable materials science company in the world. Dow's portfolio of plastics, industrial intermediates, coatings and silicones businesses delivers a broad range of differentiated, science-based products and solutions for its customers in high-growth market segments, such as packaging, infrastructure, mobility and consumer applications. Dow operates manufacturing sites in 31 countries and employs approximately 37,800 people. Dow delivered sales of approximately $57 billion in 2022. References to Dow or the Company mean Dow Inc. and its subsidiaries. For more information, please visit www.dow.com or follow @DowNewsroom on Twitter.
For further information, please contact:
Petya Todorova
+447442787816
ptodorova@dow.com