Dow: How We're Honoring the Trans Community
Dow: How We're Honoring the Trans Community
by Javier Constante - President, Dow Latin America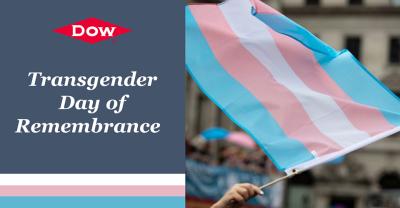 Summary
Together, we can honor those we've lost and help create a world where trans people can truly reach their full potential.
Monday, November 30, 2020 - 11:05am
Many companies are working towards creating workplaces that reflect the diversity of the society around them, and that requires effort, a great deal of awareness, and it requires change.
Inclusion and Diversity belong to all of us. While people tend to equate inclusion and diversity with gender, ethnicity, age, disability, sexual orientation or gender identity, the reality is that we are all unique individuals, and all have something to offer. Dow's core value – Respect for People – is about each and every one of us feeling like we belong. However, the reality is that not all diversity groups are treated equally nor do they have the same life experiences. Our work to improve the workplace and world for the transgender community in particular is why I'm writing today.
Understanding our transgender friends, loved ones, and colleagues is the first step towards taking more effective actions to include these individuals in the workforce. The challenges they face are wide ranging and disproportionate: self-acceptance, violence, discrimination, marginalization, homelessness, and healthcare concerns.
In addition, rights and access to simple things that many of us take for granted … possessing an ID with your correct name on it … being able to be truly yourself and be loved and supported by your family and friends … receiving an education in an environment where you feel you belong … building a career at a company where you're respected and valued … and simply living your life free from the daily threat of violence and discrimination simply because you are seen as "different."
For these reasons and countless others, many of us would pride ourselves on being committed to filling positions with diverse, qualified candidates; but, often, we still weren't hiring trans people.
Finally, we stopped and asked ourselves: "Is that acceptable? Or are we a part of the problem?"
It's not; and we were.
So, in 2016, some Dow colleagues in Latin America decided to do what Team Dow does best: collaborate on a meaningful solution.
Many trans people, especially in Latin America, have been robbed of access to a safe, supportive education due to the fear of discrimination and violence.
To better include trans people in the workforce and give them a more equal chance to reach their full potential, we realized that we needed to create opportunities for on-the-job training. A learning environment that is kind, helpful and inclusive – a learning environment many trans people had likely never experienced before – would help better prepare them for the workforce long term.
Based on this, we developed two solutions in two Latin American countries:
In Brazil, the country's Young Apprentices Program is the gateway for many young people to join the job market. The program trains young workers under special temporary contracts to help them successfully complete the transition from school to work. We decided to focus part of Dow's program specifically on hiring and training trans people. Through a partnership with the Center for Professional Learning and Social Assistance (Nurap), we work with trans apprentices on the development of technical and interpersonal skills, in addition to showing them what it is like in a corporate workplace. Over the employee's 15-months apprenticeship period we provided many development opportunities to prepare them to compete in the job market, both at Dow and other top multinational Brazilian companies.
In Argentina, we also started a project in partnership with other major global companies called the Transgender Learning Program, which hires young trans people, ages 18 to 25, who have a high school education. Over the course of six months, each apprentice works at various partner companies, like Dow, where they engage in daily tasks and activities, build their professional network, and receive training to further develop their skills. At the conclusion of the program, many are highly sought after by Dow and other companies due to their knowledge and experience.
November 20 marks Transgender Day of Remembrance. It's a day where we remember all the trans people we've lost to discrimination and violence. And we recognize that in order to truly honor them we all need to make a change.
We're changing … improving how we hire … and enhancing our on-the-job training to provide greater opportunities for the trans community.
Together, we can be the change that ensures our trans friends, loved ones and colleagues are included and valued in our workplace – honoring those we've lost and helping create a world where trans people can reach their full potential.
 
Javier Constante
President, Dow Latin America