DON'T MISS: Digital Empowers Presents The Workplace Transformed
DON'T MISS: Digital Empowers Presents The Workplace Transformed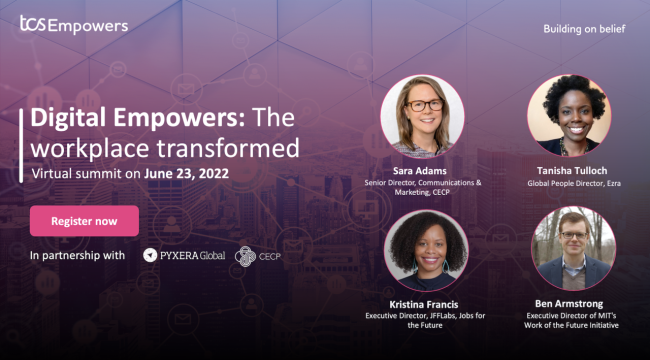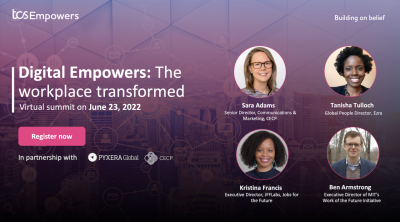 Wednesday, June 22, 2022 - 9:40am
DON'T MISS: Digital Empowers Presents The Workplace Transformed
Date: June 23, 2022, from 1:00-2:00 pm ET
Link to Register: https://on.tcs.com/WorkFuture
To solve our most pressing societal challenges, technological innovations lie at the heart of enabling positive social change. Through Digital Empowers, TCS has partnered with Chief Executives for Corporate Purpose (CECP) and PYXERA Global to foster greater collaboration across sectors using technology and digital innovations to make progress on core social issues, such as the transition to a circular economy, food security, the future of work, access to healthcare, and more.
Digital Empowers is TCS' CSR thought leadership initiative aimed at accelerating innovation for social impact. The overall goal of Digital Empowers is to facilitate the generation of new ideas, foster the spread of these ideas while facilitating action through a cross-collaborative process. Since inception, Digital Empowers has engaged with thousands of experts to create and expand the knowledge base, explore technology solutions that have exponential impact on the most pressing problems - all of which have cross-sections and applications around the world, and to create an ecosystem of vital cross-sector partnerships leading to collaborative social impact solutions. The program has also opened doors for social entrepreneurs and changemakers to ideate and collaborate with business and technology leaders to bring novel social impact innovations to the community.
In this session, we're exploring technology's role in the work we do and the way we work: The future of work is now. Remote work and working from home became ubiquitous during the pandemic, and employers and workers must navigate and balance the tradeoffs of productivity, flexibility, culture, and innovation. Gig economies have grown, especially during COVID, allowing diverse ways of engaging with work. As work schedules, patterns, and preferences continue to evolve, benefits and pay must also. Technology will determine the trajectory of the future of work.
Speakers include:
Who's attending:
Virtual registrants include cross-sector leaders from sustainability focused corporations, institutions, non-profits, and academia. This event is open to the public.