Don't Miss 3BL Media's Climate Week Event!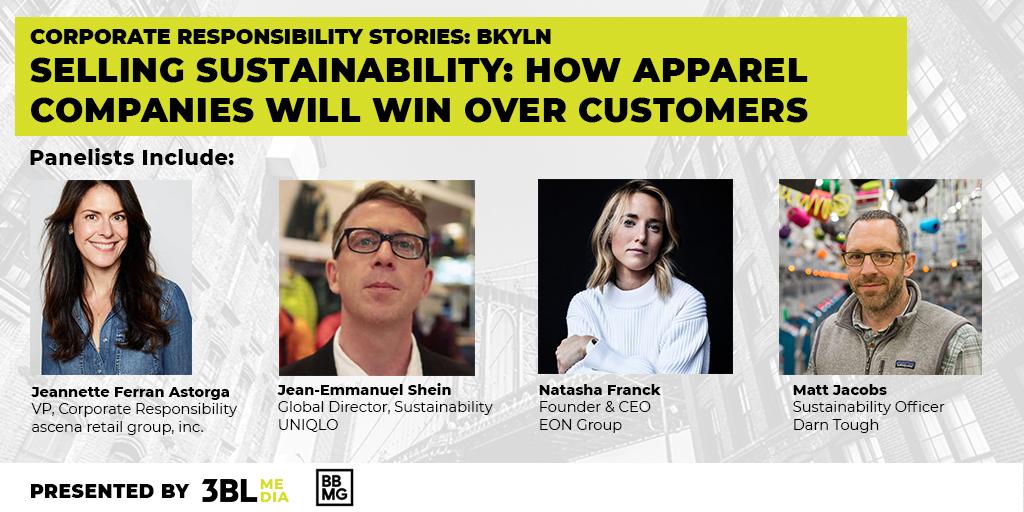 Sept. 13, 2019 /3BL Media/ 3BL Media and BBMG invite professionals from all industries to hear about the transformation underway in apparel and fashion.
Enjoy free drinks and hors d'oeuvres during our Climate Week panel discussion and social with leaders including:
Jeannette Ferran Astorga, Vice President, Corporate Responsibility, ascena retail group inc.
Jean-Emmanuel Shein, Global Director, Sustainability, UNIQLO
Natasha Franck, Founder & CEO, EON Group
Matt Jacobs, Sustainability Officer, Darn Tough
Raphael Bemporad, Founder, BBMG
Customer preference is shifting to responsible apparel that can be delivered through reuse and rental. As apparel companies strengthen their environmental and social strategies and shift business models - how will they engage and win over customers?
Selling Sustainability: How Apparel Companies Will Win Over Customers, will be held Thursday, September 26, 6 p.m. to 8 p.m. EDT at BBMG headquarters: 20 Jay Street, Suite 1012, Brooklyn, NY 11201.
The event is free and open to 50 professionals from all industries focusing on communications, marketing, environment, product development, supply chain, social impact and investor relations.