Deepen Your Shared Value Knowledge at #SVLeaders 2018
Register before prices go up on April 21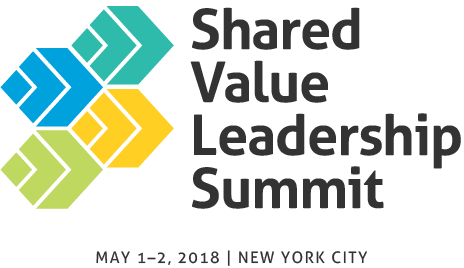 Inspire. Innovate. Act. 
On May 1-2, 2018 business leaders from around the world will convene at the 2018 Shared Value Leadership Summit at the Conrad New York to discuss the role business can play in providing scalable solutions to society's greatest challenges. The Summit features keynote speakers including: Hillary Rodham Clinton - Former U.S. Secretary of State; Michael Porter - Bishop William Lawrence Professor, Harvard Business School; Jennifer Dulski - Head of Groups & Communities, Facebook; Raj Shah: President, The Rockefeller Foundation; and Deval Patrick: Managing Director - Bain Capital Double Impact. 
In addition to an exciting lineup of keynote speakers, the 2018 Shared Value Leadership Summit features opportunities for attendees to participate in Solutions Salons, a series of small group conversations with changemakers who leading shared value solutions to challenges such as climate resiliency, global health, financial inclusion and much more. 
2018 Solutions Salons
Supply Chain Transformation that Enables Farmers & Businesses to Thrive: A Conversation about the Farmer Income Lab
Hosted by Mars & Oxfam
Cashless Payments and Digital Wages – Connecting Technology and Finance for Inclusive Value Chains
Hosted by the Better than Cash Alliance
From Risky to Resilient – Partnerships to Strengthen Future Cities
Hosted by AIG and Wood plc
The Unreasonable Advantage: Scaling Impact Entrepreneurs
Hosted by Barclays and Unreasonable Group
Breath for Life: A PATH and Johnson & Johnson Shared Value Approach to Tackling TB in Vietnam
Hosted by PATH and Johnson & Johnson
Success or Failure: A Six-year Public Health Partnership to Provide Women with Contraceptive Choice & Create a Sustainable Market
Hosted by Merck and the Bill & Melinda Gates Foundation
The Business Case for Building Shared Value Ecosystems
Hosted by FSG
Register Today! Prices go up on April 21.
About the 2018 Shared Value Leadership Summit
Around the world we're seeing unprecedented calls for business to provide scalable solutions to society's greatest challenges. We view this moment in time as a tremendous opportunity for business to lead, and at the 2018 Shared Value Leadership Summit we're bringing together global leaders to explore the issues and inspire action. 
Whether you sit in CSR, corporate affairs, sustainability, product development or run a business unit, the diverse array of perspectives on stage will demonstrate that innovating for shared value can come from any corner of the office.