Data and Partnerships Serve as the Foundation for Tomorrow's Smarter Cities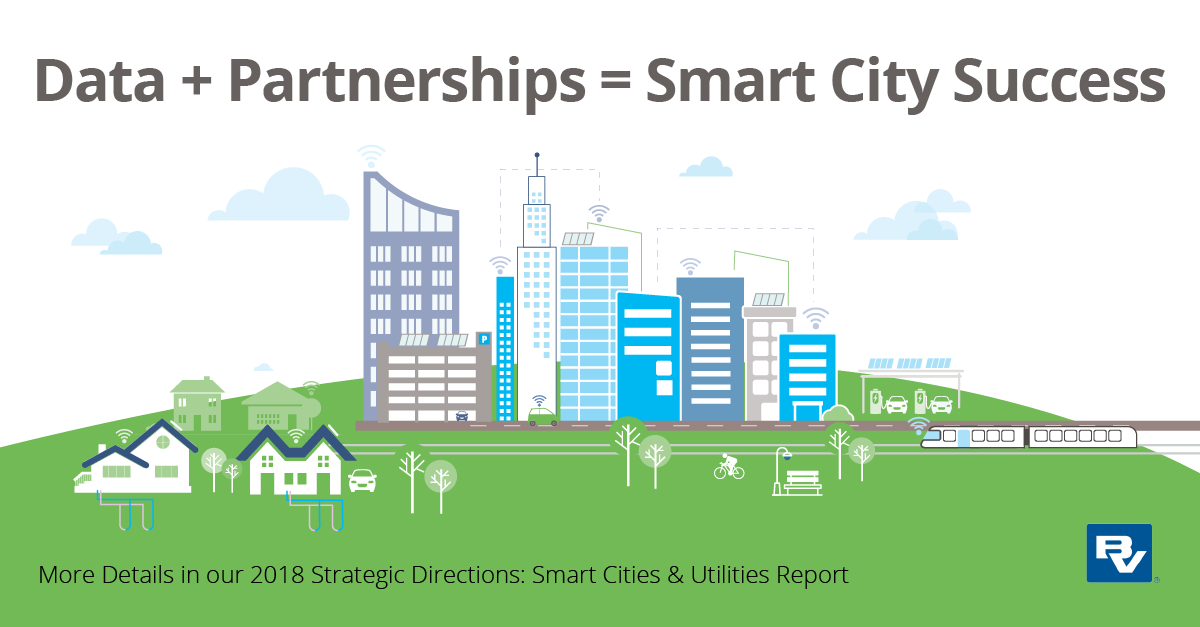 Modern, digital infrastructure is a key component of today's smart city initiatives
The insights uncovered in Black & Veatch's 2018 Strategic Directions: Smart Cities & Utilities Report demonstrate a growing awareness among communities and utilities that modern, digital infrastructure such as data collection networks, infrastructure automation and advanced communication systems are the key components of today's smart city initiatives. It is only through these systems that cities and utilities can optimize operations to realize the promise of the smart city – and create a sustainable future.
Download the 2018 Smart Cities & Utilities Report
This year's report explores the many specific aspects involved in planning and preparing for smart city efforts. We introduce a "Smart City To-Do List," which breaks an often-complicated, convoluted process into digestible tasks. We analyze the growing awareness of how smart cities can enable safer cities and, in an era of high-profile network intrusions, how utilities are working to ensure both physical security and cybersecurity. 
The report also includes a series of articles that paint a comprehensive picture of today's changing transportation landscape — one being shaped by increasing electrification and a growing acceptance of new technology such as autonomous vehicles. According to survey respondents, transportation agencies stand to gain the most from smart city initiatives, with electric utilities following a close second (Figure 1).
Electric utilities have a large stake in the game. As grid modernization efforts continue in an attempt to maintain, upgrade and improve aging infrastructure, utilities work to balance reliability and the increasing integration of distributed energy resources into the grid. From new challenges — such as increasing load demands from electric vehicle (EV) charging stations — to hard fought battles that include ensuring safe, secure connections, utilities are working to stay on top of a rapidly evolving world.
Other key areas covered in this year's report include:
Build-Out of EV Network Infrastructure
This past year marked a turning point for the future of EVs, with sales rising and a number of automakers such as Volkswagen AG and Volvo announcing significant electrification plans. The environmental benefits of EVs are undeniable, and steadily improving technology and increasing affordability are encouraging Americans to buy electric. But what does this move away from the internal combustion engine mean for the future of energy management?
Autonomous Vehicles and Urban Mobility
Quickly moving past test and pilot phases, autonomous vehicles (AVs) are hitting the streets, promising benefits in reduced emissions and streamlined public transportation. But where do self-driving cars, most of which are electric, fit into the smart city puzzle? While half of municipalities and smart service providers believe that AVs will have a transformational impact on cities around the world, urban planners still are unsure how these projects will scale over time.
Electrifying Mass Transit
A movement is under way in mass transit: transportation providers increasingly are looking to electrify their buses. That shift is gaining momentum as zero-emissions technologies mature and concerns about climate change rise, fanning the desire to move people in more efficient ways. Even with federal taxpayer support, transit providers and other stakeholders need to engage now.
Smarter, Safer Cities
Communities are becoming more intelligent and connected, opening the door for integration with increasingly advanced public safety solutions. When people think of smart cities, they typically envision Wi-Fi kiosks and smart streetlights, not public safety technology like gunshot detection and facial recognition programs. Although admittedly in their infancy, Safe City pilots are gaining traction, and agencies are beginning to evaluate how these public safety investments fit into a larger smart city plan.
Outsourcing Distribution Modernization
The emergence of DER and the technologies collectively referred to as "smart grid" continue to upend traditional electric utility  business models. Although today's utilities have access to a proverbial avalanche of system intelligence, few are comfortable managing that data or using it effectively; because of this, many utilities are enlisting outside assistance.
Investing in Distribution Modernization
More and more utilities are looking into comprehensive distribution modernization programs to increase resilience. Managing these efforts can be incredibly complicated, and survey results reflect an industry still figuring out how technology and networks will work together to modernize the grid. These large-scale changes are often driven by policy, with many local regulators pushing statewide efforts as they work to achieve environmental, cost-savings and fuel diversity goals.
Industrial Internet of Things
In constant pursuit of quality control, efficiency and supply-chain improvements, the Industrial Internet of Things (IIoT) is becoming increasingly attractive to the industrial and manufacturing sector. But even as sensors get cheaper and Big Data grows ever more ubiquitous, complexities emerge with the expanding scale. Businesses risk drowning in a sea of data, making it imperative that they develop and implement a strategy that will allow them to harness the data's value. 
Physical Security and Cybersecurity
With the intent of safeguarding the nation's biggest electric grids from potential mayhem from sophisticated hackers, federal regulators have stepped up oversight of power utilities' security efforts. But threats linger, especially as information technology (IT) and operational technology (OT) systems converge. Although this integration promotes efficiencies, hackers may gain access via an IT route and use it to breach sensitive OT infrastructure.
Ongoing Grid Modernization
Historically, attention to the grid's distribution system focused on pole and wire maintenance and upkeep, but increasing connectivity and a growing embrace of renewable energy are forcing a more holistic approach. Whether by regulatory mandate or stakeholder pressure, system upgrades are being made worldwide as security and distribution automation drive modernization efforts.
The Smart City To-Do List
Planning for a smarter city can be an imposing concept. From financing and partner ecosystems to advocacy and data governance, there is a lot to consider. But like any other complicated process, it can be managed by breaking it down into manageable tasks, effectively turning your smart city strategy into a logical progression through a series of steps that progressively build smart city capabilities and community benefits.
Conclusion
Moving smart city initiatives to the next level will not be easy, but cities and utilities appear to have a better grasp on building momentum as they work to engage stakeholders and educate an uncertain public. With planning, support and understanding, combined with a hefty dose of vision and collaboration, cities and utilities can achieve their smart city initiatives and ensure a more resilient, sustainable future for us all.
Contact us to learn more about what we can do for you.