Creating World-Changing Brands with Humanity at the Center
Creating World-Changing Brands with Humanity at the Center
Meet Sam Wilson, BBMG's new Managing Partner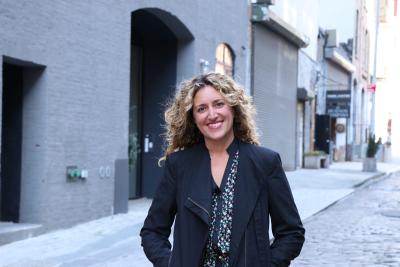 Friday, November 3, 2017 - 10:15am
BBMG is thrilled to welcome Samantha Wilson as Managing Partner! Sam joins BBMG after 23-years at Wolff Olins, where she most recently served as a Global Principal and helped re-imagine some of the world's most iconic brands from GE to Spotify to Product (RED).
A "world traveler, sous chef, 'zoo keeper,' city dweller and tomato farmer," Sam is on a mission to redefine what successful business looks like by designing brands with humanity at the center.
We sat down with Sam to learn more about her story and her vision for designing world-changing brands.
Tell us your story. What was your journey to branding?
I was born in England. My mum was a French teacher and my dad an Economist, so I like to think I got the best of both, right and left brain – empathy and love of language plus logic and rigor – along with a desire to use my talents to make a positive impact on the world.
I went to Manchester University to study Politics, Economics and Languages and dropped out after a year to go to Art School. I left Central Saint Martins three years later with a BA in Graphic Design and no idea what to do with it. Wolff Olins found me at my degree show, and I found Brand and the rest is history.
Why branding? What do you love about the craft?
I love that on our best day, we help companies completely change the way they see themselves and what they are ultimately capable of. It's a journey always, but there's also a magic moment when you bring all the pieces together – smart insights, cut-through strategy, kick-ass creative – and show them a new future. You're literally helping them 'try on' a new version of themselves so they can do more and be more in the world. It's an absolute blast.
What's the secret to creating world-changing brands?
Leadership is everything. The CEO has to be the Chief Brand Officer – and you can't make someone have big ambitions or feel a sense of purpose if it's not already there. We'd be foolish to try. She or he has to be open to fundamental change, way beyond marketing. The most successful projects I've worked on have involved a C-suite coalition – with product, HR, operations etc. all involved from the get go –because a great brand starts with employees and awesome products and experiences.
Empathy is also critical, you HAVE to talk to customers and employees. This might sound obvious, but I have been shocked many times by how out of touch companies are with the human beings who make and use their product! They always have mountains of data – rear view mirror – but very little insight. You have to help them see who and what they are for, and stop them talking to themselves.
Balls and boundless optimism help, too! Cutting through, doing something new, taking the path less traveled – by its very nature this takes courage. Of course you do everything possible to de-risk for the client. You do your homework up front and you prototype-pilot-test-iterate… but sooner or later you have to be fearless and go for it – trust in your experience and instincts – they've served me well so far!
What would you say are your proudest moments?
I love seeing junior folks grow. It's super fulfilling to watch someone I've been working with or mentoring really figure out what their superpowers are and do something amazing.
On the client side, it's really the same thing. It's just happening at a bigger scale. Seeing the penny drop. Clients getting what really makes their company special. Understanding how the company can be different or better. That's awesome. That feeling when you see that the work has worked, which sometimes takes years.
Product (RED) was a real highlight for lots of reasons – working with Bono and Bobby Shriver is not something you do every day. It re-invented the "charity" category, and they've raised $475M and positively impacted 90 million lives. It was also the first time when my mum understood WTF I was doing at work. Epic all around.
Why BBMG? What brings you here?
For starters you're smart, lovely people who share my values and who are doing the kind of work that really matters to me. That's not just about working for nonprofits or in sustainability, but working with clients who are genuinely trying to rethink how they do business in the world and be the vanguard for the next generation of companies.
I'm also seriously excited by what we can do together for those clients. We have best-in-class political campaigners and movement builders who understand how to influence and change behavior. We have sustainability and social innovation expertise to help brands commercialize their "good decisions." And we have world class brand strategists and designers who can build a brand purpose, expression and category defining experiences for employees and customers. That's a pretty awesome combination.
Oh and we're a B-Corp – that's pretty cool.
What does "Brands for Humans" mean to you?
A company by its very nature is a system. It's rules and processes and procedures. It's goals and measures and KPIs. Even with the greatest intentions in the world, we human beings get lost in the mix. The most ridiculous decisions get made that make no sense whatsoever because it's company policy or "the computer won't allow it." The bigger and older the company, the more the system trumps common sense. We have to put heart and humanity back in those machines.
What does wild success look like for you?
The world deserves better – don't you think? Whilst the prevailing narrative of our time is that new technology is driving progress, so much of what human beings experience day to day, as employees or consumers, frankly sucks, AND not to mention we are fucking up our planet. I want to help change that. In the version of the future where we as a species get it right, the world is full of purposeful businesses that solve problems and create value. They align societal and business goals for mutual benefit. They treat people and the Earth with respect. They take a big picture, long-term view. And they do all of the above with great character and personality all their own. And that's what BBMG is all about.